5 Ways Holiday Traditions Build Stronger Families
December 14, 2020 by Fred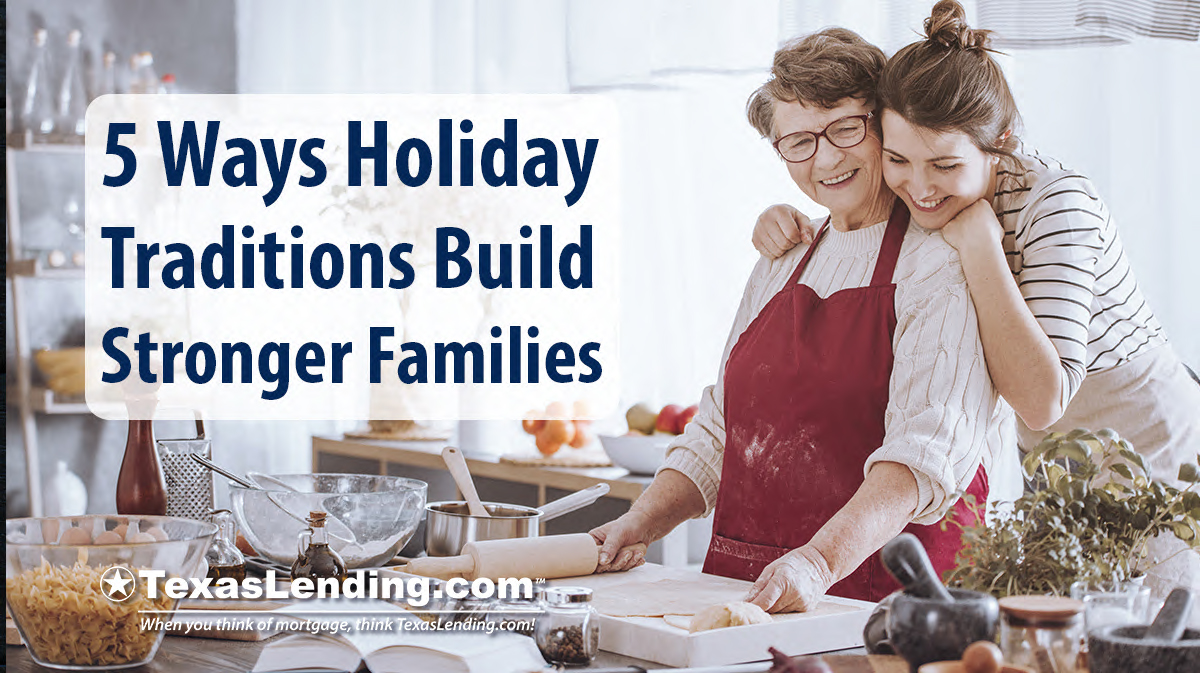 It's no secret that many people love holiday traditions. The holidays present a unique opportunity for you to pause your every-day schedule and make an effort to invest in quality time with your loved ones.
Holiday memories can be a source of joy and reflection for your friends and family members for years to come. Whether you are starting a new tradition or keeping an old one, there are benefits to coming together for holiday fun.
Here are 5 ways holiday traditions can build strength in your family:
1. Real Connection
In recent years the topic of mental and emotional health has grown in popularity for good reason. We live in a fast paced, technology driven world. With so many ever changing devices, apps, and entertainment, there is less time devoted to off-screen connection in our daily lives.
Use holiday traditions as a way to connect to your family, off screen. Bake cookies for Santa, make a special meal together, drive around the neighborhood to see the holiday lights, or have a game night at home.
Find a few ideas in our article on "FREE and Cheap Holiday Activities for Your Family."
2. Stronger Communication
Taking a break from your daily routine during the holidays, could mean that you have more time to talk with your family. Share stories with your spouse while wrapping gifts, have a late movie night, make hot chocolate and sit by the fireplace, or enjoy a conversation while preparing a big family meal together in the kitchen.
You may not have the opportunity to check in with your extended family as often as you would like to. During the holidays you can send a letter to your loved ones, letting them know about you experiences throughout the year. Mailing a card to let your family and friends know how much you love and appreciate them is a great way to strengthen your relationship.
3. Memories
Most adults can describe specific holiday memories from their childhood. We are more likely to remember events in our life that are connected to strong emotions or special events. The holidays are a perfect time to make lasting memories with your family.
You may remember eating breakfast and watching a parade on TV. Baking Gingerbread, sweet potato pie, latkes, or making another holiday family favorite treat with your parents are great memories.
Whatever your family traditions are during the holidays, your memories of those times can help you feel connected to them. Memories like these can be like treasures, both now and in the future. This is why so many people work hard to make holiday traditions special.
4. Opportunities to Give
As children grow into adulthood, we discover that giving gifts feels much more rewarding than receiving them. Giving gifts to your loved ones is a way of showing appreciation and care.
Outwardly, making a family effort to give to people in need in your community is a tradition that makes your family proud. Whether you are gathering food for a food bank, giving gifts to a struggling family, raising funds for a charitable cause, this type of tradition is making your family stronger. When you find and seize opportunities to give to those in need, you are giving your family a reason to be proud and strengthening their character.
5. Continuing the Tradition
Sharing your grandmother's favorite recipe, sledding down a beloved neighborhood hill, or using hand made decorations that have been passed down are great ways to continue holiday traditions. When you share memories with your family, neighbors, and friends, you can pass on stories that help to shape the character of future generations.
Making an effort during the holidays to continue traditions that are positive, fun, and memorable strengthens the identity of who you are. The impact of these ties to your children's identity can help them grow in confidence and kindness.
Use our step by step recipe to start a family tradition of "Making Sugar Cookies for Santa" with your family.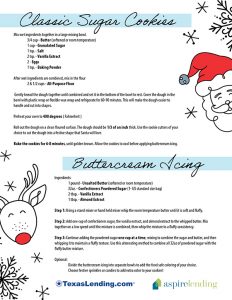 We wish you and your loved ones a safe and happy holiday season! Feel inspired to make special moments with your family through holiday traditions this year.
If you would like to see more articles like this one, follow our Facebook page.
As always, we would love to be your mortgage experts. When you are ready to refinance your current mortgage or buy a new home reach out to us at TexasLending.com.