How much is the down payment for a house in Texas?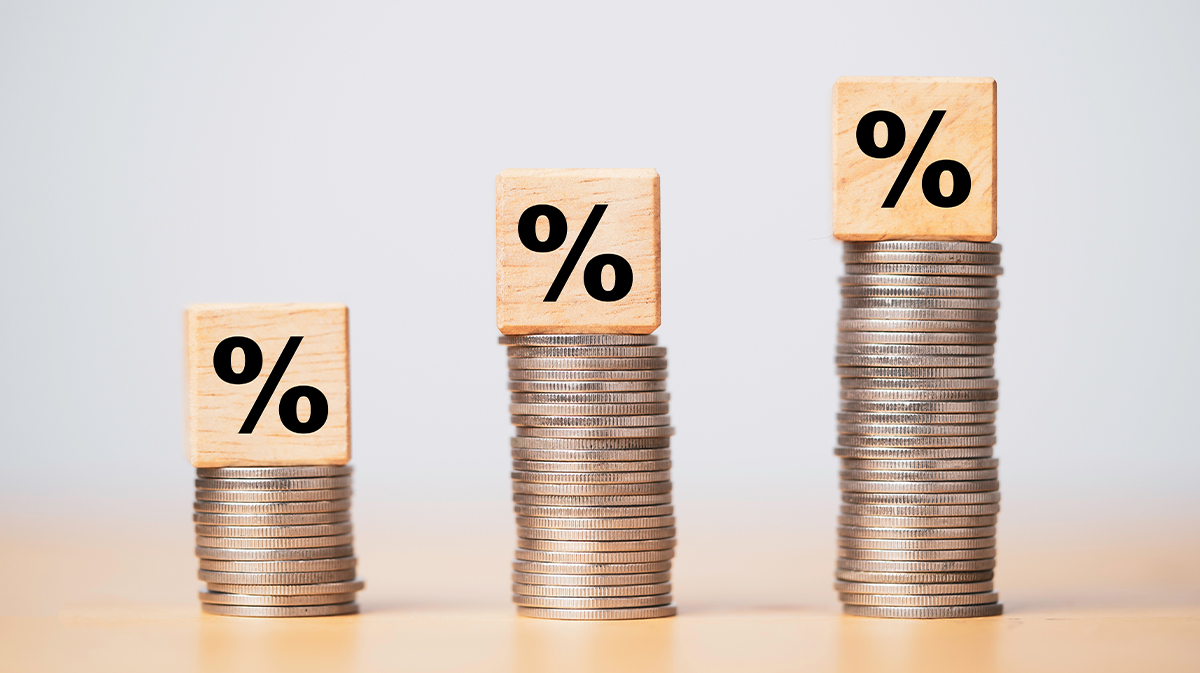 If you are ready to start planning for your first home purchase… asking "How much is the down payment for a house" is the right place to begin. You will need some savings as a new home buyer. So planning for the down payment and other upfront costs of buying a home is key to your success.
Saving for a down payment, building up your credit score, and understanding how much house you can afford are all crucial steps in establishing a home buying plan. Once you have these financial factors in place, getting pre-approved for a home loan should be quick and easy.
Let's take a look at the steps that will help you answer, "How much is a down payment for a house in Texas?":
Your Mortgage Options
Each loan program offers a different down payment option. Traditional mortgage advice says that a 20% down payment is best to avoid paying mortgage insurance. However, if you are saving to buy your first home, a lower down payment could be a better choice. Lower down payment mortgage options allow first time home buyers the opportunity to purchase a home with 5% to 0% down.
Loan Program: Down Payment Options
5% Down Payment: Conventional Loan
3% Down Payment: First Time Buyer Conventional Loan
3.5% Down Payment: FHA Loan
0% Down Payment: USDA Loan (must purchase a USDA qualifying property)
0% Down Payment: VA Loan (for qualifying U.S. Veterans and their spouses)
20% Down Payment: Jumbo Loan ($647,200 or higher loan amount)
Compare the qualification guidelines for each loan type here.
Home Prices in Texas
Your down payment is based on a percentage of the purchase price of the home you are buying. Your best way to estimate the potential down payment you will need to save for is to know the price range of the home you are looking to purchase.
Home prices can vary by neighborhood and city, depending on the supply and demand of the local market. According to the most recent data reported by the Texas Real Estate Research Center, the median price of homes sold in Texas is currently $362,200. The graphic below gives a closer look at the median home purchase price in some of the largest Texas cities.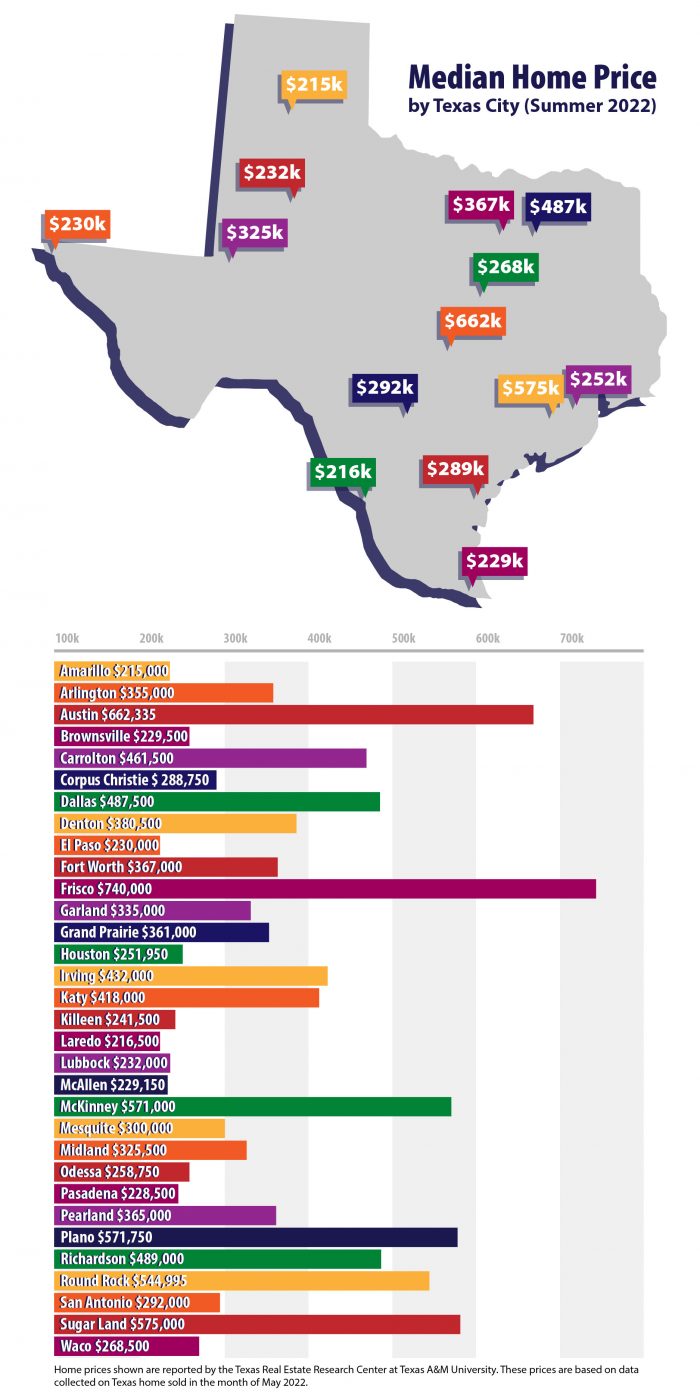 Learn more about how you can estimate how much house you can afford in one of our previous blog articles.
Making a Down Payment on a Home in Texas
There are a few more important aspects of making a down payment on a house that you should know about. When you are creating a down payment savings plan, keep in mind that your funds should be seasoned, you can use gifted funds, and there are a few other upfront costs of home buying to consider.
Seasoned Funds
Your down payment and closing costs will be paid on the day of closing. However, you will need to show that you have the seasoned funds available to make the down payment to qualify for the mortgage loan. The term "seasoned" means that your down payment savings can be traced to a source. An account that shows monthly savings from your income over time is a great way to document seasoned funds.
Cash cannot be used as a down payment. Federal anti-money-laundering regulations are in place to prevent large cash deposits from being used to make down payments on homes. This means that if you sell a car or another valuable asset to make your down payment you will need to show a bill of sale to use those funds towards your down payment.
Gifted Funds
Some loan programs allow you to use funds that are "gifted" to you by a close friend or family member for your down payment on a home. If you are using gifted funds for your down payment, an official gift letter and a bank statement from the account where those funds are being transferred from is required.
These gifted funds, must be a true gift, not a personal loan. If you have a friend or family member that is generous enough to help you make a down payment on a house, then gifted funds could be a great option for buying a home.
Other Upfront Costs of Buying a Home
Your down payment savings plan should include savings for some of the other costs of buying a home and moving in. The appraisal, potential earnest money, inspection, closing costs, deep cleaning, home security, and other moving costs are something you should prepare for.
Use our FREE printable Custom Down Payment Savings Plan to estimate and plan for the upfront costs of buying a home.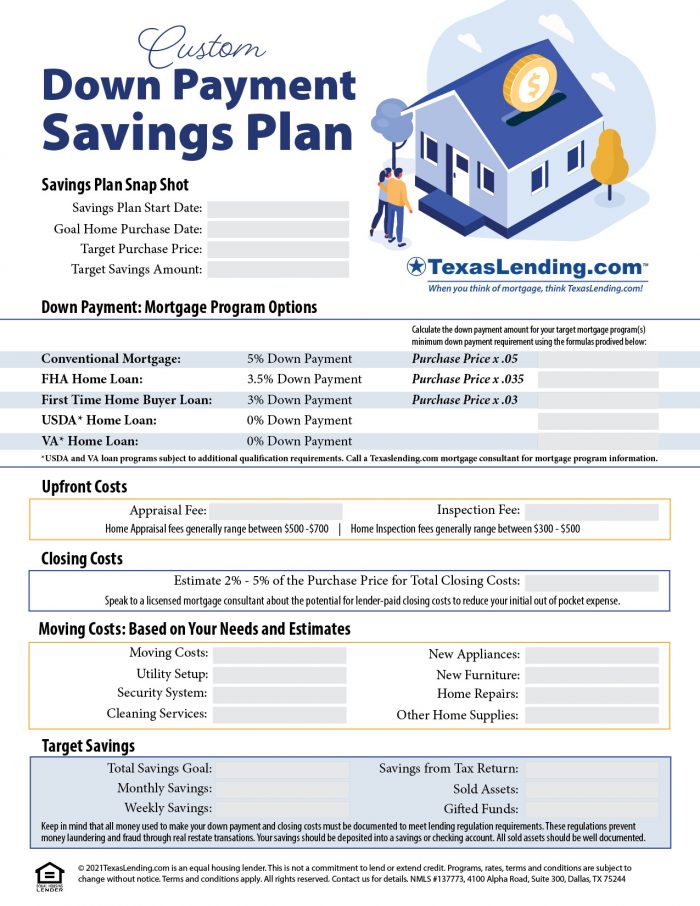 How much a down payment for a house in Texas is, depends of the home's price and your choice for a mortgage program. One of the best ways to get a reliable estimate of your home buying budget is to talk to a mortgage expert. We would be happy to connect you with a licensed mortgage consultant on our team to talk about your potential down payment and getting pre-approved for a home loan.
Starting your journey to home ownership with expert information and a solid strategy will help you reach your goal. Follow our blog or Facebook page to see more articles like this one on home buying, the housing market, and home ownership.