How to Make Sugar Cookies for Santa
December 11, 2020 by Fred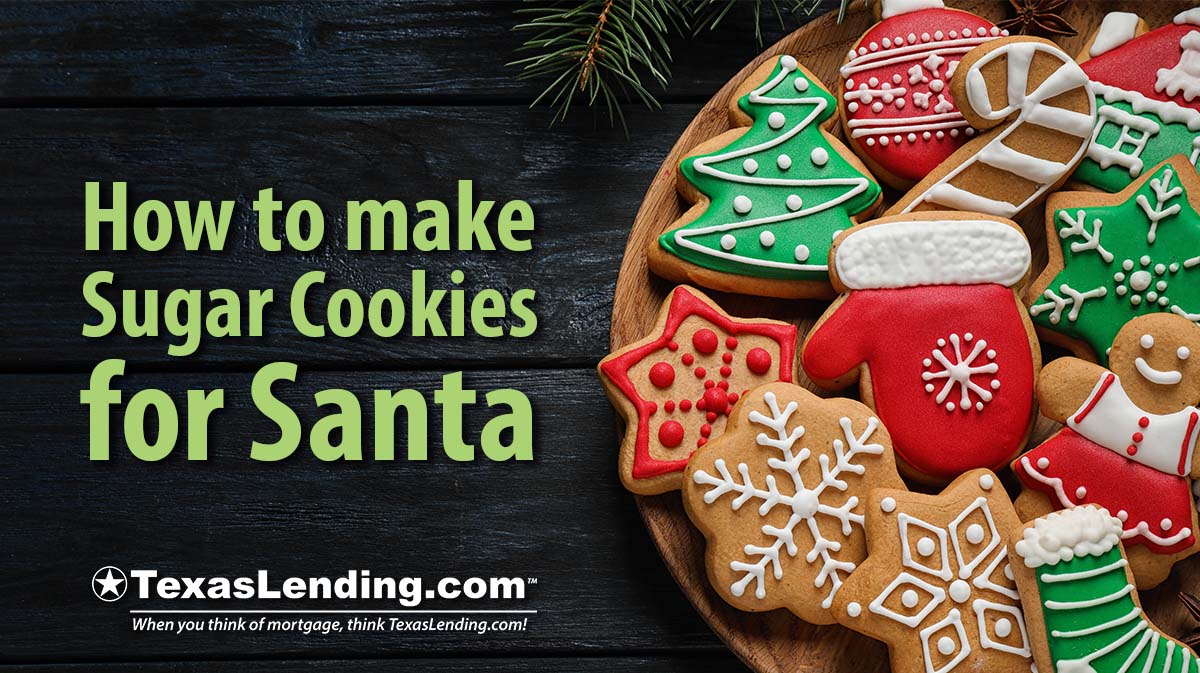 Making cookies for Santa is a favorite holiday tradition in many families. There is something special about working together with your family to bake and decorate Santa's favorite holiday treat.
We are excited to share a classic recipe for sugar cookies and a delicious butter cream icing. Follow these step by step instructions to make sugar cookies for Santa:
Sugar Cookies
Step 1: Mix wet ingredients together in a large mixing bowl.
3/4 cup – Butter (softened or room temperature)
1 cup – Granulated Sugar
1 tsp. – Salt
2 tsp. – Vanilla Extract
2 – Eggs
1 tsp. – Baking Powder
Step 2: After wet ingredients are combined, mix in the flour
2 1/2 cups – All-Purpose Flour
Step 3: Gently knead the dough together until combined and set it in the bottom of the bowl to rest. Cover the dough in the bowl with plastic wrap or flexible wax wrap and refrigerate for 60-90 minutes. This will make the dough easier to handle and cut into shapes.
Will your cookies be shaped like one of Santa's reindeer, a tree, something non-traditional, or a cookie version of the jolly old elf himself? Perhaps you and your fellow bakers can find some great cookie ideas on our Cookies for Santa Pinterest board.
Step 4: Preheat your oven to 400 degrees ( Fahrenheit )
Step 5: Roll out the dough on a clean floured surface. The dough should be 1/3 of an inch thick. Use the cookie cutters of your choice to cut the dough into a festive shape that Santa will love. Place the dough at least 1 inch apart on the cookie sheet for baking. Using parchment baking paper will make sure that your sugar cookies won't stick to the baking sheet.
Step 6: Bake the cookies for 6-8 minutes, until golden brown. Allow the cookies to cool before applying  icing.
Buttercream Icing
Ingredients:
1 pound – Unsalted Butter (softened or room temperature)
32oz. – Confectioners Powdered Sugar (1- US standard size bag)
2 tbsp. – Vanilla Extract
1 tbsp. – Almond Extract

(optional)
Food Coloring
Sprinkles
Decorative Candies
Step 1: Using a stand mixer or hand held mixer whip the room temperature butter until it is soft and fluffy.
Step 2: Add one cup of confectioners sugar, the vanilla extract, and almond extract to the whipped butter. Mix together on a low speed until the mixture is combined, then whip the mixture to a fluffy consistency.
Step 3: Continue adding the powdered sugar one cup at a time, mixing to combine the sugar and butter, and then whipping it to maintain a fluffy texture. Use this alternating method to combine all 32oz of powdered sugar with the fluffy butter mixture.
Step 4: Divide the buttercream icing into separate bowls to add the food safe coloring of your choice.
Step 5: Start Decorating Cookies!
Let your creativity fly! Whether you want to keep the icing simple and add a few festive sprinkles, or you want to really challenge your icing piping skills, how you decorate the cookies is up to you. You can have a plan for what you want, or you can leave creative options on the table. Any way you choose to decorate your cookies for Santa, we hope you have fun!
Timing adjustment ideas:
If you plan ahead you can bake the cookies and/or make the icing in advance. Baking ahead would be a great idea for preparing for a cookie decorating party or making cookies with small children who have shorter attention spans.
On the other hand, baking with teenagers or other family members can be a great way to make memories. Use your time in the way that suits you best.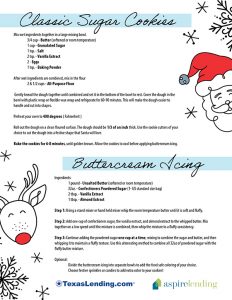 We hope that you have lots of fun baking cookies for Santa. This tradition can be a memory maker in your family for years to come! Read our article on how to make a gingerbread house too!
If you would like to see more articles like this one, follow our Facebook page.
As always, we are here to be your mortgage experts. When you are ready to refinance your current home or buy a new home, think of texaslending.com