Down Payment Savings Plan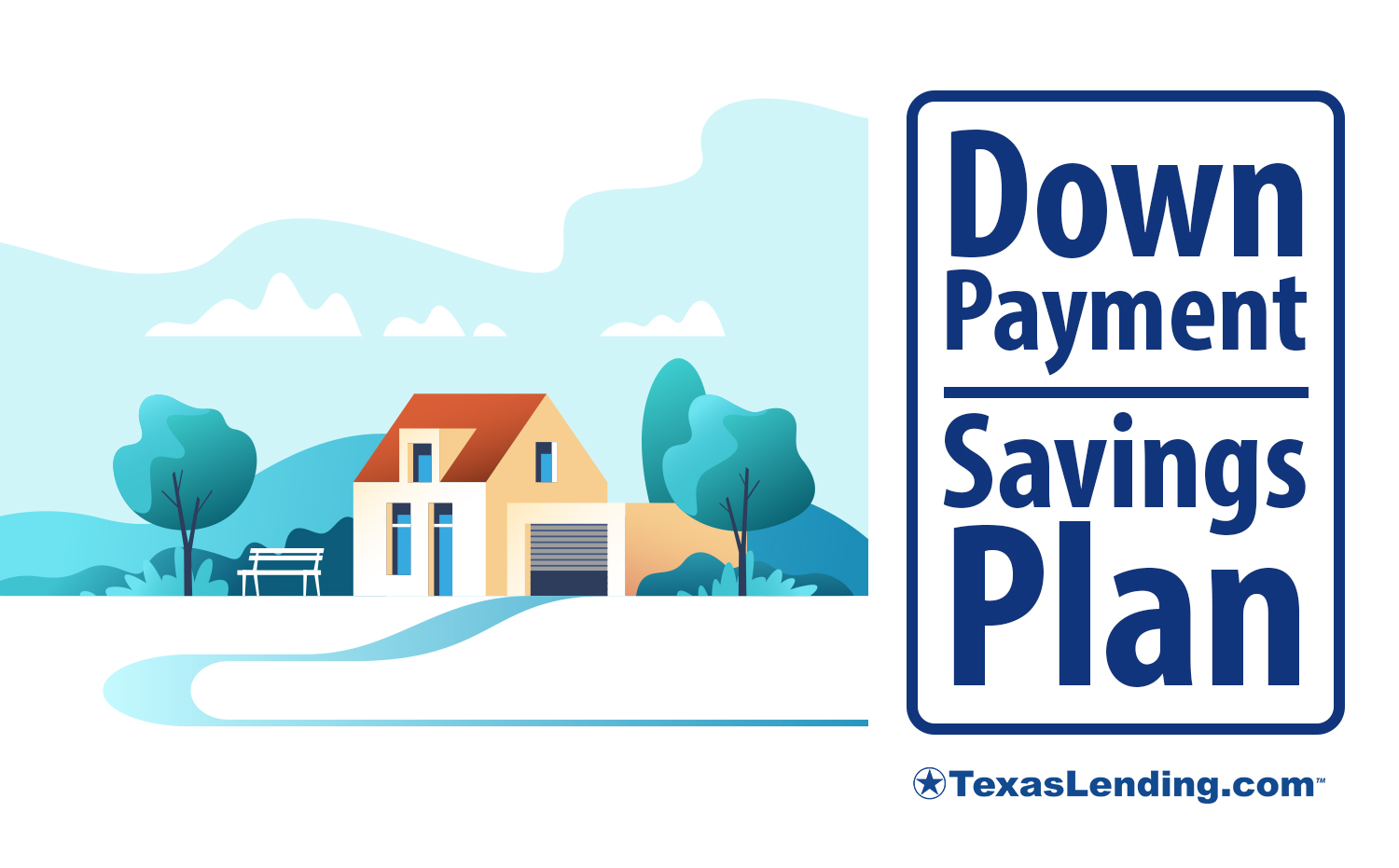 If you are ready to start saving for you goal of becoming a home owner, it's a good idea to have a down payment savings plan. A complete savings plan includes your down payment savings, as well as credit and other potential costs. This article will help you make a down payment savings plan built for home buying success.
Credit
First things first, you will need a good credit score to purchase a home. Buying a home is the biggest investment that most people make in their lifetime. In order to gain financing approval for a home loan, your credit history should reflect that you use credit responsibly with a good score.
While you are saving for the down payment for your home, it is important to take care of your credit. You will need a minimum 620 credit score to qualify for most mortgage programs. A minimum score of 580 is required for a FHA mortgage loan.
Read more about how maintaining a good credit score helps you save money in this blog article.
Down Payment
Most advice found online encourages you to save 20% of the purchase price of a home for the down payment. While there are advantages to making a substantial down payment, 20% is not necessary to qualify for a home loan.
Lets take a look at some numbers* based on the minimum down payment requirements for different loan programs. Based on the current average home value in the state of Texas of $218,000, here are some down payment options.
Conventional Home Loan: 20% down payment: $43,600
Conventional Home Loan: 5% down payment: $10,900
FHA Home Loan: 3.5% down payment: $7,630
First Time Home Buyer Loan: 3% down payment: $6,540
USDA** Home Loan: 0% down payment $0
VA*** Home Loan: 0% down payment $0
**USDA home loans require the purchase of a qualifying rural property as defined by the United States Department of Agriculture.
***VA home loans require the primary borrower to be a member of the United States Military as defined by the Department of Veterans Affairs.
You can calculate the down payment amount for homes in your target price range, by the percentage of purchase price required for each loan program.
When you make your down payment savings plan, knowing your mortgage options is valuable. Having a goal number in your savings plan helps you work toward a specific goal.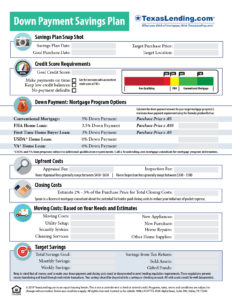 You should also keep in mind that the housing market changes. If it takes a few years to reach your savings goal, you may need to account for home value changes in the market.
Upfront Costs
Your down payment savings plan wouldn't be complete without considering these two potential upfront costs:
Appraisal: $450 – $650 An appraisal of the property is required to verify the current fair market value of the home before you and the mortgage company invest in the property.
Inspection: $300 – $500 An inspection report gives potential buyers a full analysis of the condition of the property. Although a home inspection is not required, we have written an article that discusses why a home buyer should get an inspection of the home they are potentially buying.
Closing Costs
There are a few other variable upfront costs in the process of buying a home that you should include in your down payment savings plan. These costs are often referred to as "closing costs." They are associated with the legal requirements of documenting a real estate transaction and structuring the taxes and insurance payments.
The survey, title fees, lender fees, mortgage insurance, escrow deposit for taxes and home insurance, HOA transfer fees, city and county recording fees, loan discount points, and other fees are considered under the umbrella of "closing costs."
It is difficult to accurately estimate the potential closing costs associated with buying a home because they vary greatly.
A general rule is to save 2% to 5% of the purchase price of the home for closing costs. If, for example, you were saving to buy a home for $218,000, you should set a goal to save $4,360 to $10,900.
Closing costs can be paid for partly or entirely buy the seller. Although, this is not always the case and would need to be negotiated in the initial purchase contract offer.
Your lender may also be able to add these costs to the loan, so that you wouldn't be required to pay them up front. This flexibility depends on the mortgage loan program and your debt to income ratio.
Moving Costs
Once your loan is closed and funded, you will have the keys to your new home. Don't forget to consider the costs of moving and setting up your new home. You will need extra cash on hand to turn on the utilities, set up a security system, buy appliances and furniture, deep clean, or make improvements and repairs.
Seasoned Funds
The amount you save to buy a home is important, but the way you save is also important. Lenders are required to show documentation for the funds used towards the down payment and closing costs. Banking regulations like these are put into place to prevent money laundering and fraud through real estate transactions.
This means that you shouldn't save large amounts of cash, use a savings or checking account over time. If you sell an asset like a car or piece of jewelry, make sure to keep your documentation. Also, if you receive help from a close friend or family member for your down payment, make sure to document this transaction and present a gift letter.
We want to empower our customers with the information you need to be successful in reaching your goals of home ownership. When you know what to expect, the home buying process is easy to take step by step. Reach out to our licensed mortgage consultants anytime you have a mortgage question.
If you are ready to buy a home soon, reach out to us today to get pre approved, for free.
*The numbers represented in this post are an estimated amount based on current mortgage guidelines and market conditions. Individual loan costs and qualification will vary.