Become a Homeowner in 2022
December 23, 2021 by Fred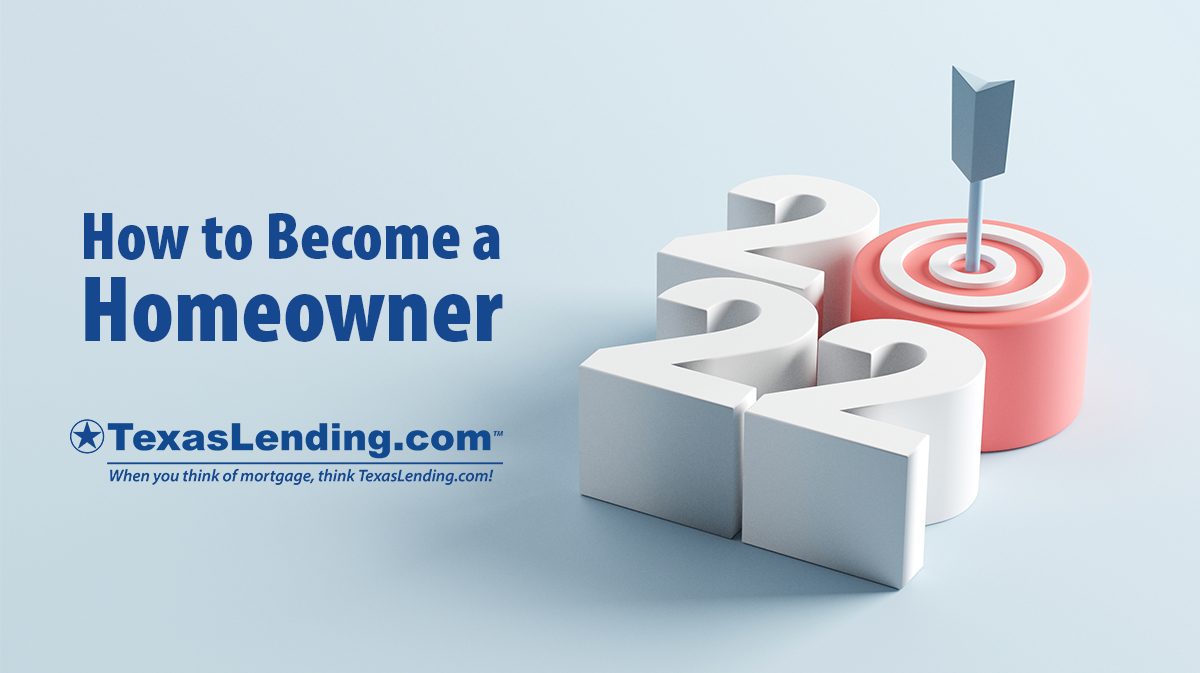 How to become a homeowner in 2022
Setting a goal to become a homeowner in 2022 is both exciting and challenging. There are a few things that make 2022 a unique time to buy a home in Texas. We look forward to helping many home buyers purchase their first home this year.
In the past two years we have seen home prices rise across the state of Texas. In 2022 the housing market is likely to remain competitive for home buyers. There are more potential buyers in many areas with job growth, than homes are available to purchase.
This is article a great place to begin planning your steps for buying a home in 2022. From understanding the impact of your credit history, your down payment options, mortgage pre approval, and staying competitive in the 2022 housing market, we are here to help.
Here are the big "must do's" you should have on your list to become a homeowner in 2022:
Getting Your Credit "Mortgage Ready"
Credit Scores
To qualify for a conventional mortgage loan your FICO credit score should be a 620 or above. At a 740 FICO score or above your opportunity to get the best available interest rate on your mortgage opens up. Setting a goal to raise your credit score is a great idea before you buy a home.
Paying your bills on time, keeping credit balances low, and using different types of credit are all ways to build your credit score over time. Learn more about your credit score and qualifying for a mortgage in this linked article.
DTI – Debt to Income Ratio
Another aspect of your credit that will impact your mortgage options is your debt to income ratio. DTI is the amount of your gross monthly income that is allocated to repaying your current debts. Student loans, credit cards, and auto loans are all common types of debts that are calculated in determining your mortgage qualification DTI ratio.
If you are looking to become a homeowner in 2022, you may consider reducing the amount of monthly debt repayment obligations you have. Paying down credit card balances or refinancing your student loans to a lower payment amount may help your mortgage qualification if you have high monthly debt payments.
Learn more about DTI and calculating "How Much House You Can Afford" in another helpful article for potential home buyers.
Analyzing Your Down Payment Options
If you have been saving for a down payment on a home, you are closer to becoming a home owner in 2022 than you may think. Traditional mortgage advice encourages potential home buyers to save for a 20% down payment on a home. However, in the current market, waiting to save for a large down payment may cost you more than expected as home values are rising.
There are plenty of mortgage options that offer a lower down payment, helping you to buy a home with just 3%-5% down. Some specialized mortgage programs offer a 0% down payment option for those who qualify.
These are the minimum down payment requirements for the most common mortgage programs:

Conventional Mortgage: 5% minimum down payment
Conventional First Time Home Buyer Loan: 3% minimum down payment
FHA Home Loan: 3.5% minimum down payment
VA Home Loan (for U.S. Veterans): 0% minimum down payment
USDA Home Loan (qualifying USDA rural properties only) : 0% minimum down payment
No down payment saving yet? Start your "Custom Down Payment Savings Plan" in 2022 and set a goal to become a home owner in the future.
Pre Approval for a Home Loan
30 to 60 days before you would like to start shopping for a home, you should apply to be pre approved for a home loan. The Pre approval process for a mortgage loan at Texas Lending is much faster than that, but it's a good idea to get a review of your finances and make sure everything is aligned before making an offer.
Speaking with a licensed mortgage consultant about the financial aspects of buying a home in 2022 allows you to ask questions to someone with lots of experience in the current market. Having an expert on your team means that you have a guide to help you understand the flexibility of your budget and walk you through the process.
The pre approval process begins with a phone call to talk about your goals, financial outlook, and potential mortgage options. Learn more about "How to Get Pre Approved for a Mortgage" in this linked article.
Buying in a Competitive Housing Market
Being pre approved for a home loan is not only a recommendation for home buyers in a competitive market, it is essential. In 2022 buying a home in Texas is most likely going to mean competing in a "Seller's Market." Some preparation and a good home buying plan can help you make decisions in a timely manner.
Knowing that you have experts on your team to help you become a home owner in 2022 is a true asset. Reach out to us to ask all the mortgage questions you have on your mind. Ask us to connect you to a top quality realtor in your area that can help you find the right home and make an offer.
We are here to help you understand the home buying process and access the best home loan options available to you. Contact us when you are ready to get pre approved to buy a home in 2022.