Custom Down Payment Savings Plan
December 15, 2021 by Fred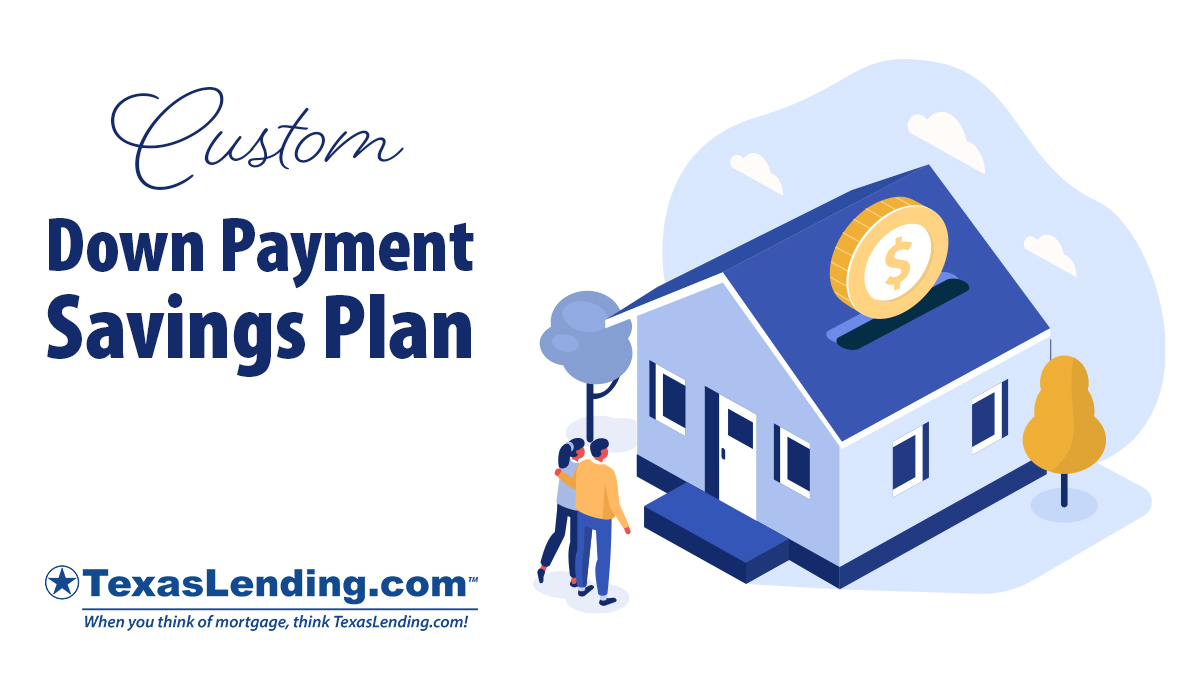 Developing a custom down payment savings plan can be a great first step toward becoming a future homeowner. Understanding both what you need to save and setting the time you can give yourself is key to making a savings plan that is just right for you.
There are a few upfront costs to buying a home, and making the down payment is usually the biggest hurdle for most first time home buyers. The good news is that you can plan for a traditional 20% down payment or consider a lower down payment mortgage option. Taking a look at your monthly income, potential down payment, target purchase price, and other financial factors will help you set a savings goal.
Create your custom down payment saving plan with these things in mind:
Mortgage Options
Let's begin a custom savings plan by narrowing the target. If you know how much a potential down payment could be, then you will know how much you should have in savings.
A traditional down payment on a home is 20%, but with today's home values rising higher and higher a 20% savings goal may be a quickly moving target. Waiting longer to save 20% may have an opportunity cost. The vast majority of first time home buyers are getting into their first mortgage with a low down payment mortgage option. There are low down payment mortgage options available in both conventional and federally backed mortgage programs.
Here are the minimum down payment requirements for the different types of available mortgages:
Conventional Mortgage: 5% minimum down payment
Conventional First Time Home Buyer Loan: 3% minimum down payment
FHA Home Loan: 3.5% minimum down payment
VA Home Loan (for U.S. Veterans): 0% minimum down payment
USDA Home Loan (qualifying USDA rural properties only) : 0% minimum down payment
The down payment amount is based on the percentage of the purchase price of the home. So now that we have discussed the minimum down payment options, let's take a look at how much home you can afford.
How Much House Can I Afford?
The simple answer that would allow you to set a target home purchase price for your custom down payment savings plan involves a little multiplication. A rough estimate of your potential target home purchase price is to multiply your annual house hold income times 3.5 to 4.5. A conservative target home purchase price would be 3.5 times your annual household income, and 4.5 times your annual income would be the top of your budget.
However, fully answering this question can be more complex. "How much house can I afford?" is the most popular question potential home buyers ask our mortgage experts. Qualifying for a certain mortgage amount means showing the financial ability to comfortably make the mortgage payments each month. Discussing how much house you can afford is an important part of the pre approval process. As you get close to reaching the goal you set in your custom down payment savings plan, remember that you should get pre approved for a mortgage a 30 to 60 days before you start making offers.
Lean more details about "How Much House Can I Afford?" and "Getting Pre Approved" in our previous blog posts.
Setting Your Savings Goals
Your custom down payment savings plan should start with planning for a down payment, but don't forget that there are other costs associated with purchasing a new home.
Other home purchase savings should include the cost of an appraisal, inspection, and closing costs. Getting a mortgage requires and appraisal of the property value which is generally about $500 to $700 depending on the type of property. An inspection of the home is optional, but has many benefits, and costs $300 to $500. Closing cost vary by the type of mortgage you choose, but it would be a good idea to save 2% to 5% of the purchase price to cover the title fees and other closing costs.
Saving for the costs of moving and setting up your home would be a great advantage to have as a home buyer. Consider covering these costs as a part of your down payment savings plan:
Hiring movers or rental moving equipment
Professional deep cleaning
Changing the locks and installing a security system
Utility set-up costs
New Appliances *
New Furniture*
Tools and/or home safety equipment*
*Remember that you should not be making large purchases on credit during the mortgage process. This can impact your credit score and change your debt to income ratio, potentially preventing your loan from closing.
Income Analysis & Budget a in Action
Knowing where your income goes each month is the first step in financial planning 101. There are endless options for things that you can swipe your debit or credit card to buy, and before you know it your disposable income each month is gone. Too many people spend without thinking about their overall financial goals in mind. That's why if you want to become a future home owner, it's important to plan where your dollars go each month.
Take a look at your monthly income and expenses and decide how much you can apply toward your down payment savings every month. The amount you save each month will determine how quickly you will reach you goal. With some quick addition you can calculate how long it might take you to save enough for a down payment and the other upfront costs of buying your first home.
For example: if you wanted to save $20,000 here are some examples of your monthly contributions to your home ownership goal.
Saving $209 per month, would take 8 years to save $20,000
Saving $334 per month, would take 5 years to save $20,000
Saving $417 per month, would take 4 years to save $20,000
Saving $556 per month, would take 3 years to save $20,000
Saving $834 per month, would take 2 years to save $20,000
You may also consider adding some other financial resources to your down payment savings plan. Saving your annual income tax return, sourcing funds from a retirement account, or using gifted funds from a family member can quickly boost your down payment funds.
Creating Custom Down Payment Savings Plan
Use our FREE Printable Down Payment Savings Plan worksheet to help you create a custom strategy.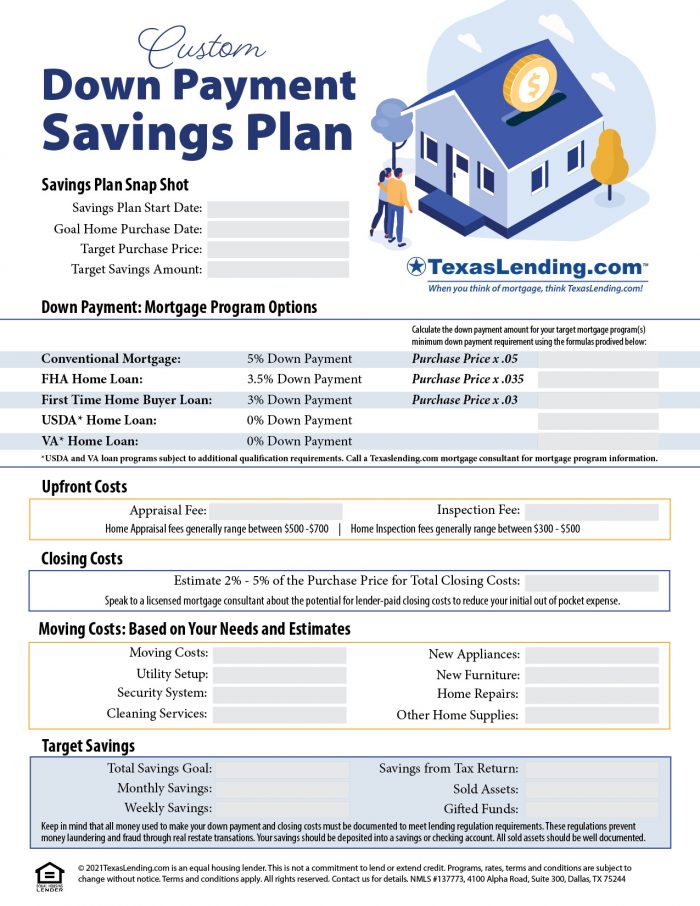 We are here to help you succeed at reaching your home ownership goals. Let us be the experts on your team to answer questions and make the mortgage process easier.
Reach out to us when you are ready to get pre approved to buy a home. With some of the lowest interest rates and fees in Texas, we are proud to help home buyers get the best deal available on the market.