Monthly Budget Analysis & Planner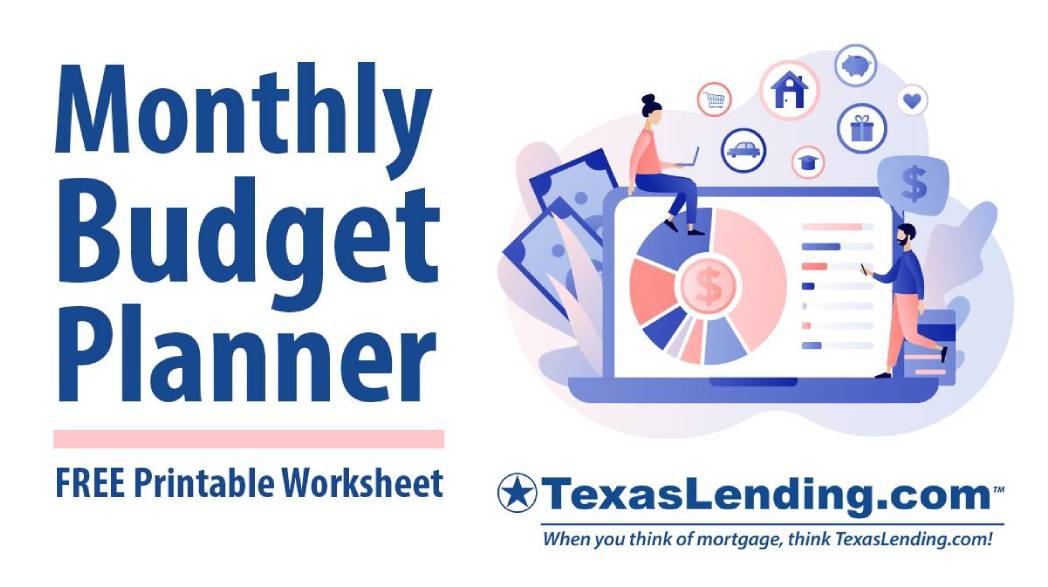 What do you really want? Is it owning your own small business or buying a home? Do you know how much money your spend each month on entertainment, eating out, or subscription services?
Taking a comprehensive look at your monthly spending habits can help you reach your financial goals. There is an advantage to knowing exactly where your dollars are going each month. Consider using a monthly budget analysis worksheet to help you track your money. Writing it all down and reviewing how you are spending your money will help you track your spending, and set healthy financial goals.
Income
Do you know exactly how much money you have coming in each month? Your monthly budget analysis should start with a total of your income for the month.
Tracking your income and where is goes is a crucial step to managing your finances. Making informed decisions about the best use of your money should be a priority.
Use our FREE printable monthly budget analysis worksheet.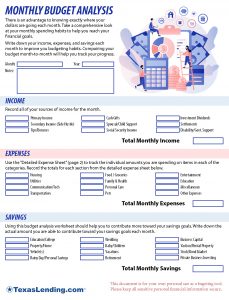 Expenses
If you feel the need to make changes to your spending habits, this is where you have to be honest with yourself. WRITE DOWN EVERYTHING that you are spending your money on each month!
It is easy to pick up non-essential items and swipe your card at checkout, but have you analyzed how much you are actually spending. Get the most out of using your monthly budget analysis by looking at exactly how much you are spending each month.
Each of these categories should be considered in your monthly budget analysis:
Housing
Utilities
Transportation
Communication/Technology
Food/Groceries
Family & Health
Personal Care
Entertainment
Education
Pets
Use the detailed expense sheet in or FREE printable "Monthly Budget Analysis" worksheet.
Saving
Completing the expenses in your monthly budget analysis will help you be more aware of your spending habits. This awareness can help you to allocate more of your income toward your bigger savings goals.
It is exciting to see your savings grow over time. Add up your monthly savings contributions for the year and see how much closer you are towards your goal. Set your financial goals with intentions to take real steps toward achieving them
Here are some of the most common financial savings goals:
College/Higher Education
Wedding/Special Life Event
Home
Retirement
Vacations
Emergency Fund
Personal Savings
Vehicle: Car/Truck
Recreational Vehicle:
Boat/RV/Motorcycle
We shared some excellent information in last week's blog, "You Can Buy a Home." Learn more about how reachable your goal of home ownership is.
Investments
An investment is utilizing your money with the intention of gaining a return. If you have dreamed raising capital to start a business, earning income from your investment portfolio, or want to own income property, start a monthly budget analysis. You can start putting more dollars toward your investment goals.
These are a few examples of common investments:
Property/Housing
Stock/Bond Market
Entrepreneurship (Owning your own business)
Private Business Investing
Use our FREE printable monthly budget analysis worksheet.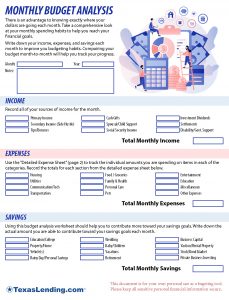 At TexasLending.com, our goal is to keep our customers informed through out the mortgage process and beyond. We enjoy sharing information on home ownership, neighborhoods, family, and more. Follow our Facebook page to see more articles like this one.
When you are ready to buy a home, we are here to help. Reach out to us to get pre approved for a home purchase loan, or refinance your current mortgage.