Texas Housing Market Report for Home Buyers
December 20, 2022 by Fred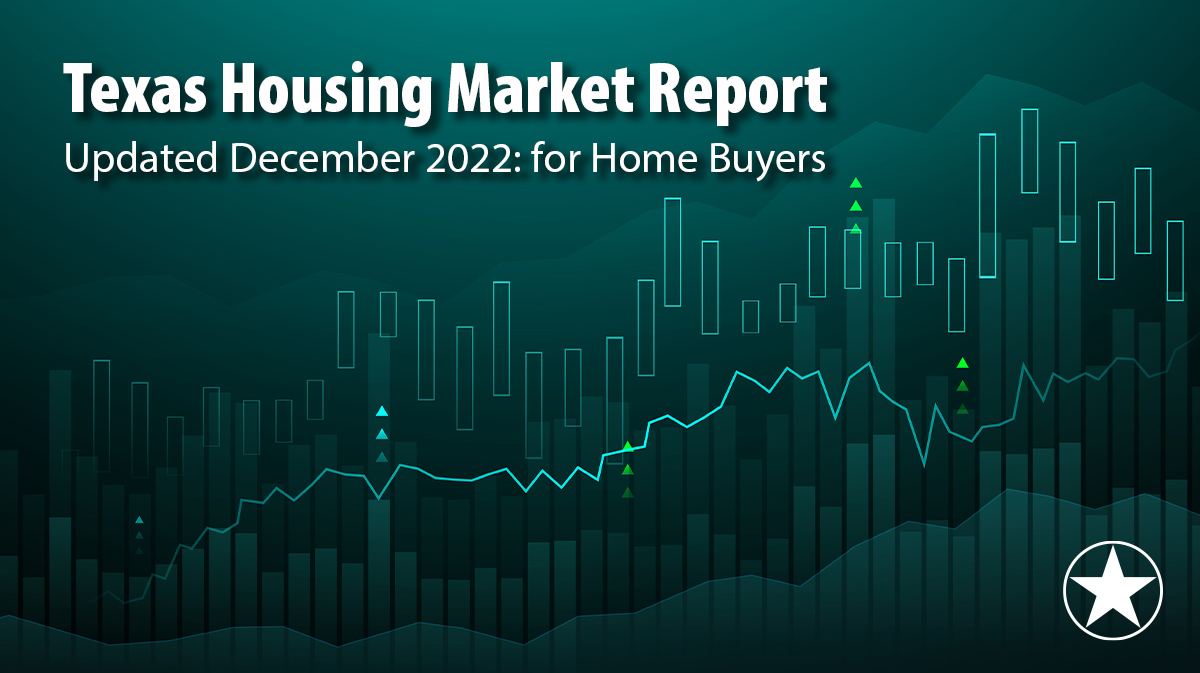 Texas Housing Market Report for Home Buyers | Updated December 2022
If you are thinking about buying a home, looking into the current Texas housing market conditions can be beneficial. Knowledge is an asset to home buyers. This report can give you a look at the current trends and market predictions to help you make informed decisions.
Expect data from recent home sales within our state and an analysis of market conditions for mortgage interest rates in this Texas housing market report. An overview of the outlook as a potential home buyer could help you assess the value of real estate as an investment in the current market.
Data Report for the Texas Housing Market
In November of 2022, the median home price in Texas was reported at  $330,000. This is a $5,000 drop in comparison to the median home price reported in October.
Additionally to the median home price falling by nearly 1.5%, the total number of home sales was lower in the month of November. A total of 22,983 home sales were reported in November compared to the 26,105 home sales in Texas reported in the month of October.
The inventory of homes on the market decreased in November 2022, with 90,606 active MLS listings in Texas. By comparison there were 91,897 listings in the month of October 2022. Notably, the inventory of homes on the market is much higher than the same month last year at just 48,160 listings.
November 2022 Data
Median Home Price: $330,000
Home Sales: 22,983
Total MLS Listings: 90,606
Month over Month Comparison – October 2022 Data
Median Home Price: $335,000
Home Sales: 26,105
Total MLS Listings: 91,897
Year over Year Comparison – November 2021 Data
Median Home Price: $315,000
Home Sales: 32,639
Total MLS Listings: 48,160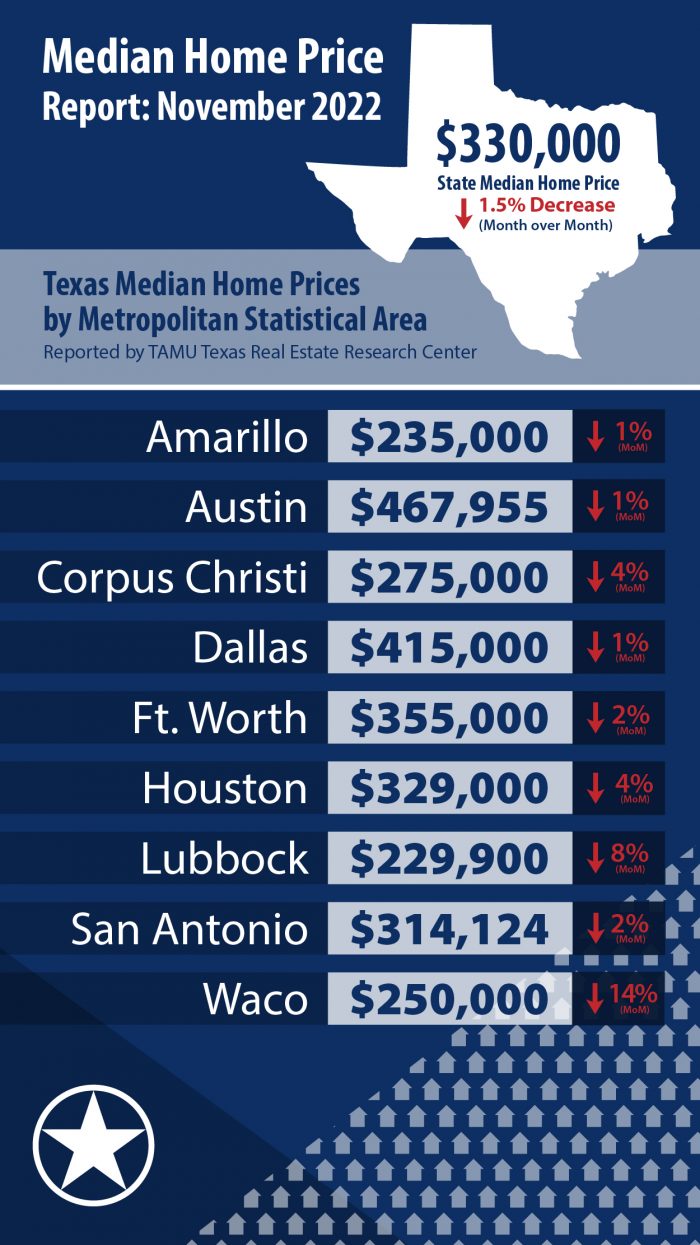 The data presented above is collected and reported by the Texas Real Estate Research Center.
Interest Rate Market Trends
In the last year, interest rates have risen from the all-time lows we saw during the pandemic. The rise in mortgage interest rates is an effect of the the Fed's scheduled incremental increases in the federal funds rates for banks, in order to combat rapid inflation.
Although interest rates have climbed to over 6% in recent weeks, by comparison these rates are nowhere near the historically high rates of the last 50 years. Although interest rates vary each day, the potential is there for rates to level out or begin to fall in the coming months.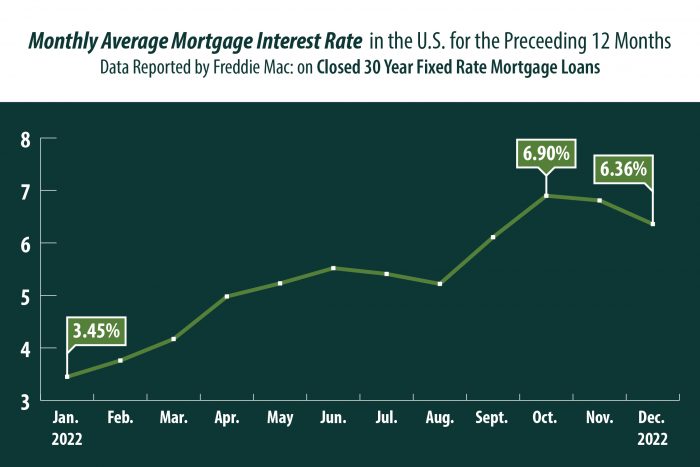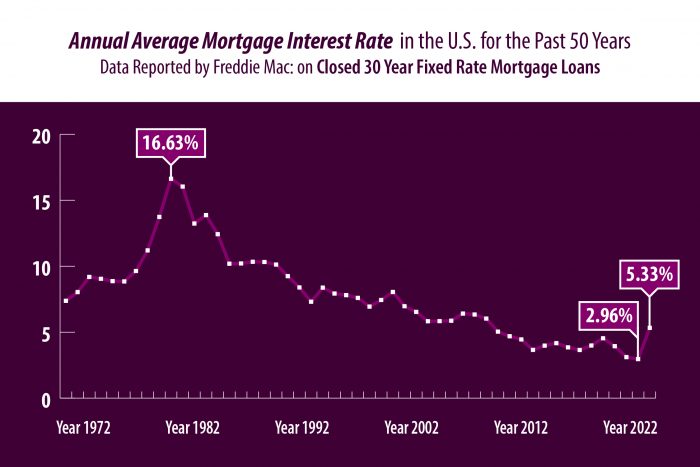 Interest rate data is collected and reported monthly on 30 year fixed rate mortgages by Freddie Mac. 30 year fixed rate mortgages are the most common loan term and rate structure selected by American home buyers.
You should always get a customized quote when comparing mortgage loan options. Your credit score, loan amount, debt to income ratio, loan type, and other financial factors will determine the interest rate available on your loan. Read more about the steps you can take to get the best possible interest rate on your loan in this linked article.
Texas Housing Market Overview
The inventory of homes remained steady, while the median home price continues a gradual downward trend in recent months. This could be an early indicator of a market shift to a more friendly market for potential home buyers in the coming months.
Interest rates have risen due to the Fed's decision to move forward with their plan to increase interest rates again in their December meeting. However, that does not mean that mortgage interest rates will rise at the same pace. We could see rates remain steady or begin to fall in future months.
What do these market indicators show potential Texas Home Buyers?
Home Buyer Outlook
As inflation slows, the housing market is back into balance. Home prices are not skyrocketing like they were in the height of the pandemic. Home buyers will see less competition in the market and home prices that are more aligned with current market values.
Although the mortgage interest rates no longer at the all-time lows we saw in 2021, current home buyers are likely to be able to refinance to lower interest rates in the future.
The long-term outlook on real estate in Texas as an investment is still favorable. The demand for housing is still strong and is predicted to be strong for years to come. This means that buying a home at today's price is a sound investment, as home prices are likely to appreciate gradually.
If you are ready to buy a home, getting pre-approved for a home loan is the place to begin. There are a variety of mortgage options available, each with different benefits for potential home buyers. Speak with a licensed mortgage expert on our team about your goals and your best mortgage options.
See more Texas housing market reports and helpful mortgage information, follow us on Facebook or Instagram.