Best Reasons to Buy a Home in Austin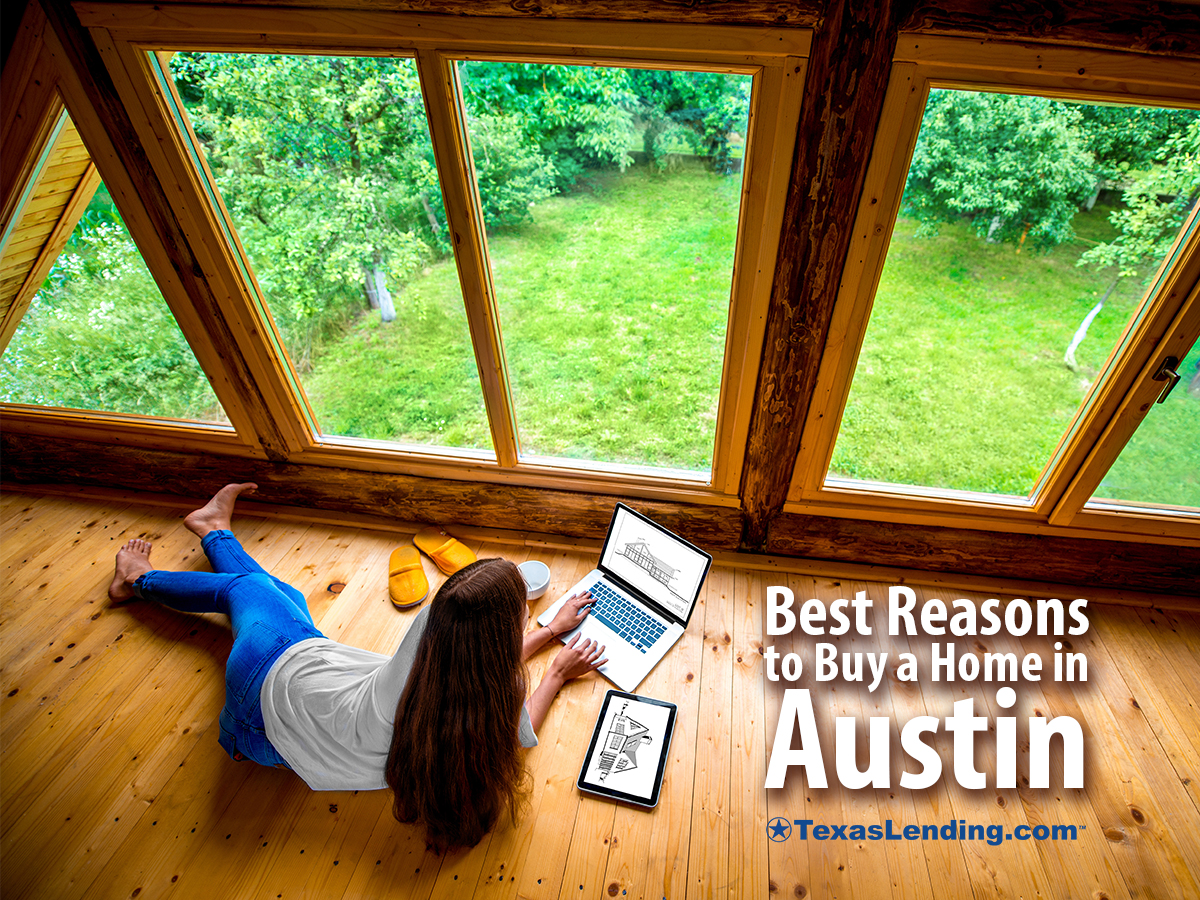 Austin, Texas may be the perfect place for you to call home. There are many reasons to love this unique city. Here are a few of the best reasons to buy a home in Austin.
The Culture
Austin is not only the capital of the Lone Star State, it's also the live music capital of the world. If you love to be in a place packed with activities it may be time for you to buy a home in Austin.
The whole family will have a appreciation for Austin and it's surrounding communities with kid friendly museums and activities, and a thriving art culture. Day or night you can find amazing local food in every neighborhood. There are numerous outdoor parks, biking and hiking trails.
Making it Unique
Austin attracts a diversity of people who appreciate the unique atmosphere. One of the best things about buying a home of your own in Austin is the opportunity to make it your own. I a past article we highlighted easy ways to make your home more eco-friendly. If you buy a home in Austin, there are lots of thinkers to help you transform your home into the best place for you and the environment.
Creativity is part of the culture in Austin. If you aren't a creative person who likes to make unique items for your home, then you won't have any trouble finding someone to help you in this town.
Better Than Renting
The fact that renting is more costly than buying a home is just as true in Austin as it is in many other cities in Texas. The price of renting a 2 bedroom apartment is often higher than the monthly mortgage payment of a 3 bedroom house. If you are renting, you are paying a mortgage, just not your own.
You may also find the 50 reasons to buy a home instead of renting in this article helpful.
Passive Income Opportunity
According to the most recent Census, nearly half of the population of Austin residents are single. Just because you are single, doesn't mean that you are not ready to buy a home. In fact buying a home when you are single could be a smart financial decision.
With a population of young single people, owning property in Austin could be a great way to earn passive income. Consider the benefits of roommates sharing the bill, converting the home into a rental property when you are ready to move, or even selling your first home to help you upgrade to a new home.
Getting Pre-Approved is Easy
Before you start shopping to buy a home in Austin, you should get pre-approved for a home loan. The good news is that starting the pre-approval process is easy. Talking to one of our licensed mortgage consultants about your goals and mortgage options is free.
Our mortgage consultants can show you your home buying potential in an easy to understand side by side comparison. We are your mortgage experts don't hesitate to call us with questions. If you are new to home buying, this article may help you discover if you are ready to begin home buying.
Austin is a great place to call home, and we would love to help you make a piece of Austin your very own. Start the conversation today at TexasLending.com to take the first step towards your goal to buy a home in Austin.