Are We in a Housing Bubble?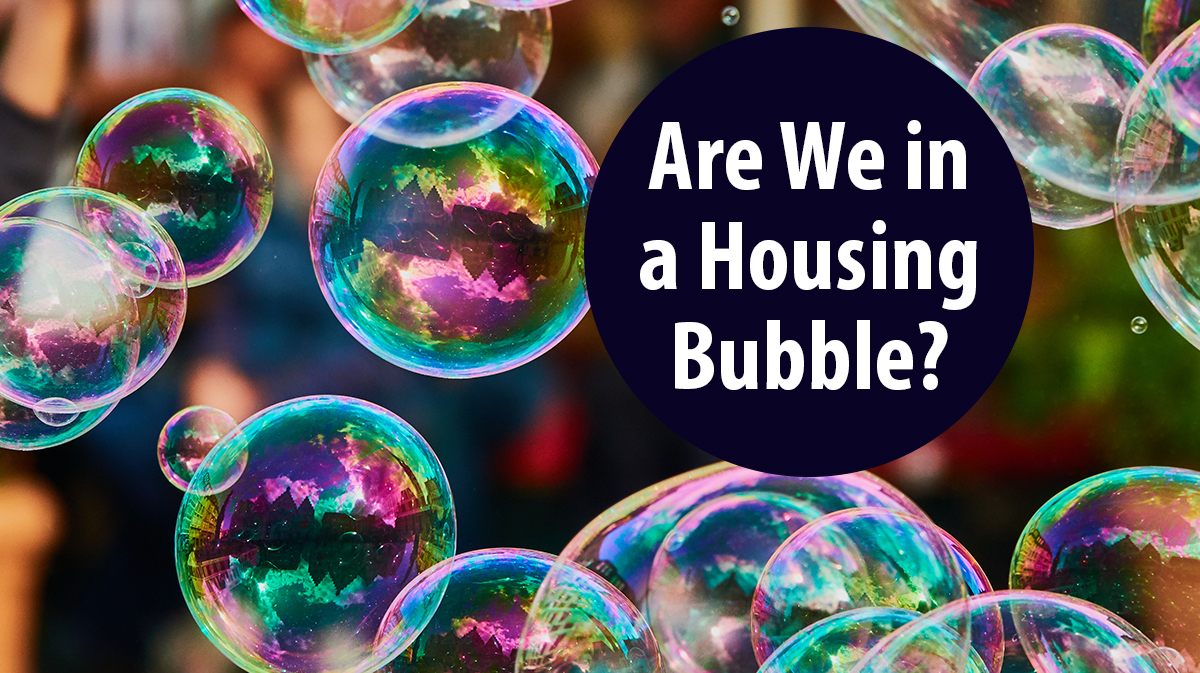 There is talk going around that we are currently in a Housing Bubble. In recent years home values have risen at a record setting pace. Concerns about inflation and a potential recession have some people worried that home values are going to suddenly drop. This is a fear that we would like to put to rest, with an in-depth look at the current market conditions.
The outlook in the housing market today is quite different from the market that played a significant role in the "great recession" of 2008. In addition to the legislation that established the CFPB and put in place the Frank-Dodd Act to protect home buyers and home owners in 2010, the housing industry today looks quite different from the last housing bubble.
Let's take a look at what a housing bubble is and how we can be sure that we are not currently in one:
What is a housing bubble?
A "Housing Bubble" is described as the over inflation of home values that results in a market crash at a particular breaking point in the economy.
In 2008 the primary reason for the crash in the housing market was due to primarily to sub-prime mortgage lending. Banks extended financing to many people who could not repay their loans. The national unemployment rate was climbing rapidly. The default in mortgages caused a surplus of foreclosures and short sales that created an imbalance of supply and demand, then housing prices plummeted.
Are we in a housing bubble?
With the laws of the Frank-Dodd Act in place today, mortgages are more closely regulated to ensure that the home buyers are well within their means to pay back the loans on their homes. This means that the risk of defaulted mortgages is much lower in the current market.
However, the current lending regulations are not the only thing that looks different than the last housing bubble. Looking at the buyers in the market, the inventory of homes, the current equity holdings of homeowners, and the market projections for future years… the housing market is looking to remain steady. We are not in a housing bubble.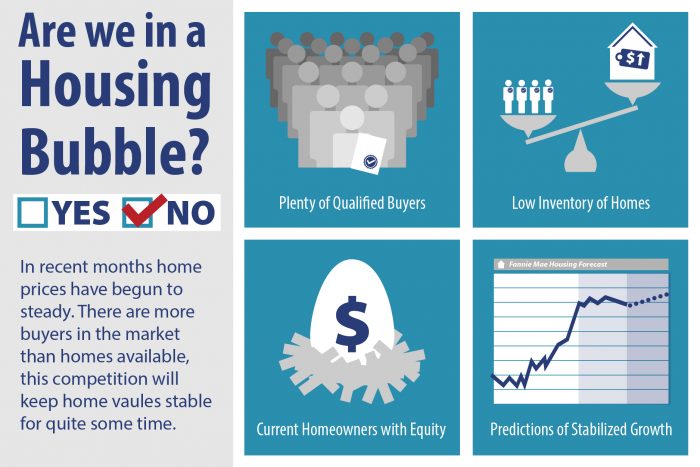 Qualified Buyers
Higher qualification guidelines means that home buyers entering the market will need to be prepared. Making a competitive offer on a home starts with a good credit score, savings for a down payment, and a stable income, to be pre-approved for a mortgage loan.
There are plenty of qualified potential home buyers in the current market. Millennials who were graduating from college or starting careers in the 2008 recession, are now in their thirties and ready to buy homes. Millennials, on average, have waited longer to have children, have more savings, and have completed more education than their parents' generation. According to the 2022 National Association of Realtors report, millennials make up the largest percentage of home buyers in the market.
An estimated 43% of home buyers are looking to buy their first home, According to the NAR most recent research and statistics report. Which shows that there are plenty of potential home buyers keeping the housing market strong.
Low Inventory
There are more buyers in the market than homes. Low supply and high demand mean that the housing market will remain competitive. Home builders cannot keep up with the demand for new homes, and previously owned homes have intense competition for new owners.
The balance of supply and demand in the current housing market now and for the next few years is a good indicator that home prices are not likely to fall anytime soon. A low inventory of homes relative to the number of buyers in the market, is the opposite condition of a housing bubble.
Home Equity
While home prices continue to rise, current homeowners are building equity. The equity gains in the last two years have increased at a record setting pace due to the competition to buy homes in a low interest rate mortgage market. This means that homeowners who stayed in their homes have added stability through their home equity.
In fact my homeowners have earned so much equity, that they have been able to make home improvements and consolidate higher interest debts. With a home equity cash out loan, homeowners can access up to 80% of the value of their home.
With the national unemployment rate at a very low 3.6% in June of 2022, according to the U.S. Bureau of Labor and Statistics the overall health of household income is much stronger than what we saw in 2008. A cushion of equity and stable income are good conditions for supporting a strong housing market.
Housing Market Projections
According to the housing forecast published by Fannie Mae for June 2022, home sales are predicted to remain strong for the next few years. The Fed's decision to raise interest rates, to combat long term inflation, has reduced some of the competition in the market. Home prices have dipped slightly in the last few months, but are likely to stabilize.
Steady growth in the housing market makes home ownership a solid investment. The market cool-down is an expected outcome of rising interest rates. This steadier market growth creates a better long-term outlook for homeowners, and helps to avoid the over-inflation in the real estate market.
In summary. The recent rise in home prices has been record setting in many places over the last few years. However, the intense competition in the market is keeping home values steady, even as interest rates have risen. With stabilized growth beginning to take hold, the idea of a "housing bubble" does not align with what experts see for the future of the housing market.
As always, you can reach out to our team of experts with your mortgage questions. We are here for you when you are ready to buy a home or refinance your current mortgage.
If you are interested in seeing more articles like this one, follow our Facebook page to see more updates from our blog. We love sharing information about mortgages and home ownership.