Consolidate Credit Card Debt with a Cash Out Refinance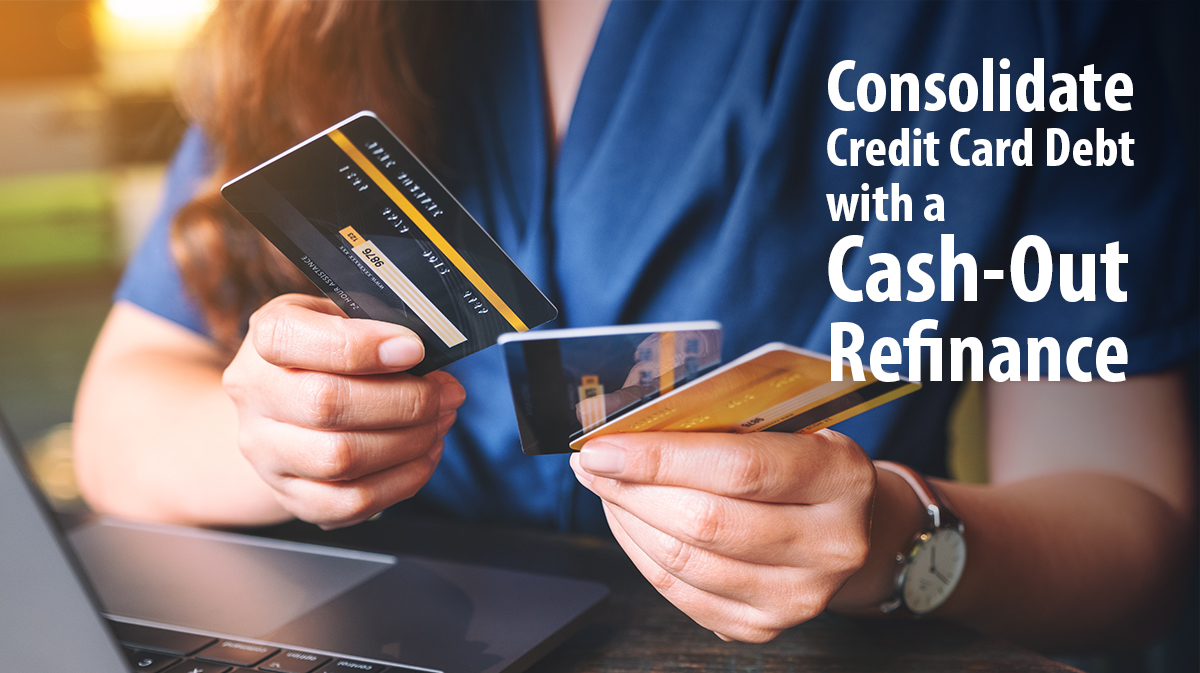 Is it beneficial to consolidate credit card debt with a cash out refinance?
Anyone who has been behind on credit card payments knows that it can be tough to catch up. When it comes to your credit, keeping the balance in your favor is essential. If your payments are overwhelming your budget, it may be time to consolidate credit card debt with a cash-out refinance.
There are a number of good reasons to consider consolidating you credit card debt with a cash-out mortgage refinance. Primarily, this can potentially save you money in interest and your monthly debt payment obligations. If you are a homeowner, now may be an excellent time to access your equity and pay off your credit card debt.
Let's take a look at some of the factors involved in consolidating credit card debt with a cash-out home equity refinance:
Debt and Interest
There are different types of debt, and each type of debt comes with different options for interest rates. Below you will be able to see how consolidating high interest credit card debt with a different type of loan can be beneficial.
High Interest Credit Card Debt
Credit cards are a type of revolving credit. Meaning that you have an open credit account which you borrow against and then pay back over time. How much you borrow, and the way you pay back the borrowed amount can determine the affordability of using credit cards. Making the minimum payment each month and continuing to borrow from that line of credit can ensure that you remain in debt for an indefinite amount of time.
In times of financial hardship, credit cards can provide access to the things you need now. However, paying for these things later comes at the cost of annual fees, and interest that has the potential to compound and grow each month.
The average interest on credit cards in the US in the first quarter of 2022 is 16.17%, according to the Federal Reserve Bank. Not only do credit cards have the ability to keep you in debt, but the interest rate is much higher than the rate that is available on a mortgage loan.
Lower Interest Secured Debt
Mortgages, like a cash-out home equity refinance, are a loan of a specific amount which is paid back in monthly installments. This is referred to as installment debt. Each month a portion of your mortgage payment goes toward paying the principal and interest on your loan. The interest on a fixed rate mortgage does not change, and the interest does not compound.
Home loans are also considered a type of "secured" debt. Meaning that the loan is secured by the deed to real property, your home. Secured debt like mortgages and auto loans often have lower interest rates because the buyer risks losing the ownership of the real property if they default on the loan.
The average interest rate on a 30 year fixed rate mortgage was 4.32% in the first quarter of 2022, according to data reported by Freddie Mac. Mortgage loans are one of the lowest interest rate loans available, which is why home cash-out equity loans are a popular choice for financing.
How does a cash-out refinance help you consolidate your credit card debt?
As a home owner, your home is an asset to you. The value you hold in your home, called equity, grows with the market. When you take "cash-out" of your home equity with a mortgage refinance loan, that equity becomes a "liquid" value that you can use.
Using the equity from you home to consolidate your higher interest credit card debt is a financial move that potentially can save you money in a few ways. If you have multiple credit card payments that are due each month, consolidating that into your monthly mortgage payment can add flexibility to your monthly budget. Consolidating credit card debt into a lower interest rate mortgage loan with a cash out refinance can save you money in the total amount interest you would pay on that debt.
Talk to a Cash-Out Home Equity Refinance specialist about your best options for consolidating your credit card debt.
Why is now a good time to consider a cash-out home equity refinance to consolidate your debt?
Home values in the last few years have risen significantly. Which means that the market has helped homeowners quickly build equity in their investment.
We are also seeing inflation in the current economy. This inflation is stretching the pocket books of many Americans in unexpected ways.
For homeowners who have credit card debt, this is an opportunity to get their finances back in balance. A home equity cash-out refinance can help pay off high cost credit card debt and set the path to a better financial future.
You can apply for a cash-out home equity refinance with our team. We will show you a customized look at the best mortgage options available to you in the current market.
What should you do after you consolidate your credit card debt?
Taking the steps toward a better financial strategy can begin by consolidating credit card debt, but the next steps you take are equally as important. Any financial advisor would tell you to avoid accruing any more credit card debt.
Whether you choose to cut up your credit cards or not is up to you. Avoid charging up a balance on your credit card that you would not be able to pay off within 1 month. The best way to avoid paying interest on your credit card is to pay off the entire balance of your credit cards before the due date each month. Keep to a budget that will help you work toward a more balanced financial strategy.
Take a look at one of our previous articles that outlines "10 Habits of People with Good Credit."
The reality is that credit card debt has the potential to overwhelm your pocketbook. High credit card debt can leave you with a growing problem. One of the best ways to get your finances in order, is to consolidate your credit card debt with a cash-out refinance. Using your home equity to pay off your credit cards and step toward a more balanced approach to using credit is a good financial move for many homeowners.
Reach out to our team of licensed mortgage experts to get a customized look at your best mortgage options in the current market.