buyer's market vs seller's market
September 1, 2021 by Fred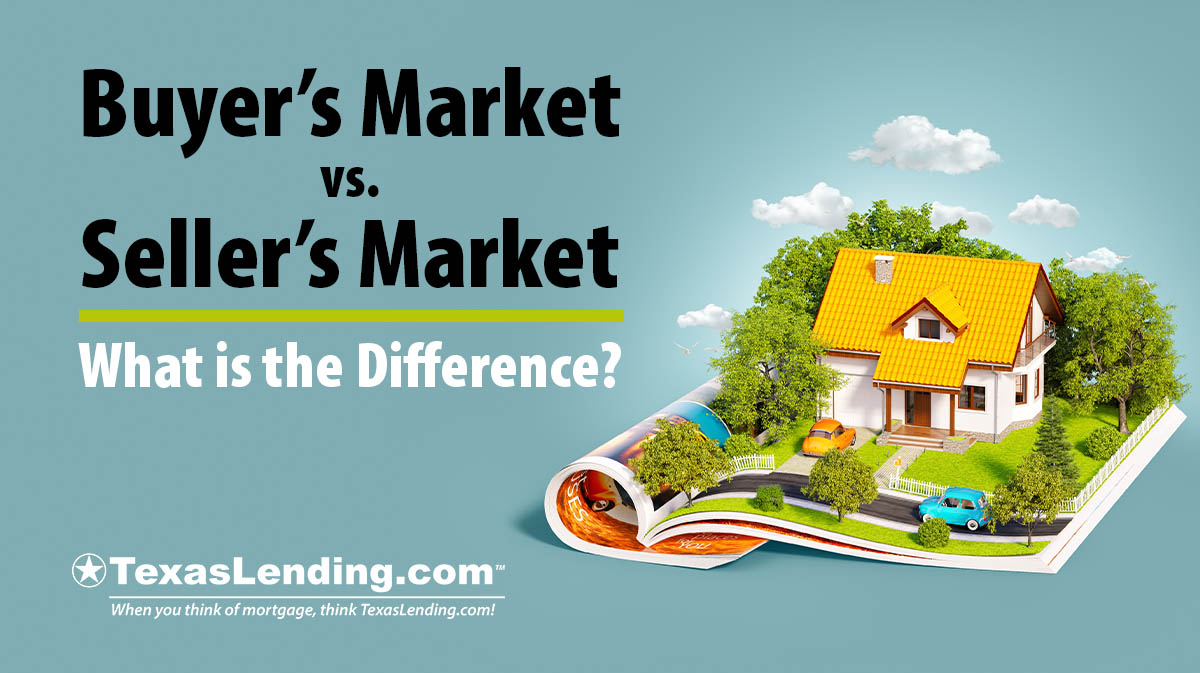 The difference between a buyer's market and a seller's market is the advantage of negotiating power to one party in the transaction or the other.
The primary evaluation of the buyer's or seller's market is based on the basic principal of supply and demand. There can also be divides in the market based on other factors like the location, price point, or time that tips the scales to the advantage of either the buyer or seller.
Below are more details on a few of the factors that can influence the balance between a buyer's or seller's advantage in the market:
Supply and Demand
The inventory of homes available in comparison to the number of potential buyers, creates a dynamic of supply and demand.
Seller's Market: New job growth or other attractors in a certain area will bring more potential buyers. This type of competition gives the seller an advantage.
Buyer's Market: If there are fewer potential buyers, a home can sit on the market for an extended amount of time. This scenario is to the advantage of the buyer who may find that they can negotiate a better deal if the seller is motivated.
Location
Certain school districts, access to an easy work commute, a quality neighborhood, and other factors associated with location can tip the balance in favor of the buyer or seller.
Realtors know which neighborhoods are in high demand, and the homes in those neighborhoods are more likely to sell quicker and at a higher price. However, finding a home with potential in a less popular neighborhood could mean that you would get a better deal.
Make sure to pay attention to the neighborhood crime rate, the school district, safe places to walk, and other amenities. Use our "Home Search Checklist" to help you decide what features are most important to you in selecting a home.
Price Point
Some realtors strategically advise home owners to list their home just below market value in order to attract more interested buyers. They know that the competition in a seller's market will drive the offer bids higher.
On the other hand if a home is listed at a higher price point than the other comparable home on the market it may set on the market longer. Listing a home at a higher price may bring in fewer offers in a seller's market. In a buyer's market, a high listing price could mean little to no offers at all.
Time
The amount of time that a home is listed for sale is likely the best indicator of a buyer's or seller's market. In a seller's market home purchase contracts move quickly because the potential buyer's are trying to get ahead of the competition. This is part of the reason why it is very important to be pre-approved for a mortgage first.
When the buyer has the advantage they can take more time in the purchase transaction. In slower moving market you may have time to come back for a second showing to take a closer look, or request repairs before closing. If a home has been listed for a number of months, that may indicate that a buyer could potentially make a lower offer or have more options for negotiating.
Season
Summer is the busiest season for buying and selling home in north America. Which means that there is most likely to be more competition, if you are looking to buy a home in the Summer. Many seller's looking to get higher offering prices on their home, wait to list their home until the summer competition is hot.
Buyers sometimes have an advantage if there are homes on the market in the late Fall. Some seller's are motivated to sell their home before the holiday's and may be more flexible.
Take a more in-depth look at our article on the "Best Time of Year to Buy a Home" for more details about buying a home in different seasons of the year.
Whether you are ready to join the competition and buy a home in a seller's market or you are planning to wait until the market leaning in the other direction, we are here to help. We would love to be the mortgage experts on your team to help you understand the financial aspects of home buying.
Reach out to us to talk about your home buying goals. Pre-approval is FREE at Texas Lending, and our goal is to give you access to your best mortgage options available.