Home Search Wants and Needs Checklist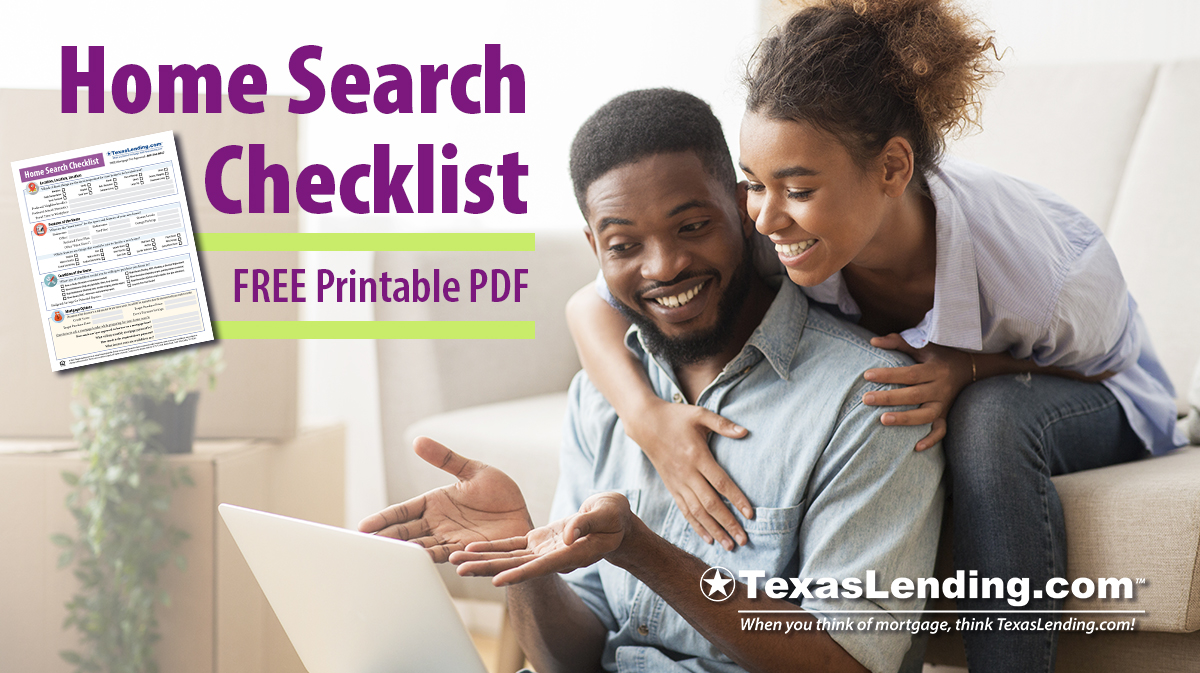 Are you ready to begin searching to buy a new home? Planning can help save you time, money, and some stress when you are buying a home. It is a great idea to sit down and make a few decisions about the things that are most important to you in your new home.
Let's take a look at some of the big questions you should consider when choosing a home to buy:
Location
There are number of questions you can ask yourself about the location of a home. During your home search think about the way the location of the home could impact your lifestyle. What are the reasons you would choose a home in a certain location… being close to your workplace, in a good school district, or in a neighborhood that has certain amenities?
Proximity: Home Search Questions
How far would you prefer the commute to your workplace be?
Is it important to live close to family or friends?
Does your new home need to be located near your place of worship?
Would the quality of the school district impact your choice of home?
Which school district would you prefer?
Neighborhood: Home Search Questions
Would you like to live in a neighborhood with a Homeowners Association?
What is the crime rate of the neighborhoods you are considering?
How important is it to have a safe walking path to school or other places in the community?
Does the traffic in the neighborhood cause excessive noise or potentially dangerous conditions?
Would the activity or habits of neighbors be an important deciding factor in choosing your home?
Amenities: Home Search Questions
How important is having access to public transportation?
Is access to high-speed internet in your home important to your needs?
Are local parks or outdoor activity areas important to have nearby?
Would you prefer to live in a home that is near to a community pool, local library, recreation center, or other city amenity?
How far would you prefer to live from the nearest grocery store, hospital, pharmacy, gas station, or shopping center?
Use our FREE printable Home Search Checklist to help you discover which aspects of your new potential home's location is most important to you.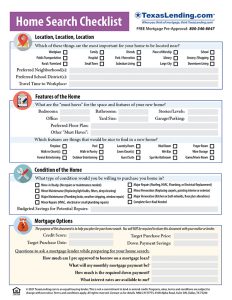 Features of the Home
When you are thinking about the space you need and the features that you want in your home, there are a few questions that can help guide your home search. The potential "must haves" are non-negotiable, and you can easily rule out seeing homes that lack the features on your list. It could also be helpful to discuss the features that "might be nice" to have in your new home.
"Must Have": Home Search Questions
How many bedrooms and bathrooms do you need?
Would you live in a multi-story home?
Do you need a designated home office space?
Will there be a need for wheelchair access or other specialized equipment?
Is a spacious kitchen, living, or entertaining area important to you in your new home?
What are your preferences for yard size or outdoor space?
Do you need a garage or covered parking space?
"Might Be Nice": Home Search Selections
Are any of these home features on the list of preferences for your new home?
pool
fireplace
laundry room or mud room
walk-in closet
spa like bathroom
guest bedroom(s)
prayer or meditation room
built-in storage spaces
formal entertaining space
outdoor entertaining space
a wet bar or wine storage
other
Use our FREE printable Home Search Checklist to organize your thoughts for the features that you would like to find in a new home.
Condition of the Home
Being a home owner, you will need to make updates and repairs as needed to maintain the value of your investment. However, the questions you should be asking yourself concern the condition of the home you are looking to buy.
Minor Repairs:
Are you willing to make minor updates to your new home; replacing light fixtures, painting interior walls, updating finishing, and the like?
Property Maintenance:
Could you buy a home that needed substantial maintenance or repairs; such as replacing the roof, updating the HVAC system, replacing the carpeting, or similar tasks?
Major Renovations:
Is a home that is in need of a major repair or renovation right for you; like a foundation repair, renovation of the kitchen and bathrooms, major plumbing or electric overhaul, or other costly repairs?
Keep in mind that the more home repairs that are required, that lower the appraised home value could be. This could mean that you find a great deal on a "fixer-upper." It could also mean that you will need more cash savings upfront to pay for the repairs. Mortgage lenders cannot loan you more than the appraised value of the home, so keep a close eye on the potential upfront costs of buying a home in disrepair.
Use our FREE printable Home Search Checklist to decide how the condition of the home will impact your home search.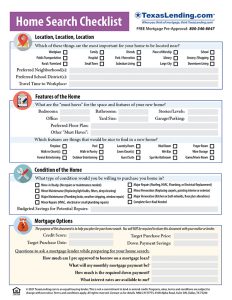 Mortgage Options
While preparing to choose a new home to buy, you should also have your finances in order. If you don't know what your finances should look like before buying a home, then rely on a mortgage expert to guide you.
Questions to ask yourself before speaking with a mortgage lender:
What is your FICO credit score?
Do you have a steady and stable income?
What is your target purchase price?
Have you saved for a down payment?
When would you like to close on your new home?
Questions to ask a mortgage lender while preparing for your home search:
How much are you pre-approved to borrow on a mortgage loan?
Which loan programs do I qualify for?
What will my monthly mortgage payment be?
How much is the required down payment?
What interest rates are available to me?
Use or "Down Payment Saving Plan" to help you get your finances organized before you begin your home search.
Speaking with one of our licensed mortgage consultants will help you move towards your home ownership goals. Pre-approval is FREE and it is the first big step to beginning your home search.
Reach out to us with your home buying questions, we would be honored to be the mortgage experts on your team!