How to Grow a Texas Salsa Garden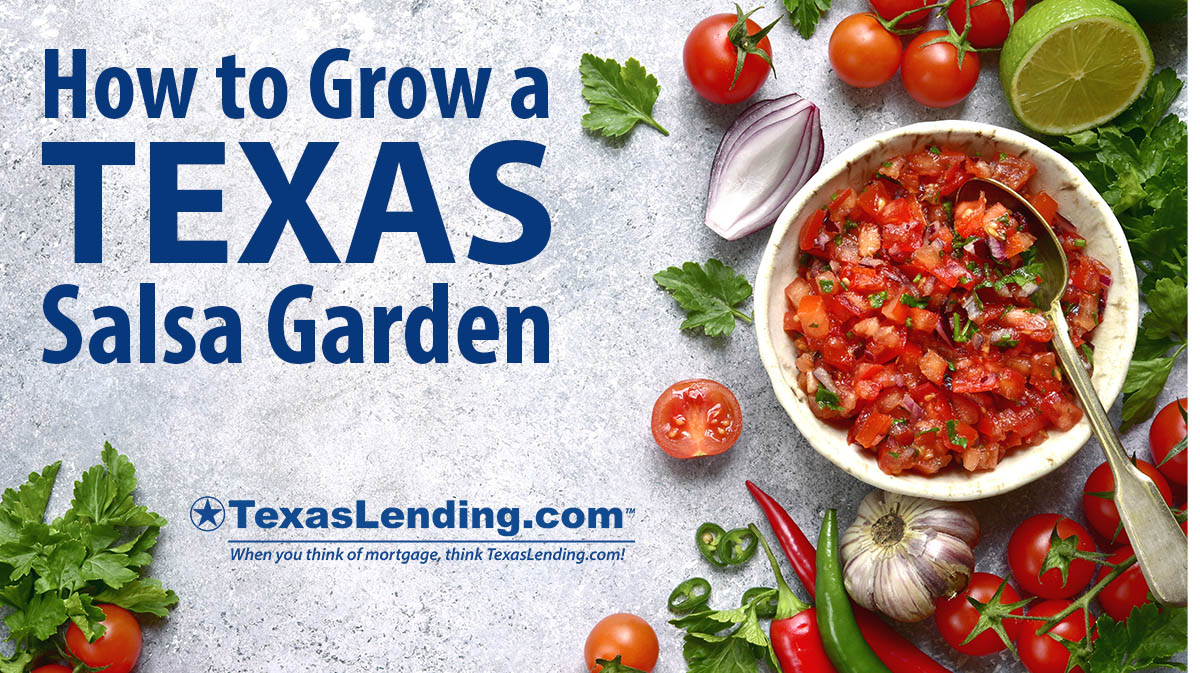 Growing a Texas salsa garden is a perfect Summer project for your backyard. We have shared the benefits of gardening with your family in previous blog articles. But, this time we are focusing on the flavors that will keep you in supply of fresh salsa this summer.
Texas provides lots of sunlight and rich soil that is perfect for growing a summer salsa garden. Now is a great time to get your tomato and pepper plants in the ground. Read more below on how to start planning your garden:
Where to plant your salsa garden
The Sun
Tomatoes and peppers grow well in full sun. Many varieties of these plants grow well and fruit in the heat, which makes the perfect for Texas.
If you want to grow your own cilantro, it grows best in areas that have full sun in the morning and shade in the Texas afternoon heat.
Garlic and onion grow well in full sun, but in Texas, they should be planted in the Fall and will be ready to harvest in June.
The Soil
Many places in Texas have great rich soil that is excellent for planting vegetable gardens. Vegetable gardens require moist well drained soil that can easily be purchased at your local gardening center, if the soil in your backyard is not sufficient.
Consider the space you have available and whether you want to grow your salsa garden directly in the ground, in a raised garden bed, or in large pots.
Choosing Plants or Seeds
The flavor of your salsa will be determined by the types of tomatoes and peppers you grow. You may want a traditional fresh salsa with red tomatoes and jalapeño, or a green tomatillo salsa with roasted poblano or green chilies. What ever type of peppers and tomatoes you choose for your Texas salsa garden, we know that the "fresh from the garden" flavor will be memorably delicious.
Medium to large sized tomatoes are great for making salsa. Here are a few suggestions for the types of tomato plants for your garden.
Roma Tomato – One of the most popular and hardy types of tomato, known for being fleshy and excellent for making sauces and salsa. The Roma tomato plants are easier to maintain than some other varieties of tomatoes.

Celebrity – A flavorful tomato that is a favorite among chefs who use fresh tomatoes in their recipes.

Patio Tomato – This type of tomato plant grows well in potted soil. If you plan to plant your salsa garden in containers, this may be the tomato for you.

Tomatillo – a green variety of fruit in the tomato family that grows with a "paper lantern" like husk, and make excellent green salsa or sauce.

Heirloom Varieties – Heirloom tomatoes have a variety of flavors based on regions of the country and they are often farmers market favorites.

Peppers bring both heat and flavor to your salsa
Jalapeno – a classic Texas salsa traditionally features fresh jalapeño peppers. You can find plants that grow hot or milder varieties of these peppers.
Serrano – a smaller and sometimes hotter pepper that is great for fresh Tex-Mex dishes.
Green Chili – popular hatch green chilis are a crowd pleaser and make a great addition to your salsa when roasted.
Poblano – often with less heat than other types of peppers, roasted poblano peppers can add a bold flavor to a milder salsa recipe.
How to plant your salsa garden
Your tomato, pepper, cilantro, garlic, and onion plants will need room to grow. There are some plants that do not grow well together and other do. Follow these tips for planting your salsa garden.
Cilantro:
Plant cilantro in a separate container or area from the rest of the garden. Plant cilantro seeds 4-6 inches apart. These plants should be ready to harvest in 2-3 weeks, then you can plant again.
Tomatoes and Peppers:
Keep plants at least 18 inches apart to allow enough sun to reach them as they grow. Consider using "tomato cages" to help support the weight of your plants as they grow in size and produce fruit.
Watering
Tomatoes and peppers need consistently moist and well drained soil. Water your plants at least once a day to keep the soil from drying out.
Water the soil near the base of tomato plants. Wet leaves on tomato plants can make them more susceptible to plant diseases.
We hope you enjoy planting a salsa garden at your home this year. Sharing information to encourage happy and healthy families at home in our blog is something we love to do. If you would like to see more articles like this, follow our Facebook page.
As always, we would be honored to be the mortgage experts on your team. When you are ready to buy a home or refinance your current home, think of TexasLending.com.