5 Big Things Kids Learn From Gardening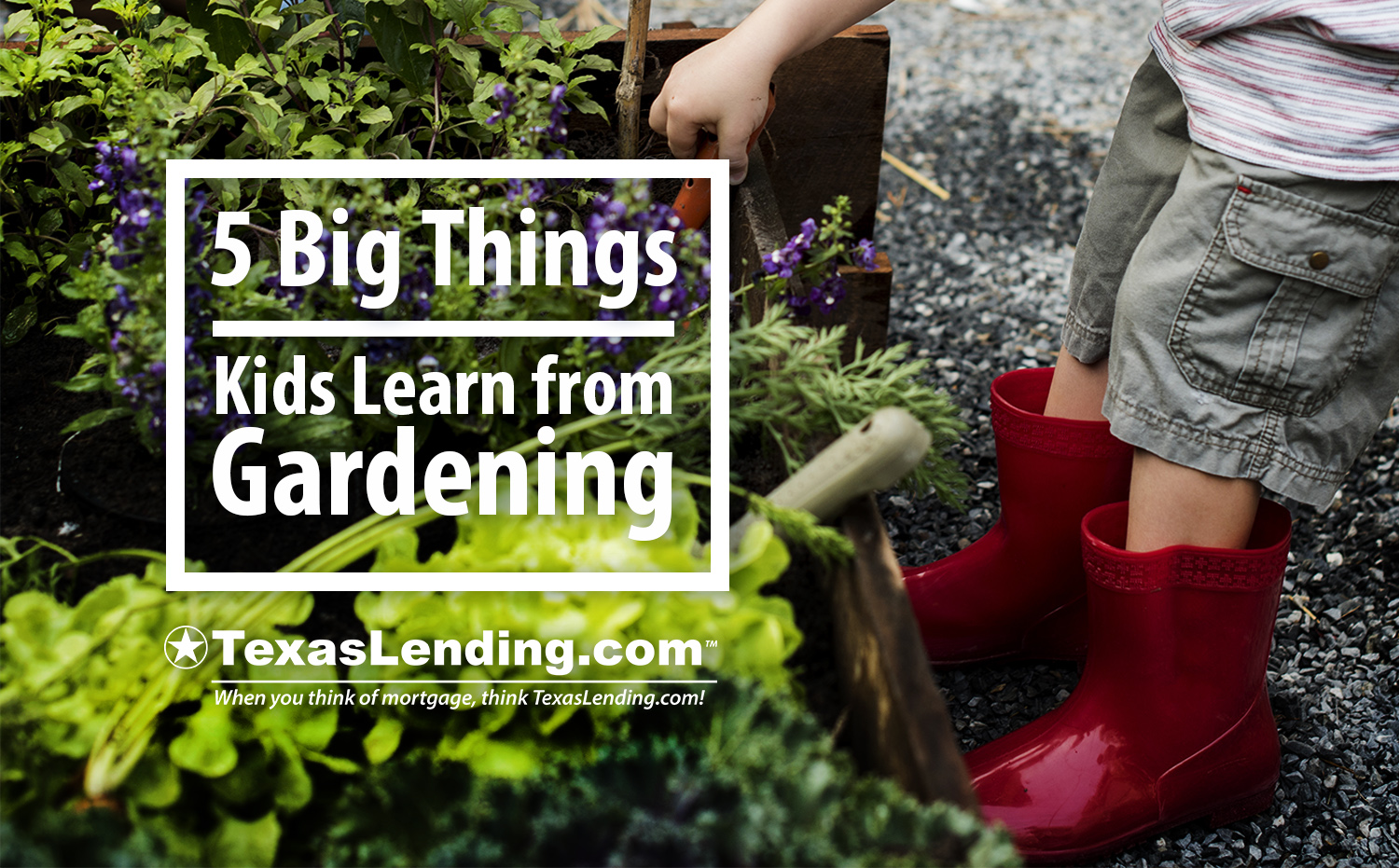 Texas is the perfect place to live if you love gardening. With rich soil and plenty of sunshine the Texas Summer can provide a wealth of knowledge and healthy food to your family. There is more value in a vegetable garden than just the food that can be produced. Children can learn big life lessons while gardening.
Here are 5 big things your kids can learn from a small vegetable garden in your backyard:
1. Care
Because most plants in vegetable gardens last for a single season, a child can learn to care for a plant through an entire life cycle in a relatively fast time. From the sprouts to first leaves, blossoms, fruiting, and harvest; nurturing the plants provides a great lesson in responsibility through care.
2. Project Management
Though a small project, it's a perfect place for kids to learn project management. They will be using tools, working together with an adult or sibling, and develop a schedule of daily tasks.
Identifying different tools, plants in the garden, soil conditions, and other variables help children understand how these things effect the success of their end goal.
3. Problem Solving
Are the plants looking a bit wilted? Do you see common garden pests? What happens if the weeds aren't managed? Problem solving in the garden is a great way to build pride in learning and resolving tangible problems.
Building knowledge through problem solving will build confidence in a child's skills. Experience is one of the greatest teachers a garden can provide.
4. Food Production
When you are buying food at a grocery store, it's easy to overlook the way in which that food was produced. Learning the process of food production in the garden, will help children make the connection between the food they eat and how it's grown.
5. Healthy Eating and Food Preparation
Kids will be excited to taste the vegetables and herbs they grow in the garden. Picking, cleaning, and preparing food straight from your garden is an engaging and robust learning activity.
It's never too early to start healthy eating habits. Growing vegetables, herbs, teas, and spices in your backyard garden with your children, is a stellar way to keep them excited about eating healthy.
We believe that growing a garden at home is a tradition worth keeping for many years. The learning opportunities for your children aren't always what you may think of when you start digging in the back yard. However, it is a valuable reason to start.
Having a backyard garden is one of the many benefits of owning a home. At TexasLending.com we want our customers to have happy and healthy homes. That is why we include many aspects of home ownership in our blog.
Read more:
"3 Big Benefits of Gardening: Health at Home"
"10 Staycation Ideas: Make your home the place to be this season"
"Financial Fitness Goals"
"Mortgage Ready Checklist"
If you would like to speak with our mortgage experts about your home buying goals. Reach out to us today to get started.