Choosing the Best Mortgage When Buying a Home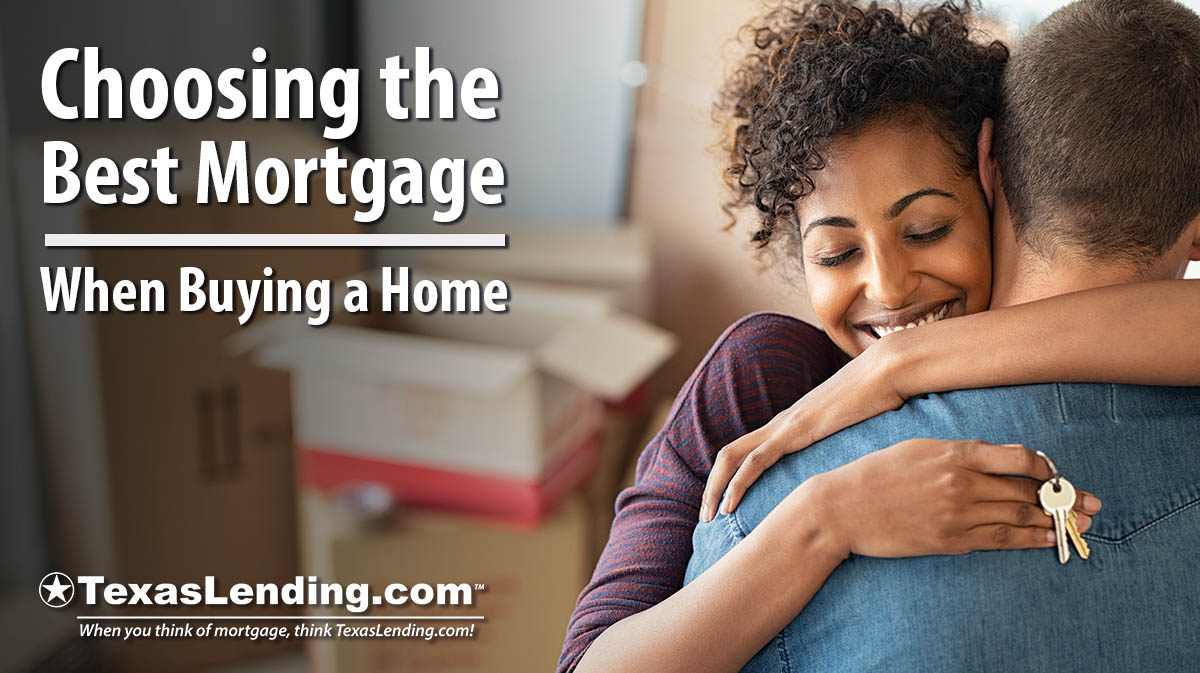 Choosing the best mortgage when you buy a home is important. However finding the best mortgage option is not the same for everyone. Your financial outlook, credit history, and the specific mortgage terms deserve consideration when deciding which option is best for you.
Take a closer look at these variables when choosing the best mortgage for buying your home:
How Much Home You Can Afford
Your mortgage should be comfortably affordable. Taking a look at your monthly budget can help you better understand how much you should put toward a mortgage payment. However, the best way to understand how much home you can afford is to speak with a licensed mortgage consultant about your home buying goals.
Applying to be pre approved for a mortgage, helps you get a true understanding of how much home you can afford. A mortgage consultant will be able to estimate your potential monthly mortgage payment based on the amount of the loan, escrow holdings, and HOA dues.
Discussing your home ownership goals and your mortgage options with a lender should be the first step in home buying. Getting pre approved 30 to 60 days before you start shopping for a home is a great idea. This will help you be informed and prepared for the home buying adventure ahead.
Down Payment Options
One of the most important aspects of choosing the best mortgage for you, is choosing the right down payment option. Would your savings be better applied toward a traditional 20% down payment or does a lower down payment option allow you more financial flexibility as a new home owner?
Consider the differing down payment minimums for these loan programs:
Conventional Home Loan: 5% – 20% down payment

FHA Home Loan: 3.5% down payment

First Time Home Buyer Conventional Loan: 3% down payment

USDA** Home Loan: 0% down payment

VA*** Home Loan: 0% down payment


**USDA home loans require the purchase of a qualifying rural property as defined by the United States Department of Agriculture.
***VA home loans require the primary borrower to be a member of the United States Military as defined by the Department of Veterans Affairs.
Choosing the Right Mortgage Program
Mortgage programs have other variables like credit score minimums, mortgage insurance, and other special qualification guidelines that can help you choose the best mortgage for you.
Conventional Mortgage Loans

Conventional home loan programs are the most common type of mortgage. Many home buyers find that a conventional mortgage is the best mortgage choice when buying a home. Conventional mortgages offer some more flexibility in choosing the terms of the loan and can come with lower closing costs than government backed mortgage programs.

Learn more about Conventional Mortgages here.

FHA Loans

The federally backed FHA program can allow for a more flexible credit score minimum and a higher debt to income allowance to qualify. FHA loans require mortgage insurance for the full term of loans that have a down payment less than 10% down. However, they also offer an easy "FHA Streamline Refinance" option which makes it quicker and easier to refinance in the future.

Learn more about FHA Mortgage Loans here.

USDA Home Loan

This unique loan program is available to home buyers who are purchasing a home on rural land. Backed by the United States Department of Agriculture, these mortgages come with unique qualification guidelines that are designed to boost the economy of growing areas.

Learn more about USDA Mortgage Loans here.

VA Home Loans

VA mortgages are back by the US department of Veterans Affairs. VA loans offer the best mortgage options to veterans and active members of the US military and their families.
Knowing which mortgage is the best choice for you starts with being informed. We think a great place to start is to understand your budget, think about your down payment options, and to talk to a lender about getting pre approved.
We are here to be your guide to making financial choices that are best suited to your needs. Reach out to us with your mortgage questions, when you are ready to start thinking about buying a home.
If you would like to see more home buyer information like this, follow our Facebook page.