How to Make Homemade Jam and Jelly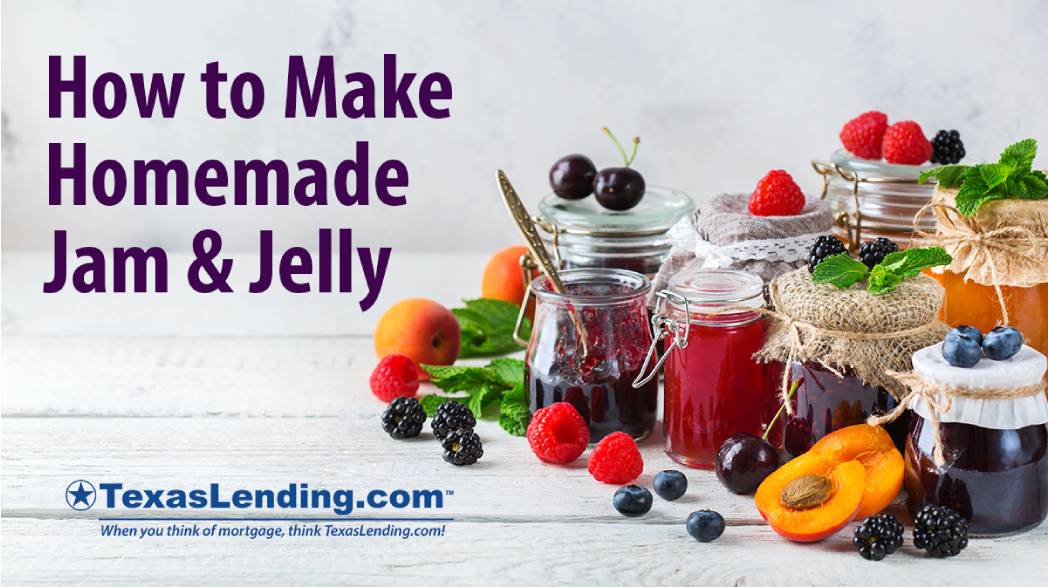 If you are new to making homemade jam or jelly, this article is a great place to gather information. Home made jam or jelly can be a delicious gift, or a family favorite treat to keep in your pantry.
The summer and fall are prime harvest time for the fruits and vegetables in your backyard garden! Gather some fresh fruit from your garden, the farmers market, or your local grocery store for making some delicious homemade jam.
These tips are a perfect beginning for your first batch of homemade jam or jelly:
Basic Ingredients:
Pectin

Pectin is a natural ingredient that is made from fruit, and it also gives jam and jelly it's jell like structure. You can find small boxes of pectin at your local grocery store. Each brand of pectin will come with a recipe and instructions for making your home made jam or jelly.
Fruit (4-8 cups)

Each recipe will call for a certain amount of cooked fruit. We recommend following the instructions included with your pectin to get the best results.

Sugar

Sugar is a needed component in making jam and jelly, as it works in combination with the pectin to make the jell structure.

Lemon Juice (optional)

To balance the flavor of sweet and sour in your home made jam or jelly, you might consider adding a tablespoon of two of lemon juice to your recipe.

A Little Butter (Optional)

The cooking mixture of fruit, sugar, and pectin can make small bubbles in your recipe and settle as a foam on the top of your jam or jelly. Experienced home made jam and jelly makers will add a tablespoon of real butter to their jam as it cooks to prevent bubbles from forming.
Jam, Jelly, or Preserves?
There is a difference between home made jam, jelly, and preserves. The main difference is how the fruit is used and the variations in the recipes.
Jelly is made from the juice of the fruit and contains no pulp skin or seeds. This is accomplished by boiling the fruit and pouring the mixture through a fine strainer.
Jam, uses crushed and cooked fruit which can include the fruit pulp skin and seeds. Jam made from berries often contains the small seeds that are edible. Jam made with stone fruits like peaches, plums, and apricots, should include the fruit pulp but not the skin or pits (seeds).
Preserves contain diced pieces of cooked fruit that is suspended in a jelly. The fruit in preserves is not crushed, which makes for a more chunky texture.
Tools and Supplies
It is best to be prepared with the right supplies before you begin canning your own homemade jams and jellies. This process does require preparing the glass jars for canning the jam and jelly at the same time you are cooking the recipe.
Supplies

Glass Jars
Heat sealing canning lids to fit the jars (New, never used)

Tools and Cookware:

1 large pot for cooking the jam
1 large pot for sterilizing the jars and lids
1 cooking thermometer
Strainer (optional for removing pits/seeds/pulp if preferred)
Ladle
Wooden Spoon (recommended for stirring jam or jelly)
Measuring cups/spoons
Heat protective mitts/gloves/tongs for handling hot jars
Clean kitchen towels
Food Safety for Homemade Jam and Jelly
Canning your jam or jelly requires using heat to sterilize the jars where your food will be stored. If this is not done properly, your jam or jelly may not be safe to eat for very long.
Sterilizing the jars and lids is usually done by boiling them in water just before adding the jam and sealing the lids. Practice safety in the kitchen while handling the hot jars. You may want to ask a friend or family member who is comfortable in the kitchen to help you.
Follow these other homemade jam and jelly food safety tips:
Never used jars that have cracks or chips in the glass
Use only new lids (must have a tight heat seal)
Always sterilize the jars with clean boiling water before canning
Fill the jars well, leaving about 1/4 inch of space between the top of the jam/jelly and the lid.
The recommended shelf life for homemade jam and jelly is 1 year for unopened and well sealed jars, and 1 month for opened jars stored in the refrigerator.
We love to share ideas for your home in our blog! To see more articles like this one follow our facebook page.
As always, we are here to help you with your mortgage questions and goals. Reach out to us when you are ready to buy a home or refinance your current mortgage.