Disinfecting Checklist: Health at Home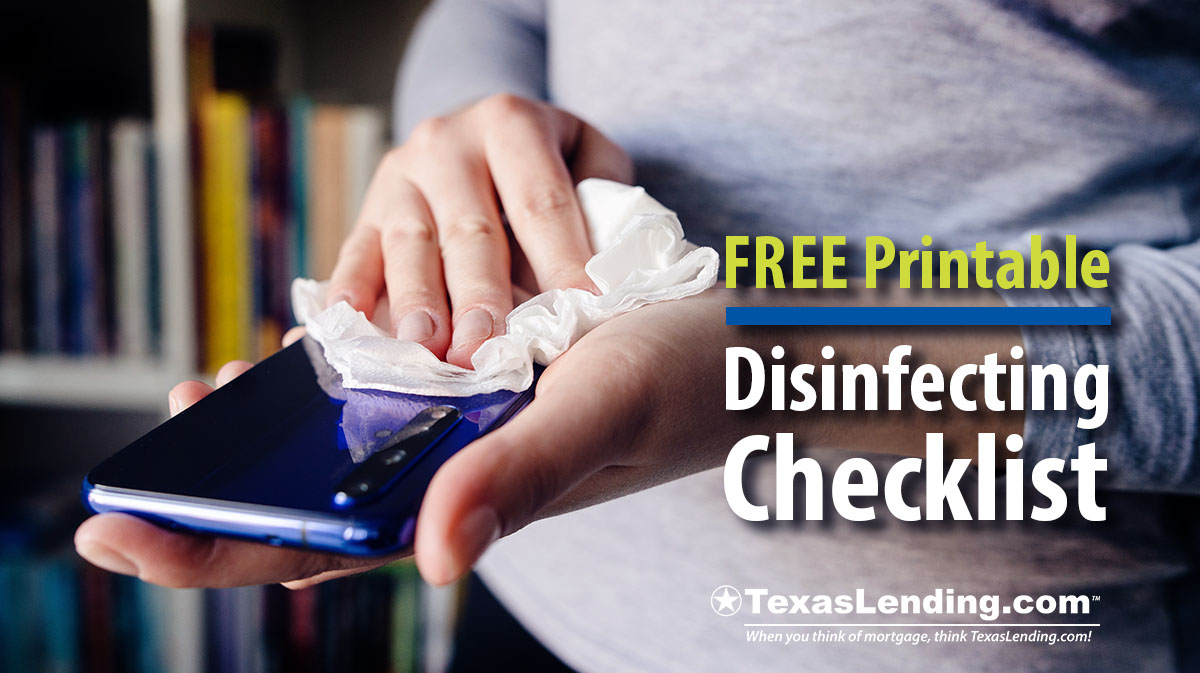 The purpose of this disinfecting checklist is to provide helpful information for health and safety in your home. We recommend following the CDC guidelines for preventing the spreading of the COVID-19 virus.
There are places in your home that are more likely to have bacteria and other microscopic germs. Because of the frequency that these things are touched or the typical environment for certain items, some places play host to more germs.
We believe that knowledge is power. Knowing which places and things in your home that need extra disinfecting attention could keep you and your family more healthy.
Use this disinfecting checklist to help you think of places to properly disinfect.
Handles, Switches, and Knobs
Frequently touched surfaces are the places in your home that are most likely to host a diversity of bacteria and germs. The more these items are touched, the more likely that germs have been left behind on them.
The majority of the bacteria and germs on our hands are not harmful to us, but a small number of bacteria and viruses can make us sick. With the current health concerns presented by the COVID-19 virus, it is a good time to do some extra cleaning.
Use a disinfecting cleaner to clean and wipe away the germs on these frequently touched places:
Door knobs
Knobs and pulls on cabinets and drawers
Handles, buttons, and knobs on appliances

Refrigerator
Stove/oven
Dishwasher
Coffee maker
Microwave
Washer/Dryer
Toaster, blender, or other frequently used small appliance

Light switches and outlets
Lamp/fan switches
Stair railings
Faucets
Toilets
Doorbell
Thermostat
Kids Toys
Dining table and chairs
Your car also has a number of frequently touched surfaces that you should add to your disinfecting checklist:
Steering wheel
Other controls on the steering column, dashboard, or driver control center
Door handles (inside and out)
Buttons on door panels
Windows inside the car
Cabin light buttons
A/C vents
Seat belts and buckles
Cup holders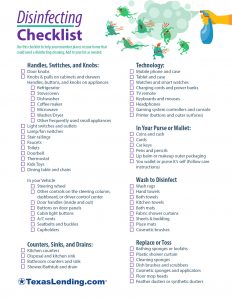 Technology
Most American homes are filled with different types of technology. Mobile devices travel with us and can touch a number of surfaces in public places. These helpful devices should be cleaned frequently and belong on your disinfecting checklist.
Wipe down these technology items in your home with a disinfecting cleaner 1 or more times a week:
Mobile phone and case
Tablet and case
Watches and smart watches
Charging cords and power banks
TV remote
Keyboards and mouses
Headphones
Gaming system controllers, game cases, and console buttons
Printer (buttons and outer surfaces)
Items in Your Purse or Wallet
The things that you carry in your purse of wallet may get overlooked in your cleaning routine, but they can have more germs than you might expect. Change and bills of currency can be found in a number of peculiar places before it makes its way to your hands. Your debit/credit card has likely been handled by restaurant workers, fuel station attendants, and a number of machines where other cards have recently been swiped.
Disinfect these items that you carry around in your wallet, purse, or pocket:
Coins and cash
Debit cards, credit cards, store loyalty cards, and other cards.
Car keys
Pens and pencils
Lip balm or makeup outer packaging
You wallet or purse it's self (Follow care instructions)
Other items you carry that are washable or able to be wiped down.
Sponges, Loofahs, and Towels
Some items in your home are excellent places for bacteria to thrive, by design. Your shower loofah is one of them. It stays in a wet environment, has a center that can hold residue, and is difficult to clean. Other items like towels can be disinfected, and should be washed often. Don't forget these absorbent items on your disinfecting checklist.
Disinfect these items by washing them in hot water with detergent or bleach:
Wash rags
Hand towels
Bath towels
Kitchen towels
Bath mats
Fabric shower curtains
Sheets & bedding
Place mats
Cosmetic brushes
Replace these items regularly, or consider using a washable alternative:
Bathing sponges or loofahs
Plastic shower curtain
Cleaning sponges
Dish brushes and scrubbers
Cosmetic sponges and applicators
Floor mop heads
Feather dusters or synthetic dusters
Countertops, sinks, and drains
Any place where food is prepared, washed, or eaten, should also be disinfected before and after being used. Don't allow bacteria and germs to stay in your sink or around the drain. These places on your disinfecting checklist are frequently touched and help us keep other places in our home clean.
These surfaces should be disinfected before you put away your cleaning supplies:
Kitchen counters
Disposal and kitchen sink
Bathroom counters and sink
Shower/Bathtub and drain
We want you and your loved ones to be happy and healthy in your home. Along with your regular cleaning routine, consider taking extra care to disinfect these places in your home.
Understanding that the challenges and concerns created by the COVID-19 virus are affecting everyone, we hope that this information is helpful to you. There may be other places in your home that should be disinfected in addition to the items on this list. We also recommend following the CDC guidelines for preventing the spreading of the COVID-19 virus.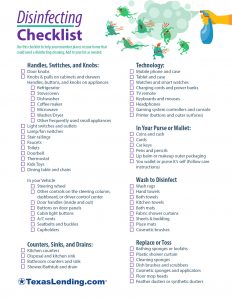 TexasLending.com is serving our customers through our online mortgage process at this time. We would be happy to help you with your mortgage questions and needs. Reach out to us now or in the future when you are ready to buy a home or refinance your current home.