Working from Home: Productivity Tips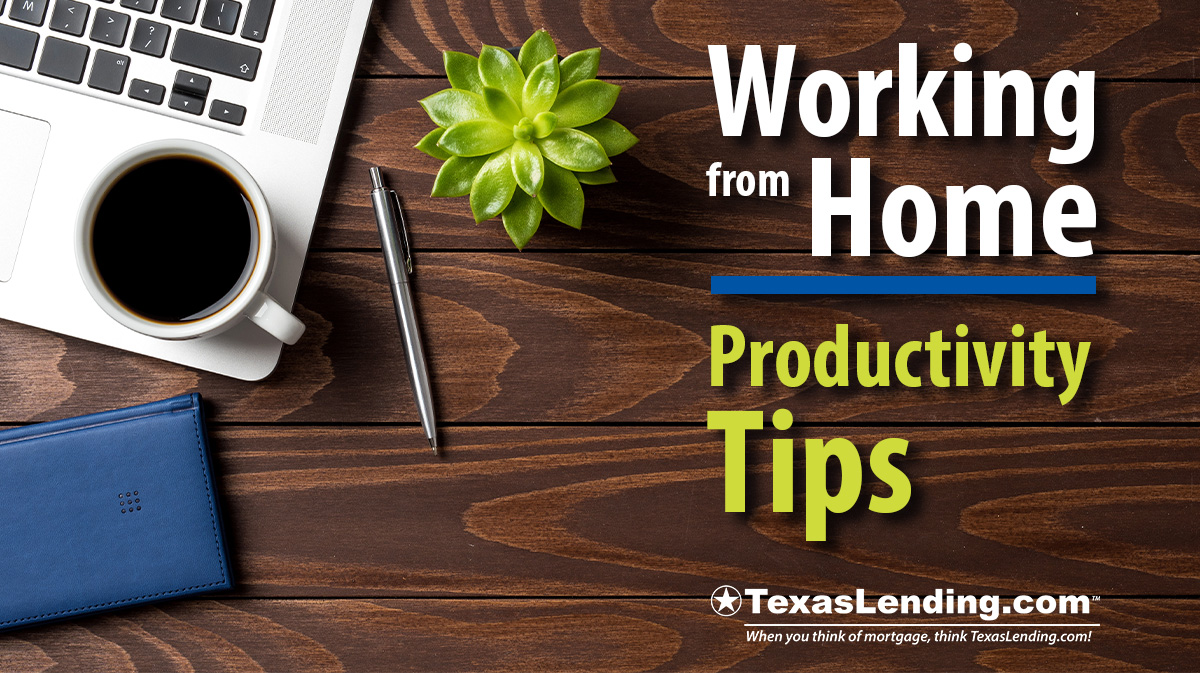 If you are new to working from home or you could use some tips on being more productive while working from home, this article can help. The dynamic of working from home much is different than being in the office.
There are both benefits and challenges in a work from home situation, consider these tips for boosting your productivity:
Stick to a Schedule
Keeping to a schedule can help you set your expectations for each day working at home. Your productivity flourishes when you have solid goals to reach and limitations on time.
The most basic time structure should include these:
Log in on time every day
Take 1-2 scheduled breaks (10-20 minutes)
Timed Lunch (Take the whole 30-60 minutes without working)
Stop working on time
Consider incorporating some of these "10 Stress Reducing Practices at Home."
Define Your Workspace
If you have a defined work space, it can be much easier to work from home. Your home can be filled with distractions and interruptions, dedicate a certain space that is just for getting your work done. Set yourself up for success.
Consider these factors in your choosing home workspace:
Comfortable seating with good posture in mind
Low foot traffic area of the house
Quiet enough to focus
Space and outlets for your required technology
Appropriate lighting
Avoid Distractions
One of the biggest temptations most for people who work from home is the opportunity to get distracted. Be aware of the things that may reduce your productivity.
Here are a few suggestions:
Communicate your work time needs and expectations to other people in the house.
Don't allow yourself to be distracted by technology not associated with work; TV, YouTube, gaming, online shopping, etc.
Avoid doing household chores during your working hours.
Play music that helps you stay on task.
Communicate with Your Team
While you are working from home, it may be more important than ever to communicate with your team. Collaboration is an essential part of a dynamic work environment. If you aren't seeing the faces of your co-workers and don't have the ability to pop over to their desk for a quick question, that doesn't mean that you shouldn't reach out to them in a similar way while you are working from home.
Socialize with Colleagues
There are times when working from home can feel like being alone on your own island. Having a connection to your colleagues, builds strength in a team. Check in with your co-workers and socialize a bit.
Exercise
The benefits of exercising are exponential for your body and mind. Your routine of working from home doesn't require a commute, going somewhere for lunch, or even getting fully dressed and ready for the day.
It is crucial for your cardiovascular system, digestion, mental clarity, joint and muscular health, and many other functioning parts of your body, to get regular exercise. Incorporate an exercise routine into your days, before or after your time in your home office.
Make a Checklist
This my be the most simple but effective way to maintain productivity while your are working from home or in the office. Keep a checklist of the tasks you need and want to accomplish for the day. Prioritize important tasks, keep the list visible, and actually check items off the list as you complete them.
Working from home has a unique set of challenges, utilize some to these tips to help boost your productivity. Developing a routine and setting a structure for your work day at home keeps you focused.
We love to share tips for home ownership, family fun, health and happiness, and mortgage knowledge in our blogs. Follow us on Facebook to see more articles like this one.
As always, we are her to help you with your mortgage needs. Reach out to us at TexasLending.com when you are ready to buy a home or refinance your current mortgage.