10 Stress Reducing Practices at Home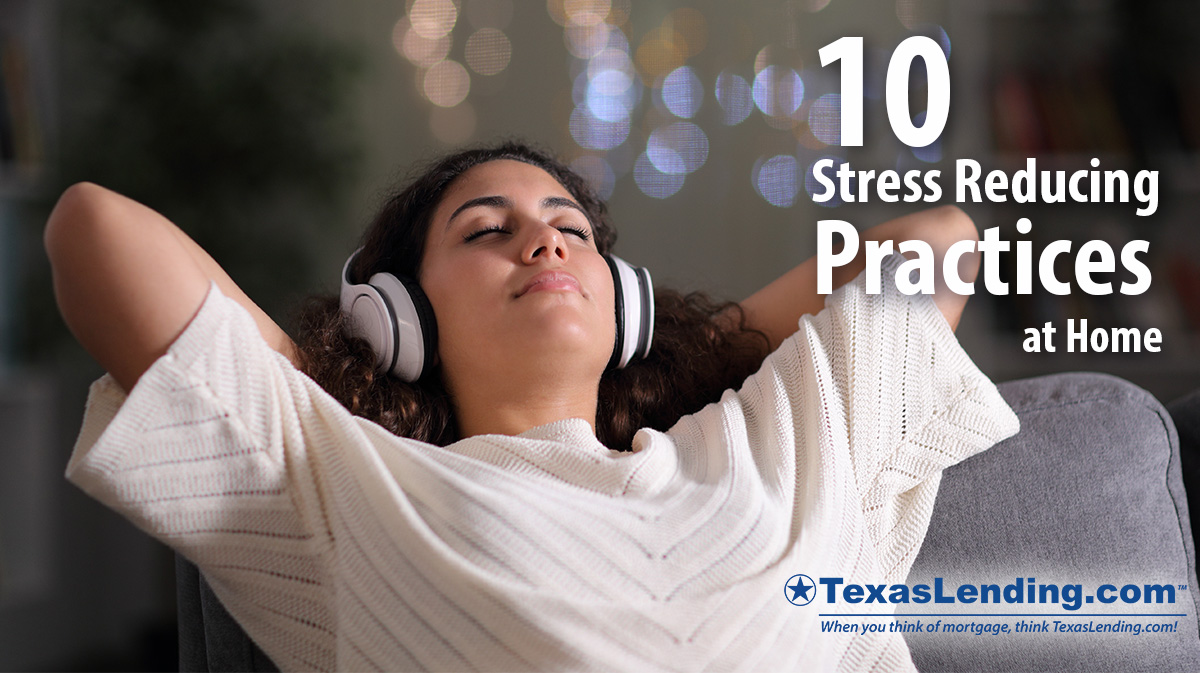 It can be easy to feel stress in everyday life, stress reducing practices may be more impactful than you think. We live in an ever changing world with new technologies, more people than ever before, and lots of different challenges. One of the places that you should be able to escape to and relax, is your home.
Apply some of these ideas for practices to reduce stress at home:
1. Bed Time Routine
Sleep is vital to your health. Getting the right amount of sleep is an excellent start to reducing the stress in your day. Create a routine that helps you wind down at about the same time every night. According to the National Sleep Foundation adults (ages 18-64) should be getting at 7 to 9 hours of sleep each night.
Try these stress reducing practices before bedtime:
Stop screen time at least 30 minutes before your bedtime
Write in a journal or read bit of a (paper) book
Stretch your back, arm, and leg muscles before laying down
Do a deep breathing exercise to help you relax
2. Meditate / Breathe
Focusing on deep controlled breathing can slow your heart rate and increase the oxygen to your blood. This stress reducing practice can help your body recover from strenuous exercise and minimize soreness. The most basic form of meditation is focusing on your breath. Studies on meditation have shown improved mental clarity, increased control of anxiety, and reduces stress.
3. Choose your Music with Purpose
Music has the ability to change your mood, if you allow it. Choosing to listen to music that motivates you, calms you, or energizes you could be a way to take control when you are feeling stress.
4. Exercise
One of the best ways to elevate your mood is to exercise. Getting a bit of sunlight and going for a daily walk could be the key to reducing stress.
Creating an exercise routine is life changing for many people. Going for a daily jog or walk, playing a team sport, practicing yoga, swimming, doing a dance class, or many other types of exercise can be a consistent source of stress reducing and healthy movement for your whole body.
5. Create
Creating things requires mental focus. Whether you are creating a piece of artwork, a handmade craft, making music, writing, or doing any other type of creative activity you can reduce stress by doing the things that you enjoy.
When your mind is flowing with creativity, it's easier to focus on the task in front of you and set aside thoughts on the things that are giving you stress. On the other hand, you could use your creative expression to explore your thoughts on the most stressful parts of your life, and find a creative solution to resolving them.
6. Eat Well
When your body is functioning in optimal health, you are better prepared to resolve any stressors that may come your way. Skip the junk foods, and feed your body the nutrients it needs to function well.
Get a free printable weekly meal planner page, and read more about "Creating a Meal Planning Strategy" in one of our previous blog posts.
7. Organize
Simplify your daily tasks like deciding what is for dinner or doing chores by being organized. This stress reducing practice takes the guess-work out of your routine and helps to establish organization habits for the whole family.
Read more about "Rules for Keeping Your Home Organized" in a previous blog article.
8. Practice Gratitude
It can be easy to forget how lucky we are to live in a time and a country full of opportunities and abundance. When you are feeling stressed, take a moment or two to remind yourself of the blessings in your life.
There can be value in writing your thoughts of gratitude down in a journal. The daily or weekly practice of recognizing the great things in your life can help you be more observant of the goodness in your life.
9. Technology Time
Be mindful of how much time you may be spending engaged with technology. Give your eyes and your mind a break from the fast paced, ever changing, and endless capability that our devices give us. You can spend hours of time online, but lose connection to the people and things around you. Take care of your mental health and set a limit on your time spent using technology.
10. Morning Routine
Waking up in the morning and starting the day with purpose can make a major impact. This is another one of the stress reducing practices that works well with consistency.
Consider trying these morning routine stress reducing practices:
Give yourself plenty of time to get ready in the morning
Get out of bed at the same time every day
Stop hitting snooze
Stretch, meditate, or practice yoga to prepare your mind and body for the day
Drink a glass of water for hydration
Don't check your technology (emails, texts, notifications), until you feel prepared for the day
At TexasLending.com we like providing tips for happy and healthy homes and families. Our blog is filled with advice on mortgage, family, and home ownership. To see more articles like this one, follow our Facebook Page.
When you are ready to buy a home or refinance your mortgage, we are here to help. Our goal is to make the mortgage process as stress free as possible. Call us to discuss your best mortgage options.