Spring Cleaning Checklist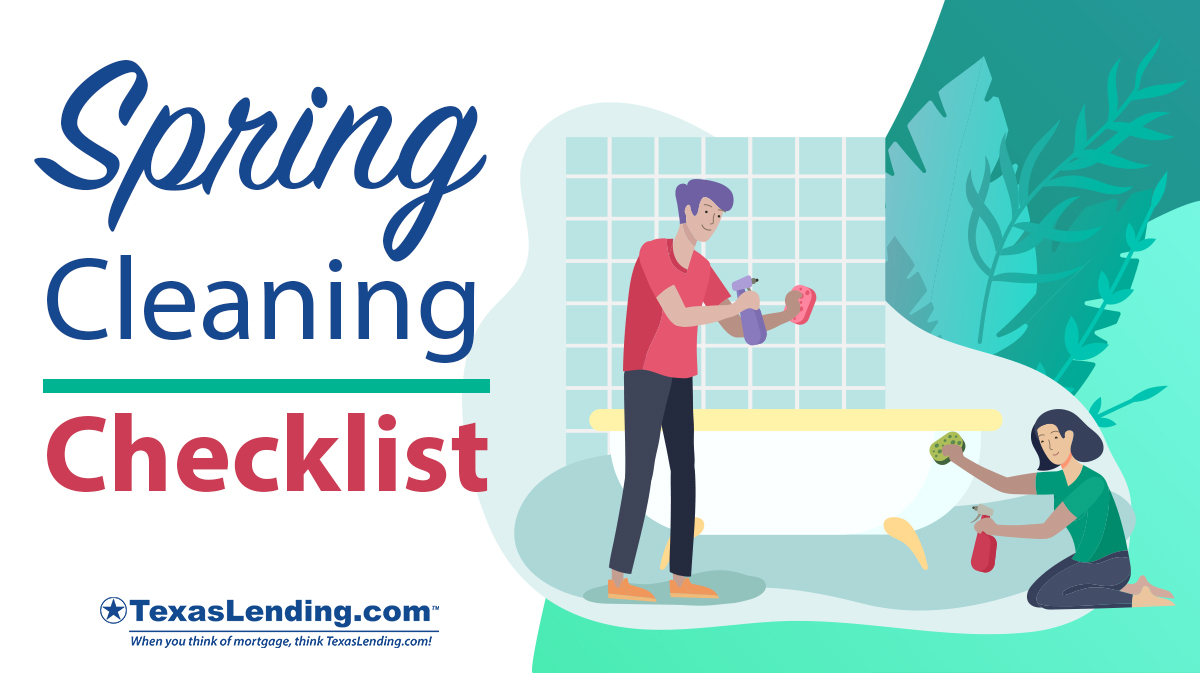 Spring cleaning is a phrase most of us are familiar with. It is a good time to prepare your home for warmer weather and do some annual maintenance tasks. Plan to take care of these checklist items for your home.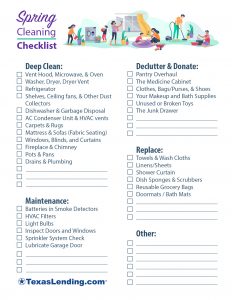 Use our Spring Cleaning checklist to help you organize your home care tasks:
Deep Clean
You may not reach all of these places during your weekly cleaning routine. We have included these deep cleaning tasks on the Spring cleaning checklist, because they should be done at least once a year.
Deep cleaning your appliances and systems can improve their performance and add more health and safety to your home. The HVAC system, for example, should have clean vents and new filters to improve the air quality in your home. Important fire prevention tasks include clearing all debris from the dryer vent, removing any grease build up on your vent hood over your stove top, and properly cleaning your fireplace.
Check these deep cleaning tasks off of your home Spring cleaning checklist:
Washer, Dryer, Dryer Vent
Refrigerator
Vent Hood, Microwave, & Oven
Shelves, Ceiling fans, & Other Dust Collectors
Dishwasher & Garbage Disposal
AC Condenser Unit & HVAC vents
Carpets & Rugs
Mattress & Sofas or other fabric seating
Windows, Blinds, and Curtains
Fireplace & Chimney
Pots & Pans
Drains & Plumbing
Maintenance
Regular maintenance checks and services are needed to keep your home functioning as it should. Spring cleaning is a great time to tackle some of these maintenance tasks:
Replace Batteries in Smoke & Carbon Monoxide Detectors
Change HVAC Filters*
Replace Light Bulbs
Inspect Doors and Windows
Sprinkler System Check
Lubricate Garage Door
* You should be changing your HVAC filter every 30 days to 6 months depending on the recommendation from the manufacturer.
De-clutter & Donate
With the seasons changing, Spring cleaning is the perfect time to put away your winter clothes and organize your summer wardrobe. If you have items that you will not be using, consider selling or donating those things.
Toss expired food and medicines from your pantry and cabinets. Be mindful that makeup and some bath products can expire or even grow mold and bacteria.
Consider doing some organization and de-cluttering during your Spring cleaning routine:
Pantry Overhaul
The Medicine Cabinet
Clothes, Bags/Purses, & Shoes
Your Makeup and Bath Supplies
Unused or Broken Toys
The Junk Drawer
Replace
Reusable items can wear out over time and use. Think about the condition of these items on this checklist and consider replacing them.
Towels & Wash Cloths
Linens/Sheets
Shower Curtain
Dish Sponges & Scrubbers
Reusable Grocery Bags
Doormats / Bath Mats
We love sharing information about home ownership in our blog. To see more updates like this and more, follow our page on Facebook.
Read more tips:
"5 Rules for Keeping Your Home Organized"
"25 Ways to Make Your Home More Eco Friendly"
"Celebrating with Less Plastic Waste"
Reach out to us with your mortgage questions or needs anytime at TexasLending.com.