Mortgage Calculator : Take a look at the numbers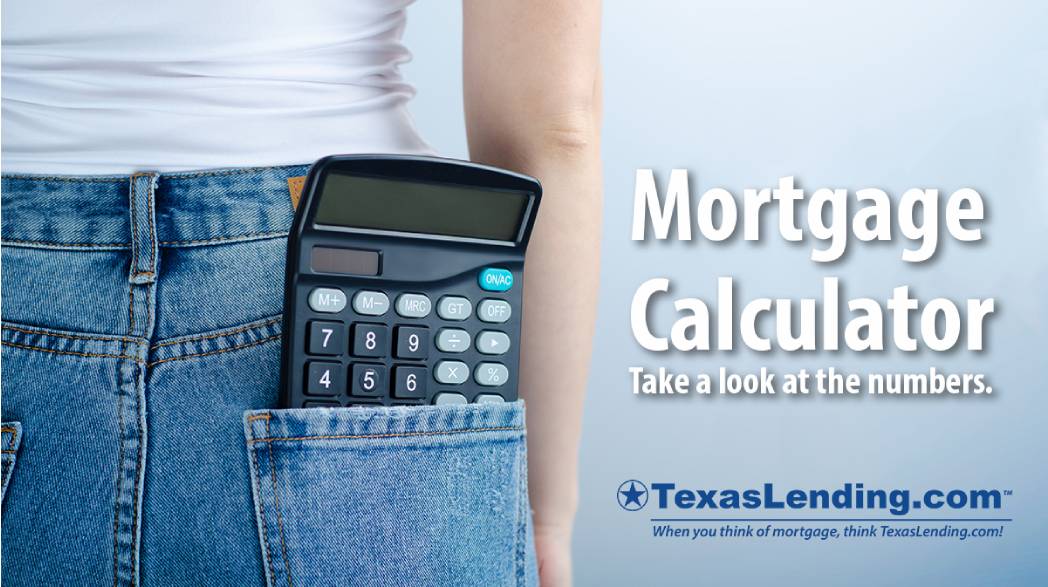 Whether you are looking to buy a new home or refinance your current mortgage, our easy to use mortgage calculators will help you better understand the numbers. Using a mortgage calculator online is a great way to get an estimate of your mortgage outlook.
If you have been thinking about buying a home or refinancing your current home loan, these mortgage calculators are a great place to get started.
Home Purchase Loan Calculator
Using the purchase calculator, you can estimate your potential monthly mortgage payment. Enter the home purchase price, down payment amount, and interest rate to see a monthly payment estimate. This tool can help you better understand your home buying budget.
Once you have a good idea about your budget, the next step is getting pre approved. Pre Approval is free at TexasLending.com. Speaking to a licensed mortgage consultant will also give you the opportunity to ask an expert your unanswered mortgage questions. We are here to help you with all of the information your need and assist in reaching your goals of home ownership.
Mortgage Refinance Calculator
This mortgage calculator helps you to estimate your mortgage payment in the current market. Many home owners refinance their mortgage to a lower interest rate, a different mortgage term, or to drop the PMI from their mortgage.
Using this calculator can help you estimate what refinancing your mortgage could look like. However, to get an accurate loan estimate, talking to a mortgage consultant about your goals and current financial situation is the best way to get an evaluation of the benefits of refinancing your mortgage.
Cash Out (Home Equity) Calculator
Considering utilizing your home equity in a "cash out" refinance loan? This calculator is a great tool to estimate the available equity in your home. You can use this mortgage calculator to evaluate how your new mortgage payment would look with a current home equity loan.
Remember that this calculator provides an estimate based on the numbers you enter. Speaking to a mortgage consultant at TexasLending.com is the best way to get an accurate loan estimate for your cash out refinance options.
Reverse Mortgage Calculator
Enter in the numbers for your property value, existing note balance, and other information to help you see the potential benefits for a reverse mortgage.
Reverse mortgages are a unique type of financial benefit for home owners over the age of 62. Please speak to our reverse mortgage specialist to get the complete details on your potential reverse mortgage options.
Be aware that a mortgage calculator is a tool for better understanding, but not a quote of the actual loan. Mortgage loan programs require an assessment of financial factors like your credit score, income, savings, and employment history. To get a true loan estimate or a pre approval letter, speaking to a licensed mortgage consultant is the best option.
We would love to be your go-to experts for mortgage information. Use our mortgage calculators to help you estimate the numbers, and reach out to us anytime with your mortgage questions.