Free and Cheap Summer Activities: Kids and Teens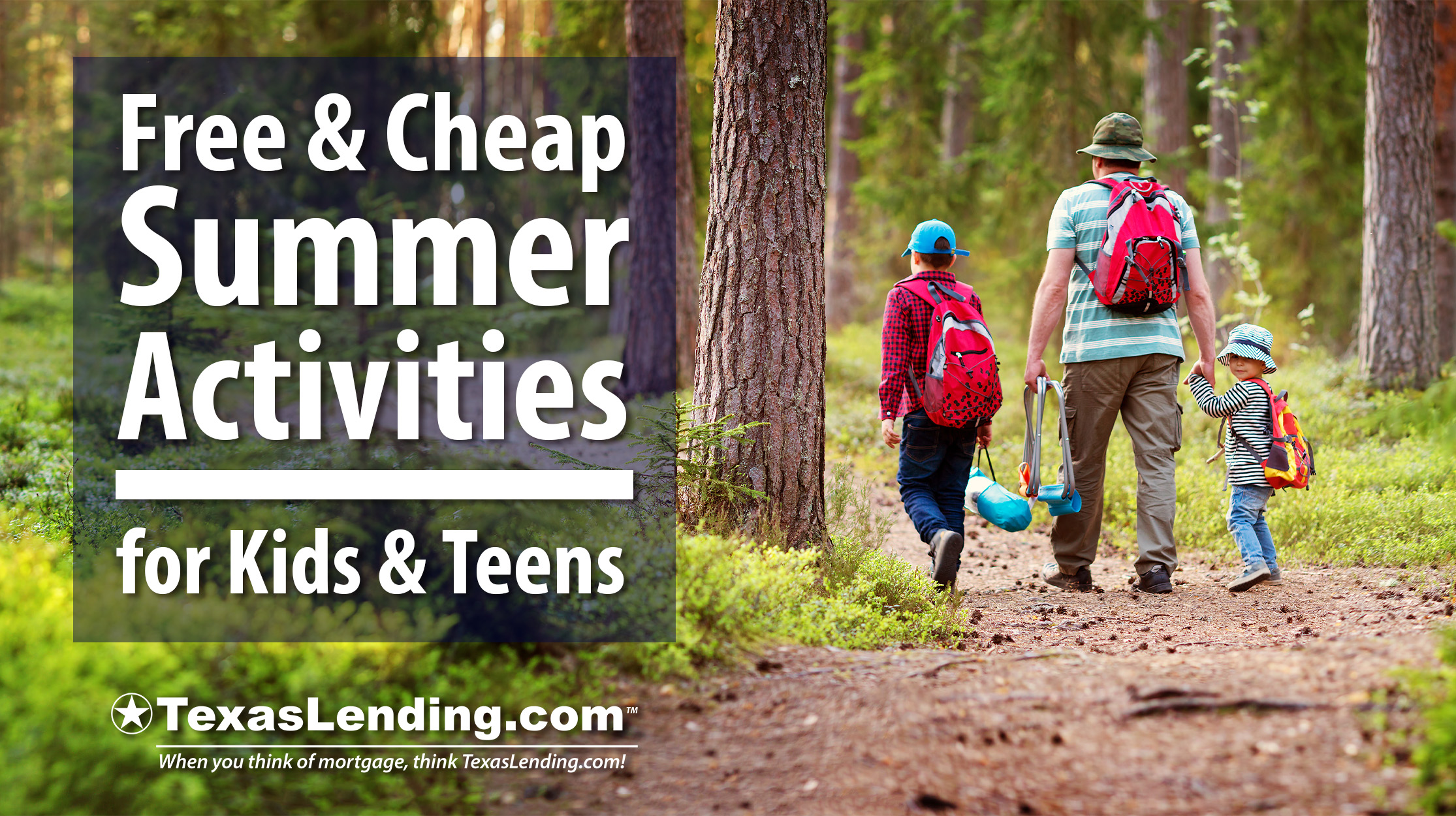 The summer months are packed with opportunities for your kids to play and learn by doing new things. We have a few ideas for free or relatively inexpensive activities for your kids and teens this summer.
These summer activities aren't about keeping your kids entertained. Engaging with family, the community, and opportunities for learning this list of free summer activities is very valuable in action.
Explore the City: Summer Activities
The Library
Your local library will have summer programs for kids and teens that are free to the public. The library also has a wealth of knowledge just waiting for your kids to explore. Imagine finding inspiration for science experiments, arts and crafts projects, or even books on business for kids and teens.
Free Museums
A number of museums have free admission and free activities during the summer. Museums provide a more visual or even hands on experience with history. Even though school is out, learning doesn't have to be on pause.
Art Exhibits
Much like historical museums, Art Museums and Galleries have free exhibitions. Creative thinking is a skill that should be highly valued in our fast paced world. Looking at art is a great way to spark creativity this summer.
Volunteer
Help a Neighbor
The value of community service is much more than helping a person in a moment of need, making a personal connection to others is an experience of immeasurable value. Ask your kids to help an elderly neighbor put away groceries or do some small home repairs.
Clean Up
With the current movement on social media, cleaning up beaches, rivers, lakes, and other public areas has become a popular activity. Take a before and after photo to share in the trend after you and your family spend an afternoon doing your part to clean up the planet.
Join a Local Organization
There are great organizations that are established to help our community. Search online for the community service organizations in your area. Simply showing up or calling and asking how you and your family can help, is a great start.
Get Outdoors: Summer Activities
Public Parks
Spending part of your day at the park is free (or low cost) fun in the sun. Take some paper, pencils, and crayons to make leaf etchings or sketch. Bring a ball, fishing pole, or other simple outdoor games as you enjoy the simple moments of playing together.
Photography
Cameras are easy to come by, it's likely that you have one in your pocket or purse. Use your smartphone camera to explore the art of photography with your kids and teens. Create a challenge to photograph different textures or find interesting perspectives in nature.
Take a look at our Summer Selfie Challenge for big kids and teens.
Gardening
Having a backyard garden is an engaging activity that lasts all summer long. We previously wrote about the great things that kids learn from gardening in this linked article. It is also a favorite inexpensive summer activity for many Texans.
Enjoy Time at Home
Pillow Fort
Join your kids in the fun of making a pillow fort out of the couch cushions. Not all of your summer activities have to involve leaving the home. In fact, unstructured play in a familiar environment can be great for developing creativity.
Stargazing, insect collecting, and drawing
Making thoughtful observations of the world around them, kids can discover many new and exciting things with simple tools. A magnifying glass, telescope, or sketchbook puts the opportunity for finding a love of learning in their hands.
Cooking or Baking
Helping your kids to develop skills that encourage independence, care, and self reliance are important for their development. Ask your kids and teens to follow a recipe, shop for ingredients, and make a meal for the family.
Read more about teaching your kids about money and shopping with a budget in this article.
At TexasLending.com we are mortgage experts, but we also enjoy providing information to encourage happy and healthy homes in our blog. See weekly posts about our current blogs, by following us on Facebook.
Reach out to us anytime with your mortgage questions. We would love to be your go-to resource when you are ready to buy or refinance a home.