Finding a Family Friendly Neighborhood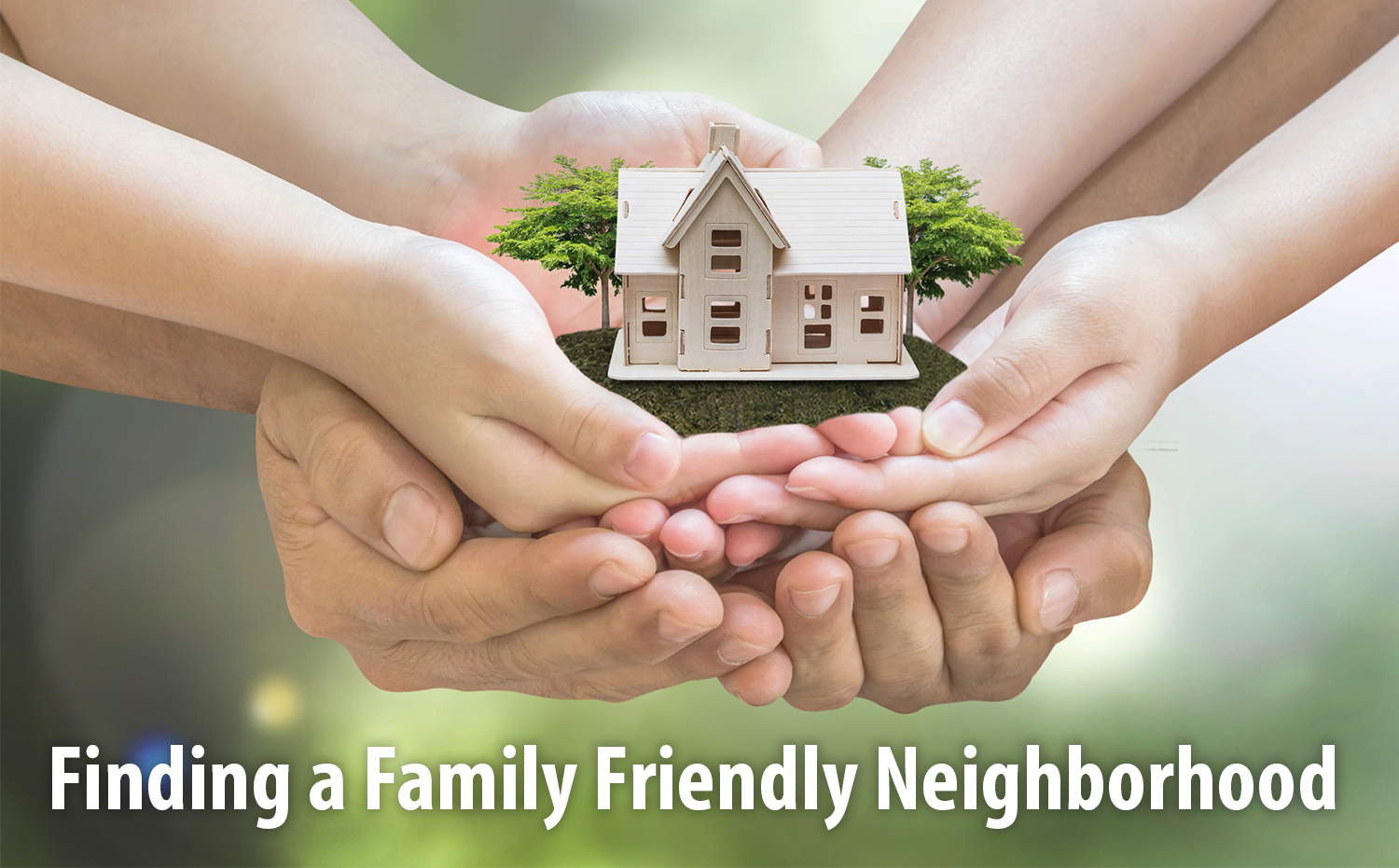 When you are planning to buy a home, it's a smart idea to consider how family friendly the neighborhood is that you are moving into. Even if you haven't started a family quite yet, investing in a home in a more family friendly neighborhood is likely to have better resale value.
You can find information about how family friendly a prospective neighborhood may be by paying close attention to the neighborhood at the open house, asking the neighbors, or doing some online research.
Consider these family friendly neighborhood topics before you buy:
At the Open House
Is there heavy street traffic?
Consider the number of cars that pass by the home. Many parents choose a home in a cul-de-sac because there is less risk their children being struck by a vehicle while playing out doors. You may also avoid buying a home that has a driveway exiting directly onto a busy or high speed road.
Are there community areas for children to safely play and walk?
Neighborhoods with safe sidewalks, parks, and playgrounds are sought after. Take note of how easily you and your family could access outdoor recreation in your family friendly neighborhood.
Would the nearby road noise or construction cause issues?
Sleeping babies, toddlers, or parents may not appreciate an excess to noise. Listen to the neighborhoods while you view potential homes.
Online Information
What are the school ratings?
Probably the most obvious variable in choosing a family friendly neighborhood, is the school district. You can usually find accurate school ratings included with the online listings for potential homes for sale.
Are there any registered sex offenders in the neighborhood?
The State of Texas requires that any sex offenders are registered in their database with their current address. You can search the Texas Department of Public Safety registered sex offender list online.
How close is the nearest hospital?
In the case of an emergency, how close will your home be to medical care? This question can be easily answered with a map search from your smart phone.
The same inquiries could be made for other family resources like; a daycare center, library, grocery store, pharmacy, or other places that are important to you.
Questions for the Neighbors
There are some questions that are best answered by the people who have experience living in the neighborhood. You may find a neighborhood group on social media to ask some of these questions:
Are there community programs provided by the local library, churches, or police and fire departments?
What are the common holiday celebrations or events in the neighborhood throughout the year?
Is there a youth curfew in place in the neighborhood?
Are their neighborhood organizations for children?
We want our customers to have happy and healthy homes. If you are looking for a family friendly neighborhood to buy a home, we would love to help you get started. We can answer all of your mortgage questions and get you connected to a real estate professional to help you with your search.
Reach out to us today and get pre approved for a mortgage loan.