Negotiating in a Buyer's Market: Home Buyer Guide
December 15, 2022 by Fred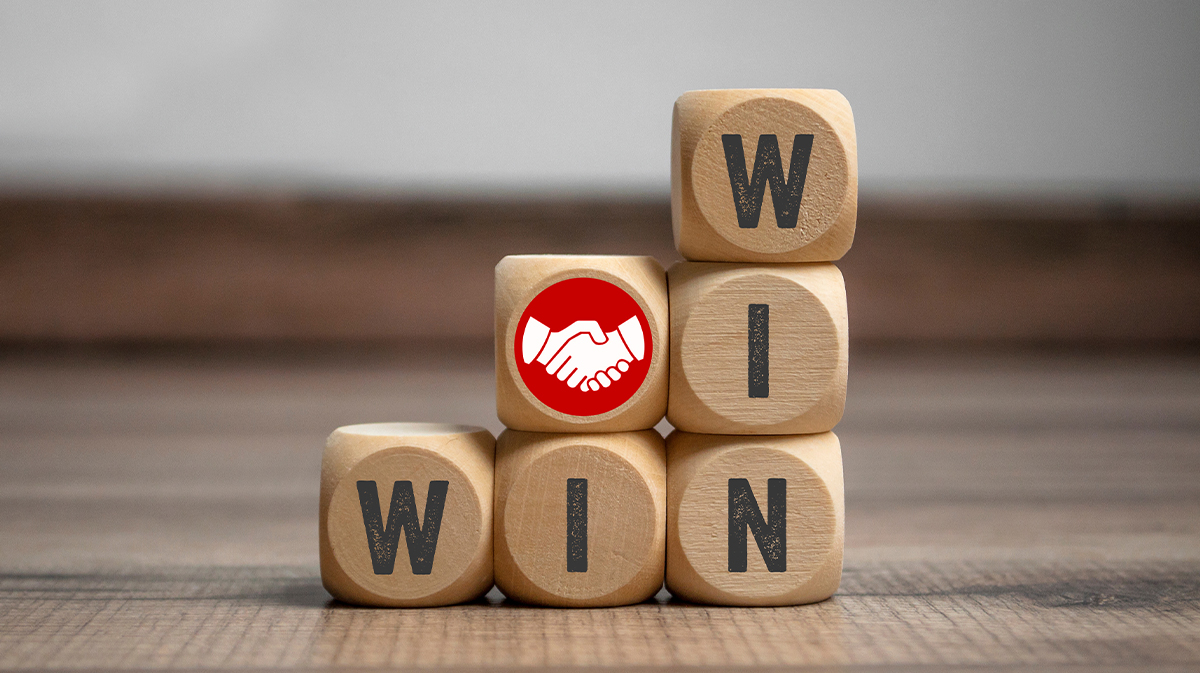 What are the advantages you have in a buyer's market, and how can you get the best deal possible?
Just last year we posted an article about "Competing in a Seller's Market", but since then some big changes have happened. We have seen a shift in the real estate market, giving the negotiating advantage to home buyers.
In the 3rd and 4th quarters of 2022, we have begun to see the median home prices gradually drop each month, both in Texas and the U.S. as a whole. Homes are staying on the market longer. This means that lower home prices and more negotiating power in favor of the home buyer are predicted in the coming months.
So, Let's talk about the ways to take advantage of the opportunity to negotiate in a buyer's market:
Know how to identify a Buyer's vs. a Seller's Market
The difference between a buyer's and seller's market is the advantage the market provides to either side. This is generally determined by the balance of supply and demand.
Seller's Market:
When demand is high, competition for homes is high and they sell fast. Usually, this means that homes sell at or above their asking price. Sellers are also most likely to choose an offer with the fewest contingencies. This doesn't leave potential buyers room to negotiate amongst the competition.
Buyer's Market:
Homes stay on the market longer in a buyer's market. This is often due to a higher number of homes being listed on the market, fewer potential home buyers, or both. With fewer offers coming in, sellers are more willing to be flexible in contract negotiations. Home buyers may find that sellers are more willing to be more flexible in the contract timeline, making repairs, or seller-paid closing costs when there are fewer offers on the table.
In the current Texas Housing Market market, higher mortgage interest rates are most likely the cause of lower competition. However, there are a number of advantages in the current market that tip the balance in favor of potential home buyers.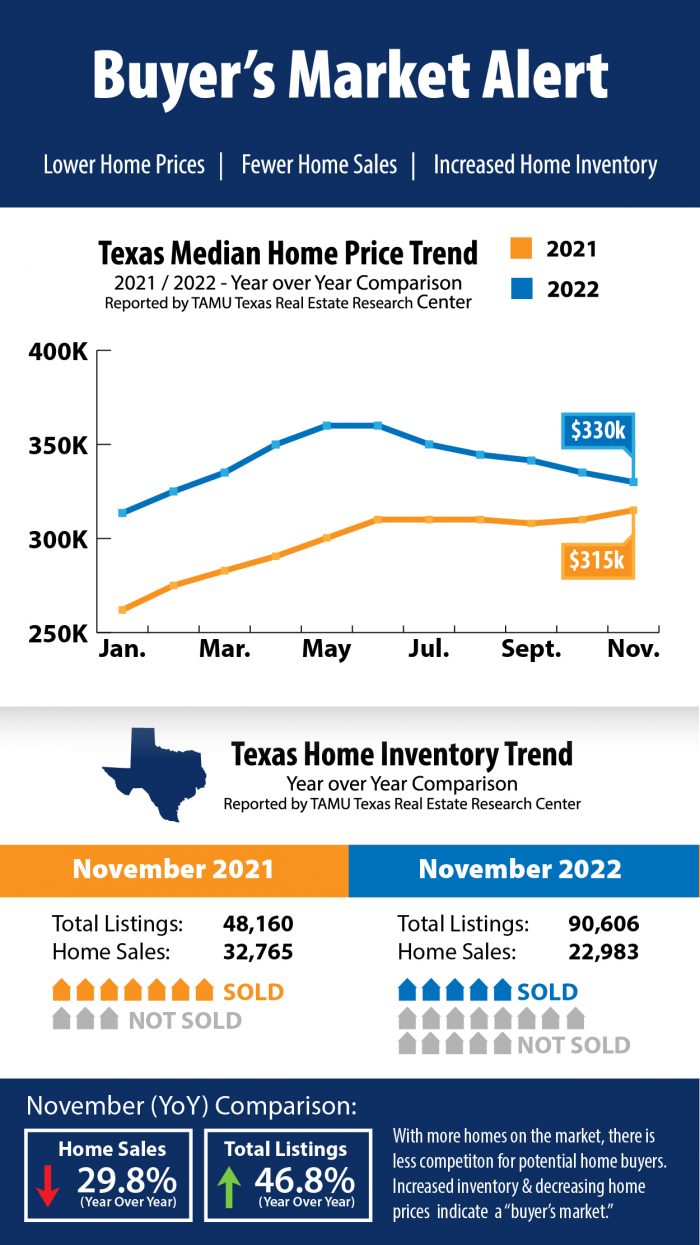 Know Your Mortgage Options
Being pre-approved for a home loan should always be the first step in buying a home. Knowing how much home you can afford often means taking a dynamic look at your mortgage pre-approval.
In a buyer's market, knowing the best mortgage options will help you plan for making an offer. Connecting to a licensed mortgage consultant is helpful for reviewing which low-down-payment mortgage options you qualify for, but it also adds an expert to your home-buying team.
With the advantage of a buyer's market, your offer could include a request for seller-paid rate buy-down. This type of concession is more common in a buyer's market that is similar to what we are seeing today. Negotiating for a seller-paid rate buy down can be a win-win scenario for both buyer and seller. Read more about seller-paid rate buy down in our recent article.
While mortgage rates are higher than the rates we have seen in the past two years, these rates aren't expected to stay at this level for long. If you buy a home now with a higher interest rate, you could have the opportunity to save money by refinancing your loan in the future as interest rates go back down.
Have a Good Realtor on Your Team
Did you know that as a home buyer your real estate agent's commission is paid for by the seller? Utilizing the expertise of a buyer's agent doesn't come with upfront costs to you as a home buyer.
Real estate transactions and negotiations are often coordinated by your buyer's agent and the seller's agent. For this reason, it is important to have a top-quality realtor on your team. They can be a wealth of information as to what is happening day-to-day in your local housing market.
Having a good realtor who has the experience and know-how to negotiate the purchase agreement on your behalf, can make or break the deal. Finding a good realtor can be a big part of finding the best deal when buying a home. A good real estate agent will advise you on the best moves to make for the current market, and advocate for you during the negotiation phase of the purchase agreement.
Use Time to Your Advantage
Historically the conditions that create a buyer's market, don't happen often and they don't last a long time. In general home prices increase over time and continue to grow steadily each month. This is due to a healthy amount of competition in the housing market.
Economists believe that what we are currently seeing in the housing market is a re-balancing after the frenzied competition drove up home prices during the pandemic. In 2021, Low-interest rates, low inventory of homes, and rising rent prices pushed the market favor far to the seller's advantage.
In 2022, the market has cooled as the FED incrementally pushed up interest rates. As inflation slows and the FED begins to relieve pressure on the housing market by lowering interest rates, the competition will return to the market. Many potential home buyers are waiting for interest rates to fall, but they may lose out on the lower home prices and benefits of a buyer's market.
We also discussed the advantages of buying a home in the Fall and Winter months in a recent blog article. As competition heats up in the Spring and Summer, your negotiating power may fall by the wayside as a home buyer.
You could look at these next few months as an opportunity to take advantage of a buyer's market. Use the most of your power to negotiate in a buyer's market by knowing your mortgage options. Having a great realtor on your team will help you use this unique time to your advantage.
We are here to answer your mortgage questions and help you access the best mortgage options available to you in the current market. Reach out to us to get connected to a licensed Texas mortgage expert on our team!