How to Drop Mortgage Insurance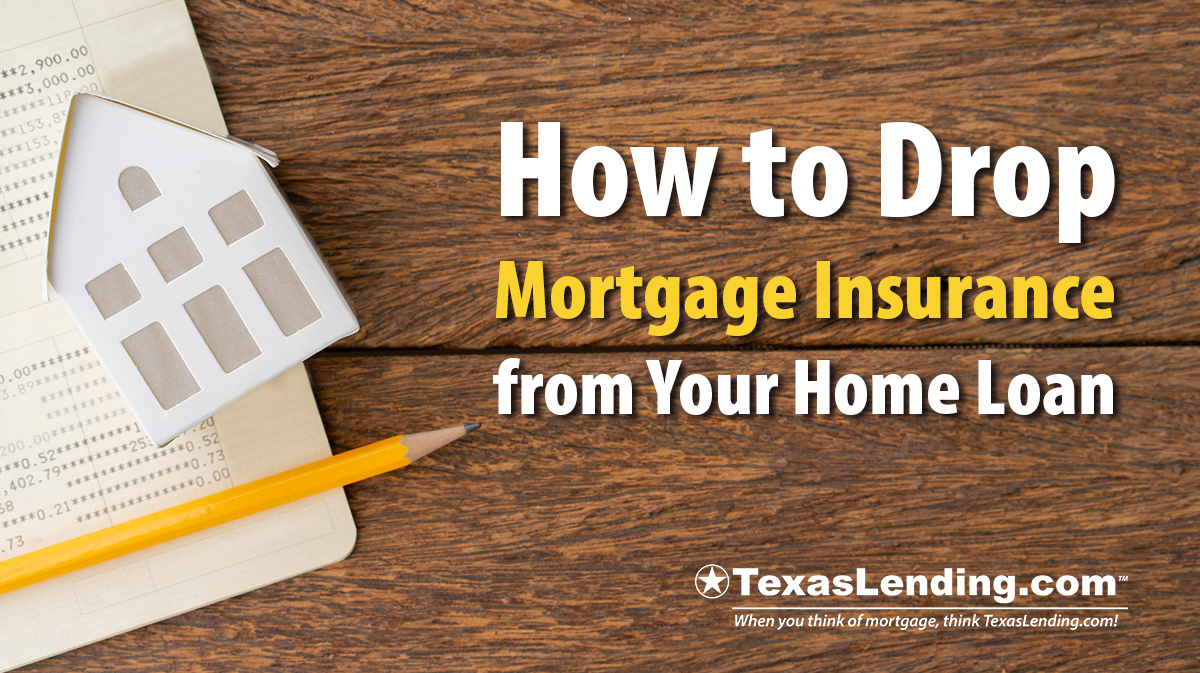 Do you know that you can drop mortgage insurance from your home loan?
We don't think you should be paying more for your mortgage than you have to. That's why it's a good idea to keep an eye on the mortgage insurance that could be structured into your loan.
Dropping your mortgage insurance can save you a few thousand dollars a year on your mortgage payment. The current average premium for mortgage insurance is $215 each month. That could mean saving over $2,500 each year on your mortgage if you drop the mortgage insurance from your loan.
When you buy a home there are a number of factors to consider. Mortgage Insurance plays a role in whether you should choose a low down payment mortgage option or a traditional 20% down payment. This is why it is important to know how to drop mortgage insurance from your mortgage after a few years of home ownership.
In this article we answer a few important questions about mortgage insurance and how you can save money by dropping it:
What does mortgage insurance cover?
Mortgage insurance protects the bank that services your mortgage in the event that you make late payments or default on the loan.
The mortgage insurance coverage does not allow you to miss or skip mortgage payments. Mortgage insurance does not protect your home from going into foreclosure if your loan goes into default due to missed payments.
Do I need mortgage insurance?
Mortgage insurance is required on loans that are considered higher risk to the lender. Loans with loan to value ratios of 80% or higher are usually in this category. Low down payment mortgage options, help home buyers purchase their first home with lower up-front costs. These loans are, however, considered at higher risk of default and require mortgage insurance for either part or all of the loan term.
This is one of the top reasons many home owners choose to refinance their low down payment mortgage after a few years of owning the home. Keeping an eye on your mortgage and looking for the opportunity to save money by dropping mortgage insurance is a smart financial move for homeowners.
How can I drop the mortgage insurance from my loan?
Each mortgage program has differences in the way mortgage insurance is structured in the loan. Let's take a look at how you can drop mortgage insurance from each type of mortgage loan.
Dropping private mortgage insurance from Conventional Loan Programs

Conventional loan programs can allow you to make a down payment as low as 5%, or 3% for first time home buyers. However, private mortgage insurance is required on conventional mortgages with less than 20% equity.

After you have made on-time mortgage payments and the loan to value ratio is at 80% or less, your loan servicer will automatically drop private mortgage insurance form your conventional loan. Some banks that service loans will accept requests to drop the mortgage insurance at an LTV ratio of 78%. Speak with a loan officer at the bank servicing your mortgage about your options to drop mortgage insurance.

Dropping MIP from FHA Loans

If you make a 10% or greater down payment on an FHA loan the mortgage insurance premium can be removed from the loan after 11 years of on-time mortgage payments. You can discuss removing the MIP with the bank that is servicing your mortgage at that time.

However, the minimum and most common down payment on an FHA mortgage is 3.5%. Paying the minimum down at closing means your loan will have a mortgage insurance premium for the life of the loan. This does not mean that you will have to pay MIP for a full 30 years. You can refinance to a conventional mortgage after you have 20% equity in your home, to drop the mortgage insurance.

Learn more about the ways that refinancing can save you money in this article.

Dropping MIP from USDA Loans

USDA loans require mortgage insurance premiums as a part of your monthly mortgage payment for the life of the loan.

The only way to drop mortgage insurance from a USDA loan, is to refinance to a conventional loan once you hold 20% or more equity in your home.

VA Loans and Mortgage Insurance

One of the big benefits of having a VA Mortgage, is not having to pay mortgage insurance premiums. Mortgages backed by the U.S. Veterans Administration, are the only government backed mortgage program that does not require mortgage insurance.

Learn more about the "Benefits of VA Mortgages" in our previous blog article.
Dropping mortgage insurance premiums from your mortgage payment is one of the top reasons to refinance your loan. We shared other ways to save money on your mortgage by refinancing in another great blog article.
We are here to help you. Don't pay more for your mortgage than you have to. Our mortgage consultants are happy to show you the best mortgage options available to you on the current market. Reach out to us to get a FREE quote on a refinance loan, or FREE pre-approval on a home purchase loan.