Tips for Moving to Texas from Another State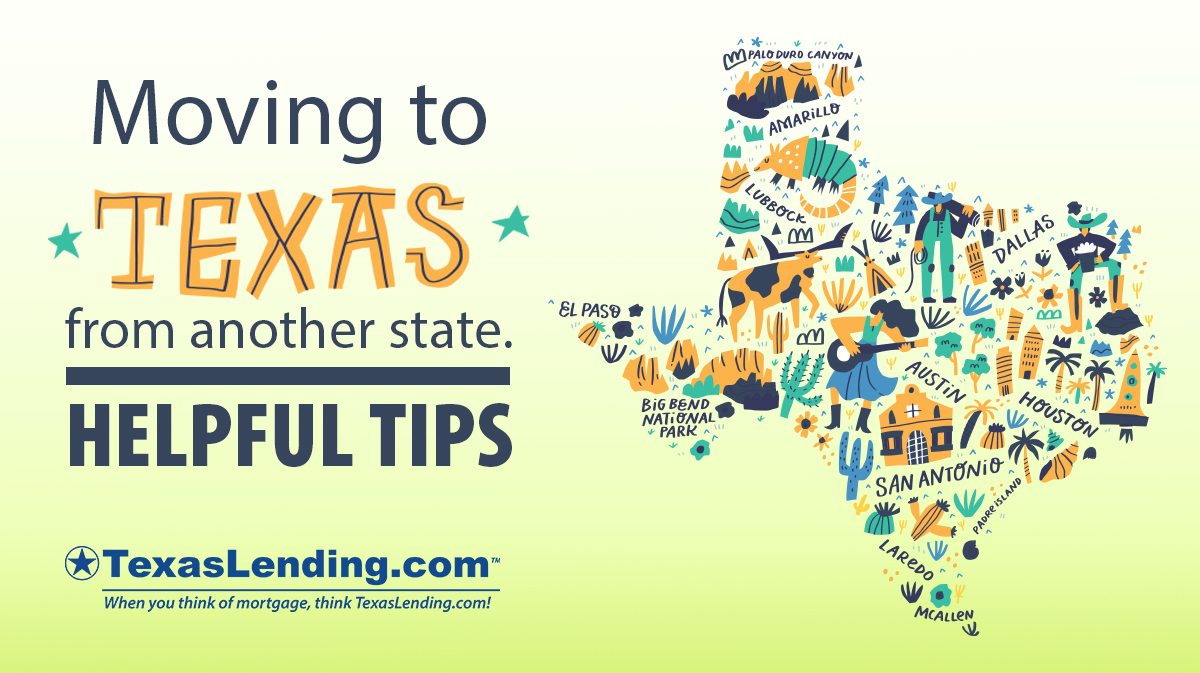 If you are one of the many people moving to Texas from another state or to another city within the state, it may be helpful to know a few tips.
Texas has held the #1 position in population growth for states in the U.S. since 2017. Most of this population growth is attributed to the increase in new jobs. Companies moving their corporate headquarters to Dallas/Ft. Worth, Houston, and Austin areas have attracted many new people to the state of Texas.
This information may help you in your big move in the big Loan Star State:
The Housing Market is HOT!
Tip for moving to Texas #1: Be prepared for a fast moving and competitive housing market.
The weather isn't the only thing that is hot this Summer in Texas. In fact, the current population growth has experts expecting a competitive housing market for all seasons for the next couple of years. With more people moving to Texas and home builders trying to keep up with the demand, it is important to be prepared for the competition.
If you want to buy a home, get pre-approved for a mortgage before your start your home search. Utilize the knowledge of Texas experts to help you build a solid home buying team. One of our dedicated home purchase mortgage consultants will be your guide throughout the home buying process. We can also refer you to a local buyers agent that can help you find a great home.
Pre-approval is fast and FREE at TexasLending.com
Organization is Key
Tip for Moving to Texas #2: Create a Moving Plan
Moving to a different state is a big move. Planning ahead will help reduce your stress and keep your move on track. It's a good idea to visit the city and get to know different neighborhoods before you choose a place to rent or buy. We may be able to help you get a plan together.
Being the mortgage experts in Texas, we enjoy providing resources for homeowners and home buyers in our blog. To help you with your move to Texas, consider browsing through some of the helpful guides we have put together for you:
Texans are Proud to be Texans
Tip for moving to Texas #3: Learn to Love Texas
It is no secret that Texans are proud to live in the Lone Star State. We know where to find the best Tex-Mex and Barbecue places in town. Every Texan can tell you a story about the extremes of the weather, and is proud to have the experience. Our state motto is "Friendship," but if you want to make friends in Texas, don't talk bad about our state.
"Don't Mess with Texas" isn't just the slogan for a popular litter-prevention campaign developed in 1985, it is an attitude. We want you to appreciate all of the things that Texas has to offer. Texas is one of the most diverse states in the U.S. and embraces the cultures and traditions that make it unique.
You can learn more about the top reasons that Texas is a great place to call home in one of our previous blog articles.
Spend a little time exploring the local sights, get involved in your community, meet some great people, and learn all about being a Texan.
If you are moving to Texas, we hope you are looking forward to living in our great state. We would also love to be the mortgage experts of your team.
Our licensed mortgage team have been closing mortgages in Texas for many years. Let us help you navigate the home buying process and mortgage guidelines that are specific to our state. We would be glad to give you all of the knowledge we have gained in our experience as the Texas mortgage experts.