How Do Student Loans Impact Mortgage Qualification?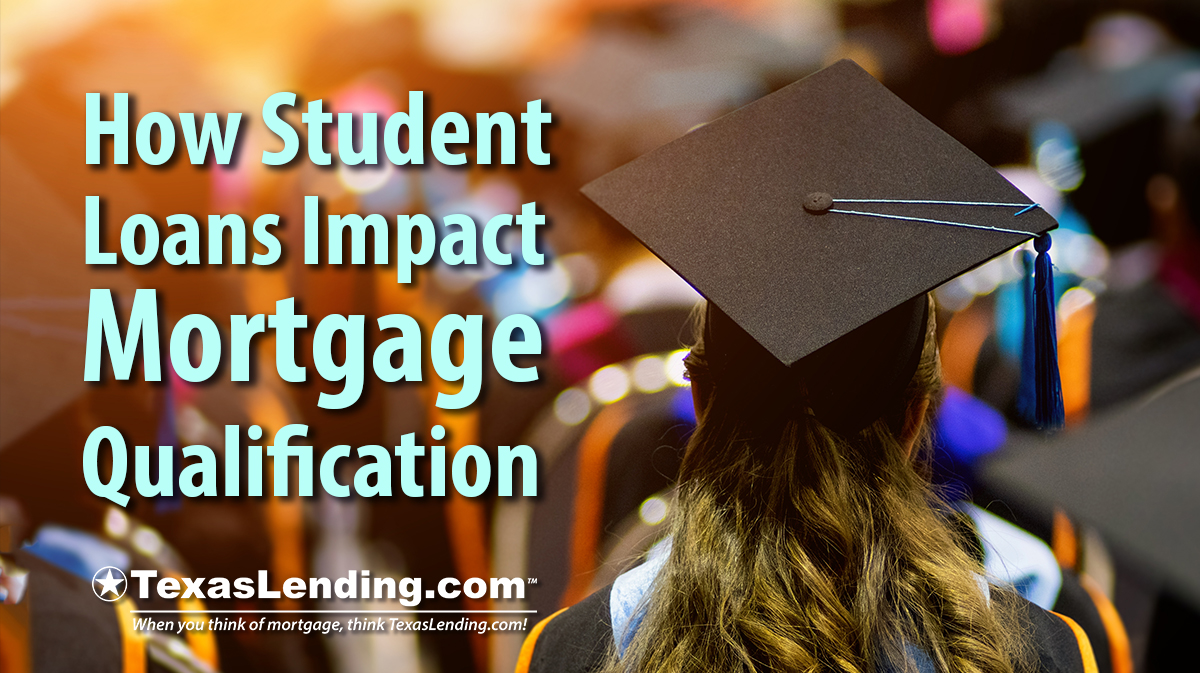 If you have student loan debt, you may be wondering how it will impact your ability to qualify for a mortgage. Buying a home does require some assessment of your financial outlook. There are a few ways that your student loans will require consideration in becoming a homeowner.
Let's take a look at the financial factors that impact your mortgage qualification when you have student loans:
Debt to Income Ratio
When qualifying for a mortgage, banks want to make investments with the least risk possible. This is risk is measured when your monthly income is compared to your monthly debt repayment obligations.
Ensuring that you can comfortably afford your mortgage is important. That is why DTI (debt to income) maximums are set at 43 – 50% for most loan programs.
Your student loan payments will be calculated as a part of your monthly debt obligations. Some other debt obligations that are considered are auto loan payments, credit card minimum payments, home/renters/auto insurance premiums, or child support payments. While you may have a higher monthly debt obligation to consider, as a graduate you may also be likely to have a higher income.
If you can comfortably afford your rent, you are likely to be able to afford a mortgage payment. In many urban areas across Texas, the monthly cost of renting a home is higher than buying a home of the same size.
We have an informational article on "How Much Home Can I Afford," that can better help you understand affordability based on your income.
Your Credit Score
Student loans could play a role in either raising or lowering your credit score. When applying for a mortgage your FICO credit score should be good to excellent at 620 or higher.
Having student loans can raise your credit score by adding a history of utilizing credit to increase your income potential. This of course means that you will need to consistently make student loan payments on time each month.
However, if your student loans have not been repaid and are in "collections" status your credit score will drop. This type of loan default could impact your credit and ability to qualify for a mortgage until the issue is repayment resolved. It is a better financial decision to defer your student loan payments if a deferment option is possible than it is to default on a student loan.
Read more about how to "Improve Your Credit Score Before Home Buying" in one of our previous articles.
Proof of Work History
One of the requirements for mortgage qualification is having a steady and stable income. Most mortgage programs require 2 years of work history in the same field of work to show income stability.
However, if you are a recent graduate with a steady income you may not have to show a full two years of work history. For people starting a career in their specialized field of study, the work history requirement can be waived.
Having student loan debt shouldn't exclusively prevent you from qualifying for a mortgage. While your student loans will play a role in calculating your mortgage qualification, there isn't any reason why you shouldn't be able to buy a home while repaying your student loans.
If you have a steady income, good credit, and the ability to make a down payment, you should speak to a licensed mortgage consultant about getting pre approved for a mortgage. We would love to be the experts to help you reach your goal of homeownership. Reach out to us when you are ready to get pre approved.