Why do I need an Appraisal?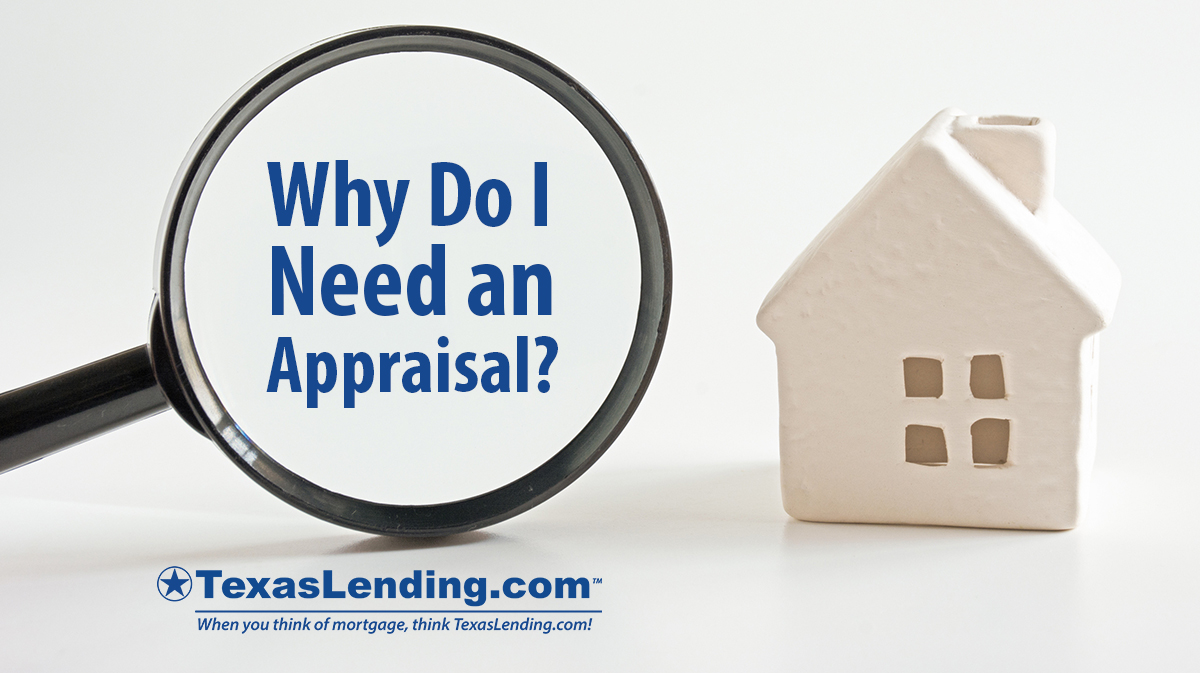 If you are looking to buy a home or your are considering refinancing your current mortgage, you may want to know… Why do I need an appraisal?
Appraisals are required for almost all mortgage loans. A licensed professional appraiser must make a complete evaluation of the property being financed and provide a report determining the fair market value of the home.
Let's take a look at why you need an appraisal:
Home Buyers are Protected by the Appraised Value
When home buyers are looking to make an offer on a home there are a lot of numbers to consider; the asking price, the pre approved loan amount, cost for potential repairs, the down payment, earnest money, and other costs. Investing in a home requires some number crunching, and the appraisal report is the best way to understand the value of the property at the time of purchase.
Most purchase contracts include an option period that allows time for negotiation after the appraisal report is provided to the buyer. If the fair market value is close to the purchase price, then the home buyer knows that they are paying a fair price for the home. However, if the appraised value is much lower than the purchase price, it may be time to speak with your realtor about a price negotiation.
Home buyers need an appraisal to meet federal mortgage guidelines, but the appraisal also protects the home buyer by providing a documented report on the fair market value of the home.
Refinancing: Why do you need an appraisal?
Banks and mortgage investors want to affirm the current fair market value of your home, when you are refinancing. This is accomplished through getting an updated appraisal during the refinance process. Here are a few main reasons why you need an updated appraisal to refinance your mortgage:
Time
Over time changes in the housing market can raise the value of your home. If you are living in a developing area, the value of your property can grow as new homes and businesses move into the area. The growth of your homes value can rise and fall with the local market, and you will need and appraisal to determine the current fair market value.
Improvements
If you have made significant improvements to your home by updating the flooring, windows, fixtures, or other permanent finishing, your homes overall value will be impacted. This is often called "sweat equity," which raises the value of your home.
Damages
Major damages that have occurred since the original appraisal could affect the market value of your home. Foundation issues or other major damages that have left the home in dis-repair can lower the overall value of your home.
Do you always need an appraisal to get a mortgage?
When you are applying for a mortgage there are a few scenarios in which you may not need an appraisal. However, keep in mind that the overwhelming majority of mortgages do require an appraisal.
Appraisal Required:
An appraisal is always required to purchase a home.
You will be required to get an appraisal to get a cash-out refinance.
Appraisal NOT Required:
FHA Streamline Refinance (lender-paid closing costs not allowed)
VA IRRRL (Interest Rate Reduction Refinance Loan)
Some Conventional Rate & Term Refinance Loans (with an approved waiver)
Learn more about how TexasLending.com customers can get the cost of their appraisal credited back to them at closing through our "Customer Loyalty Program."
We hope this article provides you with some valuable information on the appraisal during the mortgage process. If you have more mortgage questions, we are here to help! Reach out to us any time and speak to one of our licensed mortgage consultants today.