How long does it take to close a mortgage?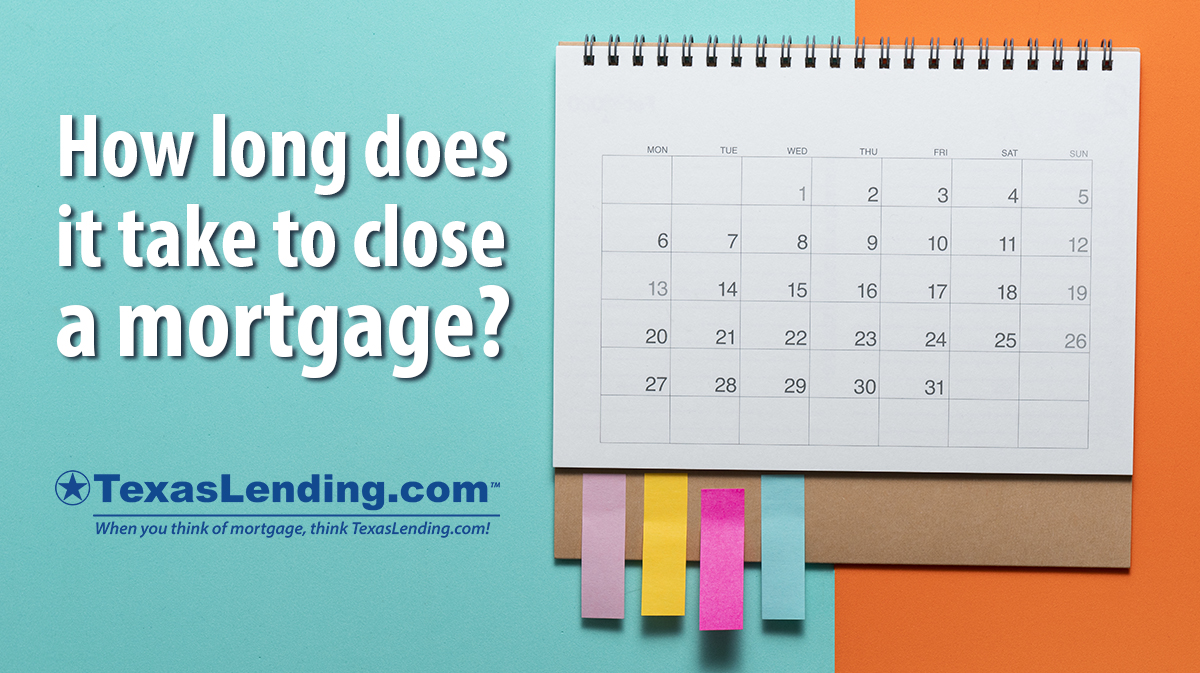 This is one of the most asked mortgage questions. To answer this question fully, let's take a look at steps in the mortgage process, the potential delays, and the days to closing.
Days to Closing
The average closing time at TexasLending.com to 27 days. Our goal is to make the mortgage process as quick and easy as possible for our customers.
According to reports from Ellie Mae, the current national average closing times are as follows:
Mortgage Refinance Loans – 35 days to closing
Home Purchase Loans – 45 days to closing
Steps In the Mortgage Process
Every mortgage loan goes through steps to ensure that federal mortgage lending guidelines are met. Each step requires action from you to move forward, so it is important to keep in contact with your mortgage team to move as quickly as possible.
These are the steps in the loan process:
Application – Submit a complete mortgage application
Loan Estimate – Review your mortgage options and choose your loan by signing the initial loan estimate.
Processing – Submit the required documentation for loan approval.
Underwriting – Wait for the conditional loan approval from an underwriter.
Closing Disclosure – Sign the closing disclosures and schedule your closing date with the title office.
Closing – Signing the final mortgage documents at the title office
Funding – After signatures are in place, the loan is funded
Know that some steps in the mortgage process are regulated by federal mortgage laws and the market. Learn more about the details and timing of each step in the "Mortgage Process" in a previous article.
Potential Delays
There could be some unexpected delays in the mortgage process. At TexasLending.com we work to keep your mortgage process on track and do our best to resolve these delays.
Not every element of the mortgage process is within the control of our team. Here are a few of the most common delays that can happen:
Incomplete or incorrect information in the application submitted by the borrower
Appraisal scheduling
Delays in document submission
Home repairs (If required by the purchase contract)
Discrepancies in the property title
Changes in credit during the mortgage process
Employment changes during the mortgage process
Read about the "Do's and Don'ts of the Mortgage Process" and the "10 Mistakes to Avoid During the Mortgage Process" in previous blog posts.
One of our primary customer service goals is to get you to closing quickly. We are here to answer your mortgage questions and guide you to a better mortgage.
Our licensed mortgage consultants are ready to help you look at your best mortgage options. Reach out to us when you are ready to refinance your mortgage or buy a new home.