10 Ideas for Connecting while Keeping Social Distance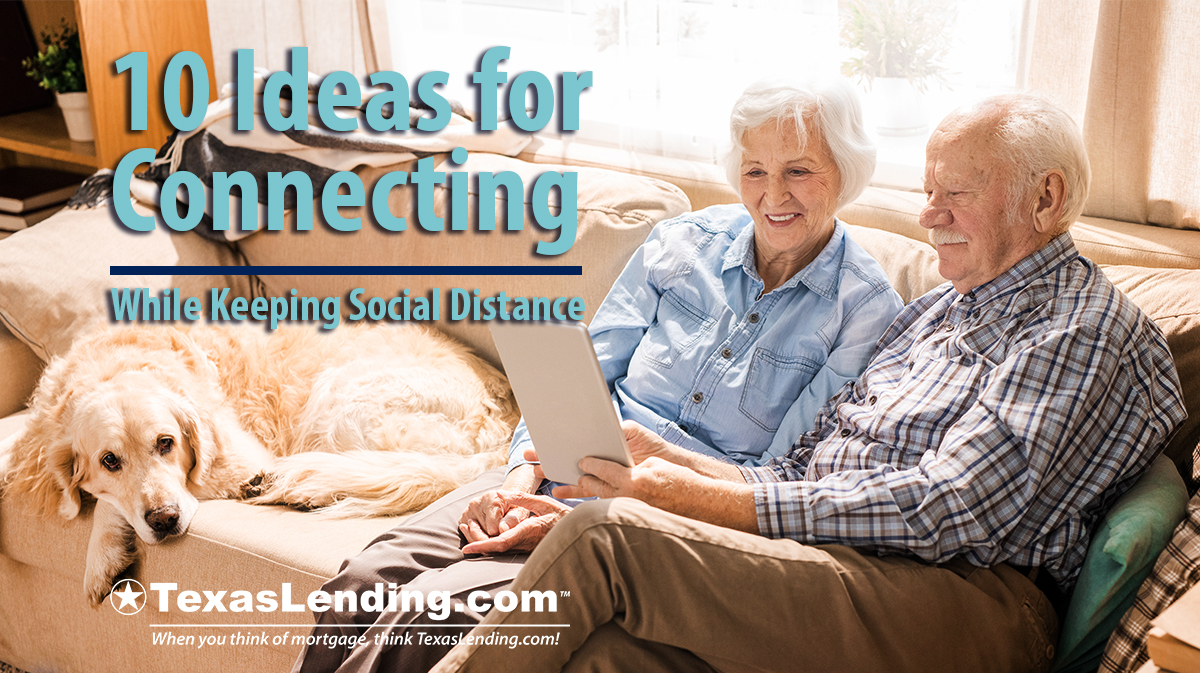 For our friends and family that are at higher risk during the COVID-19 epidemic, maintaining social distance can be difficult. Your Grandparent or a person with compromised immunity would appreciate feeling connected to their loved ones, even while keeping social distance.
These 10 ideas will help you connect to your loved ones while keeping social distance:
1. Send a Letter
By classic paper, envelope, and postage stamp… a thoughtful letter is a meaningful way connect to a loved one. Keeping social distance for extended amounts of time can cause feelings of loneliness.
Consider writing a card or letter to someone on these topics:
Remind them of a shared memory and how you enjoyed that time with them
Thank them for something specific that has added value to your life
Write about what you look forward to doing with them when you can see them again
Share some things that you are experiencing
Encourage them to stay positive
Tell them that you love and/or care for them
2. Order a Treat
One of the most simple ways to brighten someone's day, is to send them a treat. Order something they enjoy from a reputable local company that can deliver a treat for your friend or family member.
Check for information on health and safety before you order. Many companies are taking extra cleaning and safety measures to ensure that they are reducing the risk of spreading COVID-19.
At TexasLending.com our customers can use our Online Mortgage Process to safely navigate a mortgage refinance or home purchase during the Covid-19 health crisis.
3. Share a Recipe
If you are missing cooking together with your friends or family members, this idea may be extra fun for you. Here are a few ways to connect by sharing a recipe while social distancing:
Make a how to video with your kids using a favorite family recipe.
Mail a hand written recipe in a letter.
Share a recipe on social media that is packed with "Immune Boosting Foods"
4. Send a Drawing
Drawing is a great exercise for your mental health. Sharing your artwork can also be a creative way to connect to loved ones while practicing social distancing.
Draw their favorite pet, flower, or dessert
Draw something that reminds them of a time you spent together
Share a drawing with an uplifting subject on social media
5. Make Future Plans
Even though social distancing is something that needs to be practiced in this moment. Making plans to do something special together in the future, gives you both something to look forward to doing.
6. Send Pictures
Sending pictures is a great way to connect with your loved ones anytime. During times of social distancing sharing photos may be extra special to someone that you can't hug as you normally would.
Try our "At Home Photo Challenge."
7. Dance with Social Distance
Just like photos, dancing can help to spread cheer. Send a video of yourself or your family dancing. You could also show up outside of your loved ones home to dance on their front lawn!
8. Fashion Show
Your kids may be excited to get involved in cheering up a grandparent or loved on that needs to be socially distant. Wearing a costume, dressing up like a grandparent, or doing a fashion show might just be the ticket to making them smile. Don't forget to send pictures, share a video, or dance outside their window.
9. Decorate with Sidewalk Chalk
Brighten up the sidewalk of your friends or family by adding some color with sidewalk chalk. Whether you write a positive message or draw something… you can easily maintain social distance while adding something uniquely fun, just outside of their front door.
10. Sing or Lip Sync
Lots of people enjoy music and find it healing, motivating, or moving. Make a video of your family singing and send it to a loved one. Show up and sing a song on the front lawn. You may even make someones day by simply lip syncing a song that is meaningful to the person you are hoping to connect with while social distancing.
We love to share ideas in our blog to encourage happy and healthy families. Try some of these ideas to help you connect to a friend or family member that needs social distance during this Covid-19 health crisis. You will definitely brighten their day.
Follow our Facebook page to see more articles like this one!