Benefits of Walking: Health at Home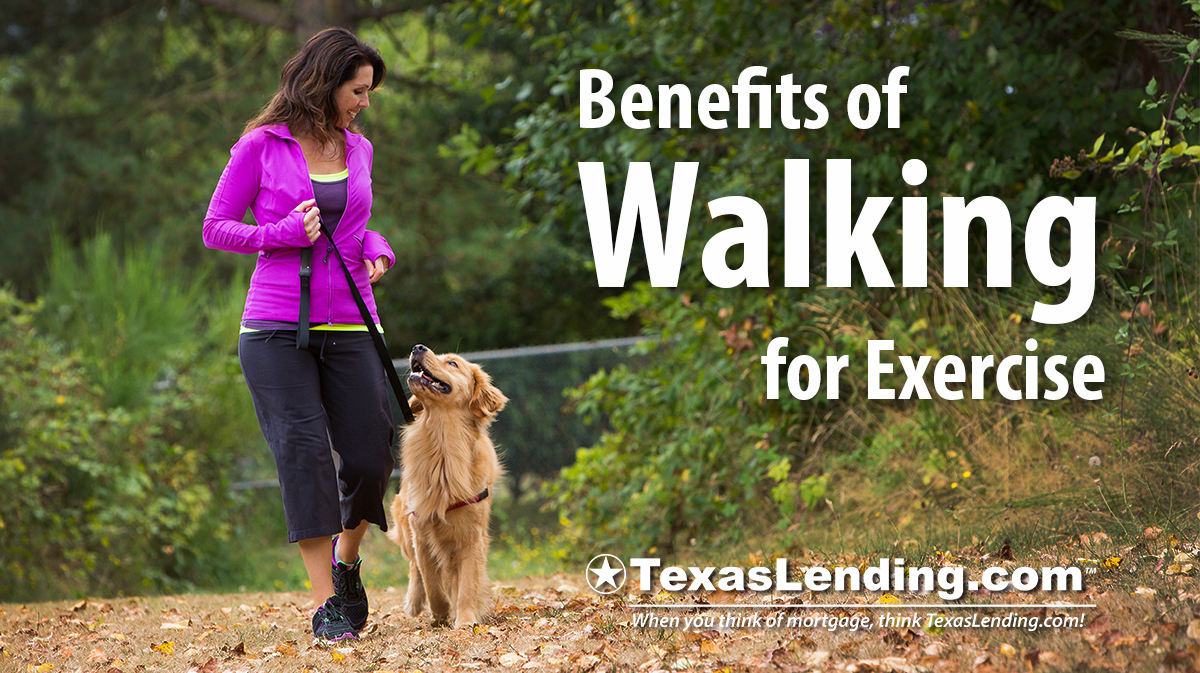 If you have been feeling stressed, tired, or unable to focus… simply going for a walk could help. There are many benefits to adding a 30 minute walk to your daily routine.
It may be hard to believe that such a simple exercise could make a big impact on your health. However, the benefits of walking daily for exercise are exponential for many people who are required to sit at a desk for the majority of the work day.
Here are a few excellent reasons to add a brisk walk to your daily schedule:
Cardiovascular Health
You heart is a muscle, and like all muscles its strength is improved by getting regular exercise. Walking at a "brisk" pace for 30 minutes a day will benefit the health of your heart and vascular system.
At a brisk pace your walk should feel challenging for you muscles, with elevated breathing and heart rate. You can take one 30 minute walk or divide your walks into 15 or 10 minutes, 2 or 3 times a day.
Over time, regular exercise increases the strength of your heart, reduces cholesterol in your blood, and helps to carry oxygen throughout your body with more efficiency.
Joint Health
One of the main benefits of walking in comparison to other types of exercise, is the impact on your joints. Unlike running, weight lifting, or other more strenuous exercises, walking is more low impact on your joints.
Not only is walking low impact, but it can relieve stiffness and some joint pain. Many people who sit or stand for long periods of time each day, commonly experience joint pain. Walking between long periods of sitting or standing can help to relieve the nerve pain, stiffness, or inflammation in your joints.
Immune Health
Medical research suggests that maintaining regular exercise helps to flush out harmful toxins in your body and keep your body function strong.
Cardiovascular exercise, like walking, increases the amount of oxygen in your bloodstream. This helps your body to regenerate white blood cells that heal the body.
Read more on "Immune Boosting Foods" in another one of our health at home articles.
Reduced Body Fat
This benefit of walking is obvious. Walking at a brisk pace as a part of your daily routine can help you reduce body fat. A regular exercise routine will help you maintain a healthy weight.
Vitamin D
Walking outdoors during the daytime means that the sunlight will naturally help your body produce vitamin D. Ultraviolet light in the rays of the sun help your skin cells break down cholesterol into vitamin D.
In the body Vitamin D boosts your immune system by fortifying calcium to strengthen your bones.
Mental Clarity Improvements
Taking a break and going for a walk can improve your mental clarity. The research on the long term effects of a daily walk for exercise, indicate less feelings of anxiety and depression.
If you need to focus on a task, but you are struggling with it. Taking a break for a short brisk walk can help you come back to the task with more mental clarity. Learn about more "Working from Home: Productivity Tips" in this blog article.
Reduced Risk of Common Preventable Health Conditions
Along side the other health benefits of walking, over time incorporating walking into your daily routine can aid in the the prevention of some common diseases:
Diabetes (type 2)
Heart Disease
Obesity
Hypertension and High Blood Pressure
Inflammation
Muscle Atrophy
Some Digestive Issues
Colon Cancer
Feelings of Anxiety & Depression
Dementia
Improved Balance and Endurance
As walking becomes part of your daily routine, your muscles strengthen and your balance improves. You body has an amazing ability to adapt, building endurance is a great benefit of walking.
An Excellent Way to Transition into a Regular Exercise Routine
For beginners, walking is a great way to allow your body to slowly adapt to a more active lifestyle. When begin to feel that your walking exercise routine needs to be more challenging, consider adding some of these option to amplify the benefits of walking for exercise:
Bring hand held weights to tone your arms
Choose a more challenging path with hills or stairs
Increase your speed
Lengthen the distance or time you walk
Add a different type of exercise to the end of your walk like yoga, calisthenics, dancing, or other exercises.
We love to share information in our blog on home ownership, mortgage, and happy and healthy families. To see more blog posts like this one follow our Facebook page.
The mortgage experts at TexasLending.com are here to help you with your mortgage questions and needs when you are ready to buy a home or refinance your current mortgage.