7 Creative Ideas for Celebrating at Home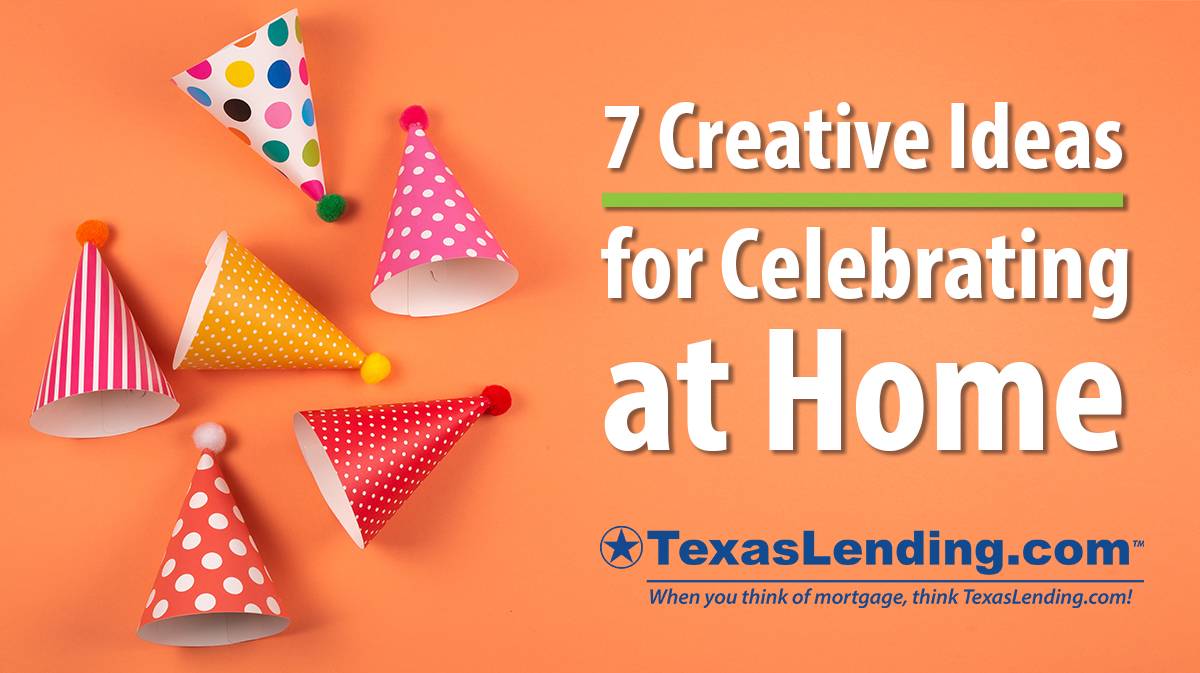 Is someone in your home graduating or celebrating a birthday or milestone? We are sharing a few ideas to help you create a special day for your loved ones in your own home.
1. Scavenger Hunt
Scavenger hunts can be a great way to take someone on a walk down memory lane or leave notes of appreciation hidden around the house. We love this thoughtful game for celebrating at home. What a great way to make someone feel extra special.
How to play:
Start with a note that gives them a clue to find the next note and the next clue, and leave as many notes and clues as you would like.
Hide the notes in places around the house.
Leave small gifts with each note, and/or let the notes lead them to a big gift at the end.
You might skip the gifts all together and just write things that you appreciate about that person on each note. They will remember those compliments for a lifetime, and all you need is some paper and a pen.
2. Photography
Capture memories with photographs to document special days. Here are a few great photography ideas we have seen.
Re-create an old photograph
Make a "photo booth" with a fun background an props
Use sidewalk chalk to set the scene
Get dressed up and make the day all about the photo shoot
3. A Special Meal
Cook their favorite meal for dinner, and don't forget dessert. Celebrating a special occasion at home could be as easy as treating your loved one to a special meal.
For your spouse, that may be a candle lit dinner and their favorite dessert. For your kids, you might let them pick what is for dinner… even if that means pancakes and ice cream with gummy bears. (Just on their special day)
4. Cooking/Baking Challenge
Speaking of food, you could include the whole family in a fun food challenge:
Who can make the best cookie decoration?
Which team can build the best waffle cabin?
Who can make the best ice cream sundae combination?
What recipe makes the best smoothie?
5. Sending Love by Mail
Even though your friends and extended family may not be able to visit, receiving letters in the mail from them can be something special. Today it takes a few seconds and not much thought to send a Happy Birthday text or message on social media. However, receiving a card or letter in the mail these days is truly something special.
Reach out to your friends and family in advance and ask them to mail a card or letter to celebrate. Here are a few ideas of what you could ask for:
Write a letter of encouragement to a graduate, and tell them what makes you proud of them.
Send a card to the birthday boy/girl to help them feel special.
Mail a letter of appreciation to someone who is working hard.
Write a letter to a grandparent or elderly person who may be feeling lonely.
Congratulate a person who is celebrating a milestone, like an anniversary or accomplishment.
6. Spa Day
Celebrating at home doesn't have to be stressful. In fact, relaxing at home together to celebrate the end of the school year may be the perfect reward. Have a spa day, soak up a little sunshine, refresh your skin with some special attention, or make some time for meditation.
Read more "Staycation Ideas" in one of our previous blogs articles.
7. Make a Time Capsule
Putting away some memories that you can check back on at a later date, could be a fun way to celebrate at home. Make a time capsule or a scrap book, then make a plan for everyone to take a look at those memories together in the future.
How fun would it be to look back on the memories 10, 15, or 20 years in the future?
Bonus: Make Your Own Decorations
Make your home extra cheerful with some home-made decorations. Setting special days apart by decorating your home for celebrations, is a sure way to make your family member feel special.
Break out the scissors, crayons, and tape! It is time to say "Happy Birthday", "Congratulations", or "We Love You!." Check out our article on "Celebrating with Less Plastic Waste" in a previous blog post.
We hope that these ideas inspire your creativity for celebrating special occasions and accomplishments at home. To see more articles like this one about home ownership, family fun, and mortgage information… follow our Facebook page.
At TexasLending.com we are here to help you with all of your mortgage questions and needs. Reach out to us when you are ready to buy a new home or refinance your current mortgage.