Phases of Home Buying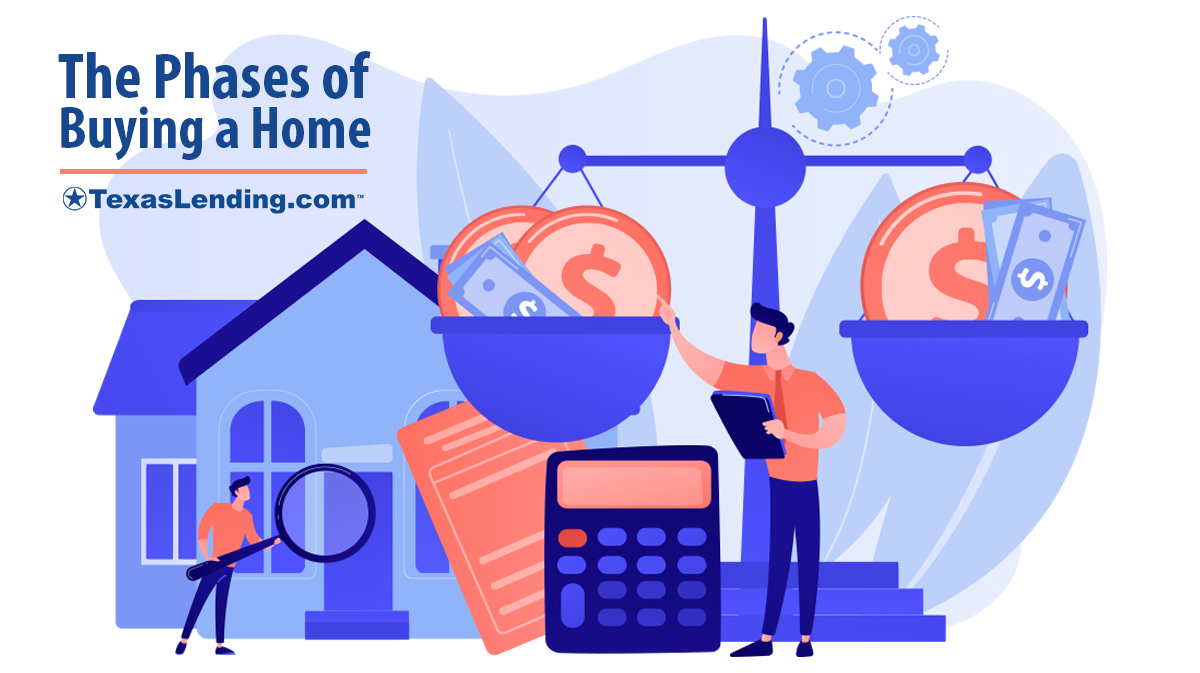 What are the phases of home buying? Buying a home is not a quick impulse purchase for most people, it deserves consideration. Deciding on your goals, preparing your finances, and getting pre approved are all important phases of home buying to navigate before you even make an offer.
1. Analyze Your Goals
This is the time when you (and your spouse) should set realistic goals for buying a home. As one of the most exciting phases of home buying, don't forget to cover the practical topics as well as the fun ones.
Here are a few great questions to answer for yourself while analyzing your home buying goals:
How long would I live in this house?
What neighborhood best fits my needs?
How close would I like to live to the workplace?
How many bedrooms and bathrooms do I need?
Do I need a home office, large kitchen, outdoor space, extra storage space, or other feature?
Am I willing to make a few repairs or do I want a move-in-ready home?
2. Prepare Finances
Use our experts to make preparing your finances easy, instead of making this one of the most stressful phases of home buying. We are here to help you answer your financial questions!
Preparing your finances for buying a home means 3 main things:
3. Search for a Home with Pre Approval
Even if you are 3-6 months away from buying a home, speaking to a licensed mortgage professional about getting pre approved is the best way to start your home search. Searching for the right home can be one of the most challenging phases of home buying, but being pre approved can make it easier.
Pre Approval is Free at TexasLending.com.
Another way to make the phases of him buying easier, is to have a great team. As a home buyer, you don't pay the Realtor you work with. They are paid by the sellers after closing, so there is no reason not to use their help. Find the Best Real Estate Professional in your neighborhood by accessing our network of experienced Realtors.
4. Offer and Negotiations
Your Realtor will help you understand the current market trends and how to make a strong offer. This is the phase of home buying where you will put all of your preparation into action.
Be ready to make decisions, ask questions that are important to you, and stay in contact with your home buying team. Here are a few important questions to keep in mind during this phase of home buying.
Is the current market a buyers market or a sellers market?
What is a good offering price for this home?
Are the the foundation, roof, structure, and HVAC system in good condition?
What are the needed repairs?
When do I want to close and move in?
5. Closing
Once your offer is accepted by the seller, your main goal will be closing the deal. We outlined some helpful tips on "The Do's and Don'ts of The Mortgage Process" in a previous article. This information will help you know what to expect during the mortgage process. If you are already pre approved, taking the final steps to closing will be easy.
Get ready! On the day of closing you (and your spouse) will meet at the title company office selected by the seller to sign the final agreements. Bring the down payment (if applicable) and a valid form of identification for all persons signing the closing documents.
Once the mortgage loan is funded, the keys to the home are yours!
At TexasLending.com our goal is to guide you successfully to home ownership, keep you informed during the process, and answer any questions you have along the way. We would love to be your go-to mortgage experts.