How long does it take to refinance your mortgage?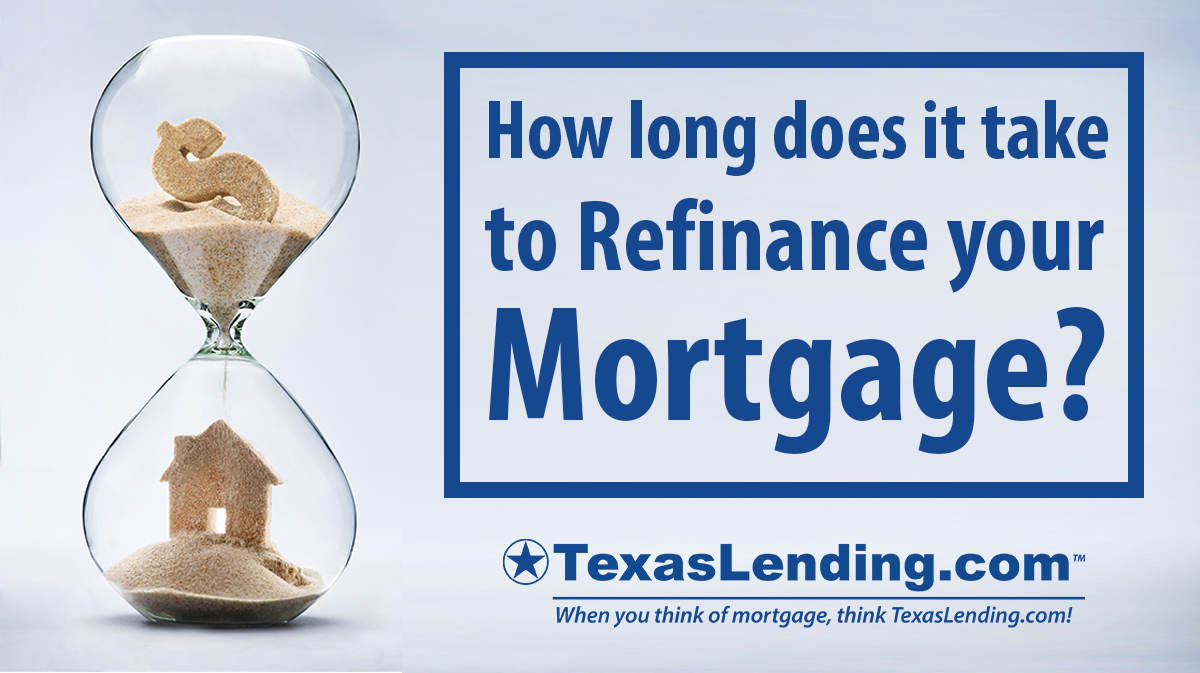 How long does it take to refinance your mortgage? We believe that this question deserves a detailed answer. To be thorough, we will need to break down the mortgage process into steps.
Here are the steps in the mortgage process that determine the time it takes to refinance your mortgage at TexasLending.com:
Application
Time Estimate (10 – 20 minutes)
You can apply to refinance you mortgage by speaking with one of our licensed mortgage consultants. They will go over the current qualification guidelines, and help you understand your refinance options and interest rate trends.
This is a great time to ask questions about your goals and concerns. Our goal is to have a full understanding of your financial needs and potential challenges. This information allows us to help you to the best of our ability.
Loan Estimate
Time Estimate (1 hour to 1 business day)
Read the initial loan estimate for your mortgage refinance and sign it to indicate that you are ready to move forward. Speak to your loan officer if you have any questions about the initial loan estimate.
You should receive your initial loan estimate 1 hour to 1 business day after applying. Once you have signed, we will begin the next step to refinance your mortgage.
Appraisal
Time Estimate (5 to 7 business days)
After your loan estimate is signed, you will be contacted to schedule a time for a licensed appraiser to conduct an in person evaluation of your property's value. Based on the current fair market value of your home the appraiser will submit their official report to TexasLending.com within a few days of conducting the appraisal. (Appraisal is conducted by a reputable 3rd party appraisal company)
Potential delays to the appraisal process can be due to scheduling conflicts or availability of appraisers in less populated areas.
Most refinance loans require an appraisal. The FHA streamline refinance and VA streamline refinance loan programs are an exception to the appraisal requirement. Learn more about the requirements for different loan programs in our "Loan Comparison Chart."
Processing
Time Estimate (7-10 business days)
The processing step while refinancing your mortgage can be simple and quick, or take a bit longer. Loan processors help you gather and present documentation for the loan underwriter to review.
In general, the quicker you are able to send in the requested documentation, the faster the processor can submit your file to underwriting.
Read more about the "Do's and Don'ts of the Mortgage Process" in one of our most helpful blog articles.
Underwriting
Time Estimate (1-5 business days)
Underwriters take a very close look at current mortgage guidelines, and ensure that your application and documentation for refinancing your mortgage meet the standards set by the Federal Housing Administration. (All mortgage loans must meet the guidelines for the specified loan program and be approved by an underwriter.)
An underwriter may request additional documentation, briefly sending your loan back to processing before it can be approved.
Closing Disclosure
Time Estimate (1 business day)
Once your loan has been approved by an underwriter. It is time for to review and sign the final closing disclosure. You should receive your closing disclosure 1 business day after underwriting approval.
Speak to your loan officer if you have any questions about the closing disclosure.
Closing
Time Estimate (scheduling: 3 days+)
Time Estimate (closing: 1 hour or more)
Schedule an available closing date with the title company. According to Federal regulation, your closing date can be scheduled 3 days after the closing disclosure is signed.
You (and your spouse) must be present at closing with a valid form of identification. At closing, the title company will have you (and your spouse) sign all of the necessary legal documents to close your refinanced mortgage.
Funding
Time Estimate (3 business days)
After closing your loan should fund after 3 business days after the closing documents are signed. A federal mandatory "rescission period" requires that all mortgage refinance loans must be on hold for a 3 day time period before funding.
Road Blocks to Avoid
These "Road Blocks" can create significant delays in closing your mortgage refinance, require you to start the refinance process over again, or prevent you from qualifying for a loan.
Changes in Income: Don't quit your job or change jobs during the mortgage process
Credit Changes: Don't open new credit accounts, make large purchases with credit, or close any existing credit accounts during the mortgage process
Changes in Marital Status: Getting married or divorced during the mortgage process will cause a major delay and need for a new application and documentation.
Undocumented Bank Deposits or Withdrawals: It's not a good idea to move money around from account to account, or make large cash deposits or withdrawals during the mortgage process.
Summary
Each mortgage refinance transaction is unique, just as your home and financial goals are unique. Refinancing your mortgage could take as few as 21 days, or more days, depending on the many variable factors associated with the refinance process.
At TexasLending.com we want to refinance your mortgage in as little time as possible. Our goal is to keep you informed throughout the mortgage process and get you to closing on time.