Saving to Buy a Home in Texas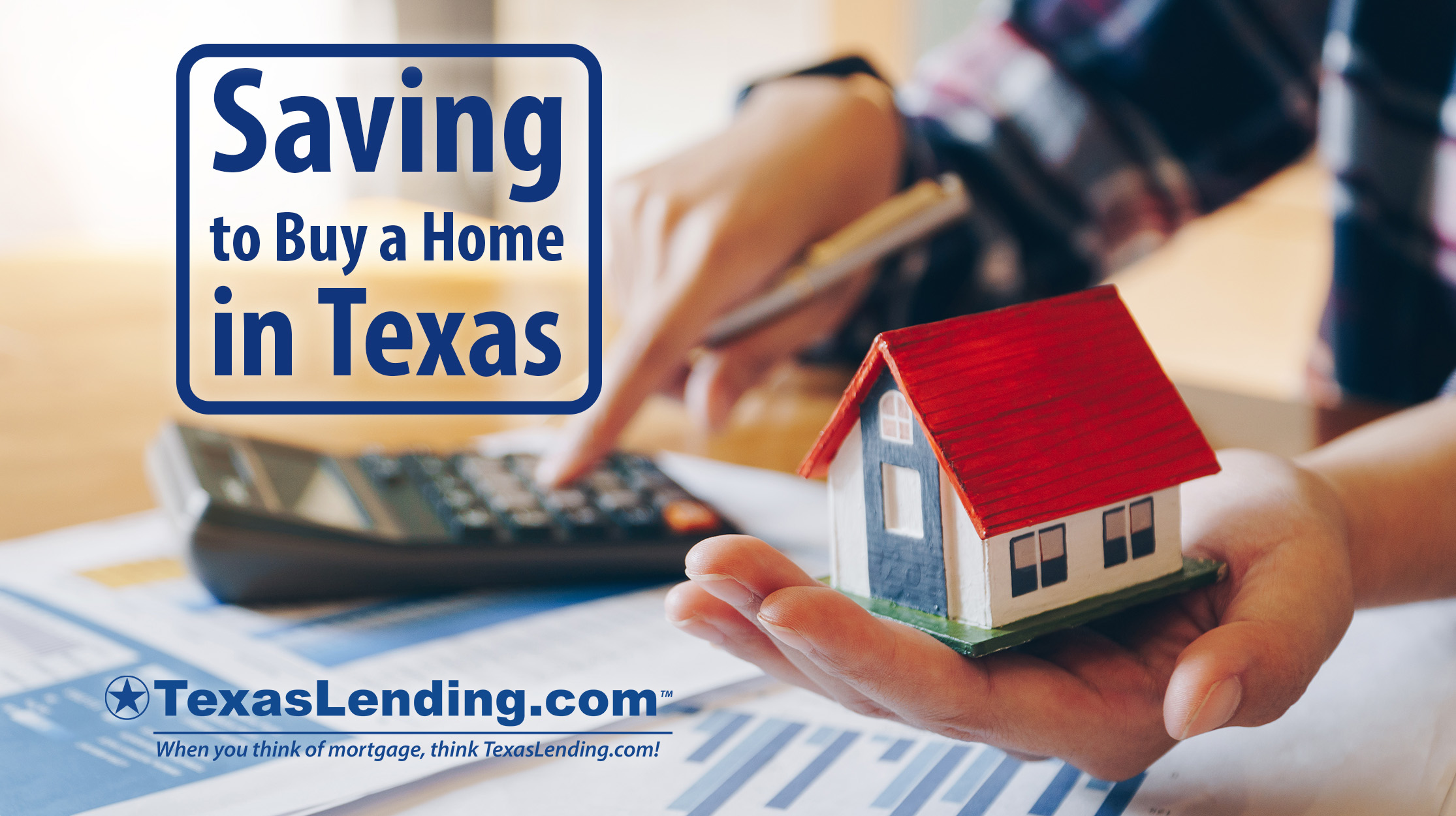 The traditional advice for saving to buy a home is to save 20% of the purchase price for the down payment. The truth is that there are great mortgage options that have much lower down payment requirements. When saving to buy a home in Texas, you should also be familiar with what costs to expect in the buying process.
In this article we will answer the big questions to help you form a better understanding of saving to buy a home.
How much should I save for the down payment?
At TexasLending.com we have low down payment mortgage options available ranging from a 5% to 0% minimum down payment.
Conventional Home Loan: 5% down payment
FHA Home Loan: 3.5% down payment
First Time Home Buyer Loan: 3% down payment
USDA** Home Loan: 0% down payment
VA*** Home Loan: 0% down payment
**USDA home loans require the purchase of a qualifying rural property as defined by the United States Department of Agriculture.
***VA home loans require the primary borrower to be a member of the United States Military as defined by the Department of Veterans Affairs.
This graphic gives some examples of the average home prices in Texas cities.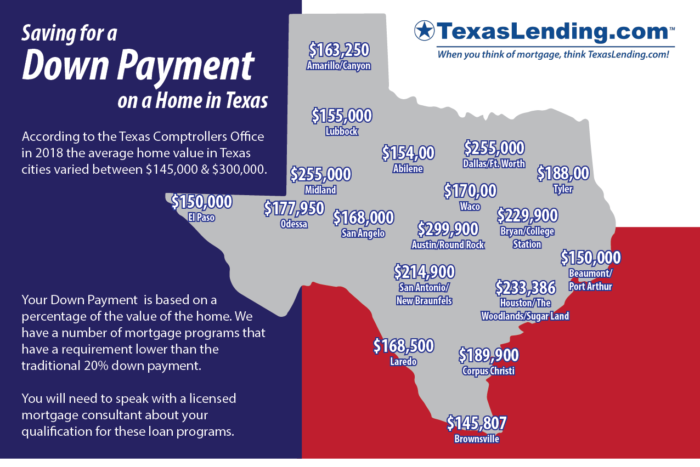 Are there other costs I should save for when buying a home?
Yes. When you are saving to buy a home, you need to consider a few more costs than the down payment. There are costs associated with the home buying process its self and moving into your new home.
Home Buying Costs:
Appraisal Fee – An appraisal is required when buying a home, and usually costs $450 to $650
Inspection Fee – Optional for most mortgage programs, and usually costs $300 to $500
Closing Costs and Title Fees – This includes the fees and taxes for the title of transferring real estate property within the State of Texas, fees for the services of the title and mortgage companies. These fees are usually between 2% to 5% of the purchase price of the home. TexasLending.com has some of the very lowest mortgage fees in Texas.
Moving Expenses:
The cost of these expenses can vary widely by area and may not apply to all. However, you should think about these costs when saving to buy a home.
Moving Services
Utility Set-up
Home Security System
Cleaning Services
New Appliances
New Furniture
Home Repairs
Other Homeowner Supplies (Ladders, tools, etc.)
Use our Down Payment Savings Plan printable guide to help you set a goal for saving to buy a home.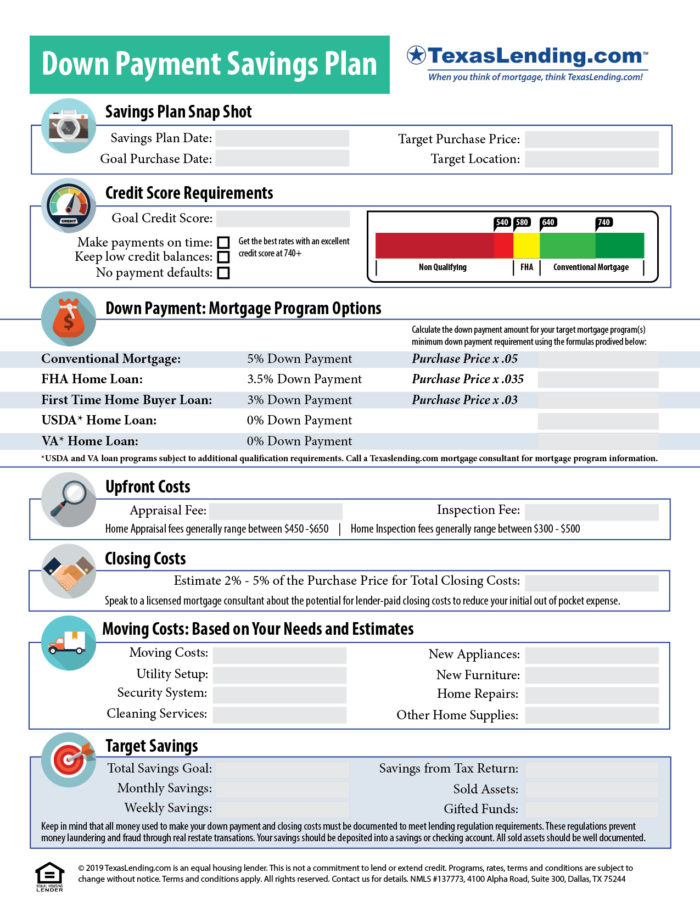 Where should I save the funds for buying a home?
The best place to keep your money when saving to buy a home is in a savings account at a bank or credit union. Federal mortgage regulations prevent home buyers from using undocumented funds or cash to pay for the down payment and closing costs. These laws prevent money laundering through real estate transactions.
Documentation of the source of these funds is key to your mortgage approval. If you sell an asset like a vehicle or other valuable item, the transaction must be well documented to use those funds toward your home purchase. You may also receive a gift of funds from a close family member that could be used towards your down payment, however those funds will need to be sourced from their bank account to be used in a real estate transaction.
What do I do when I am ready to buy a home?
Speaking to a licensed mortgage consultant about your mortgage options will help you understand the flexibility of your home buying budget. Once you are ready to buy a home, it is time to get pre approved.
Get started at TexasLending.com our mortgage experts will talk you step by step through the mortgage process. From your first home buying questions and mortgage pre approval to closing on your new home, we are here to help you succeed in your goal of becoming a home owner.