Prepare for Home Buying: the No Stress Mortgage Process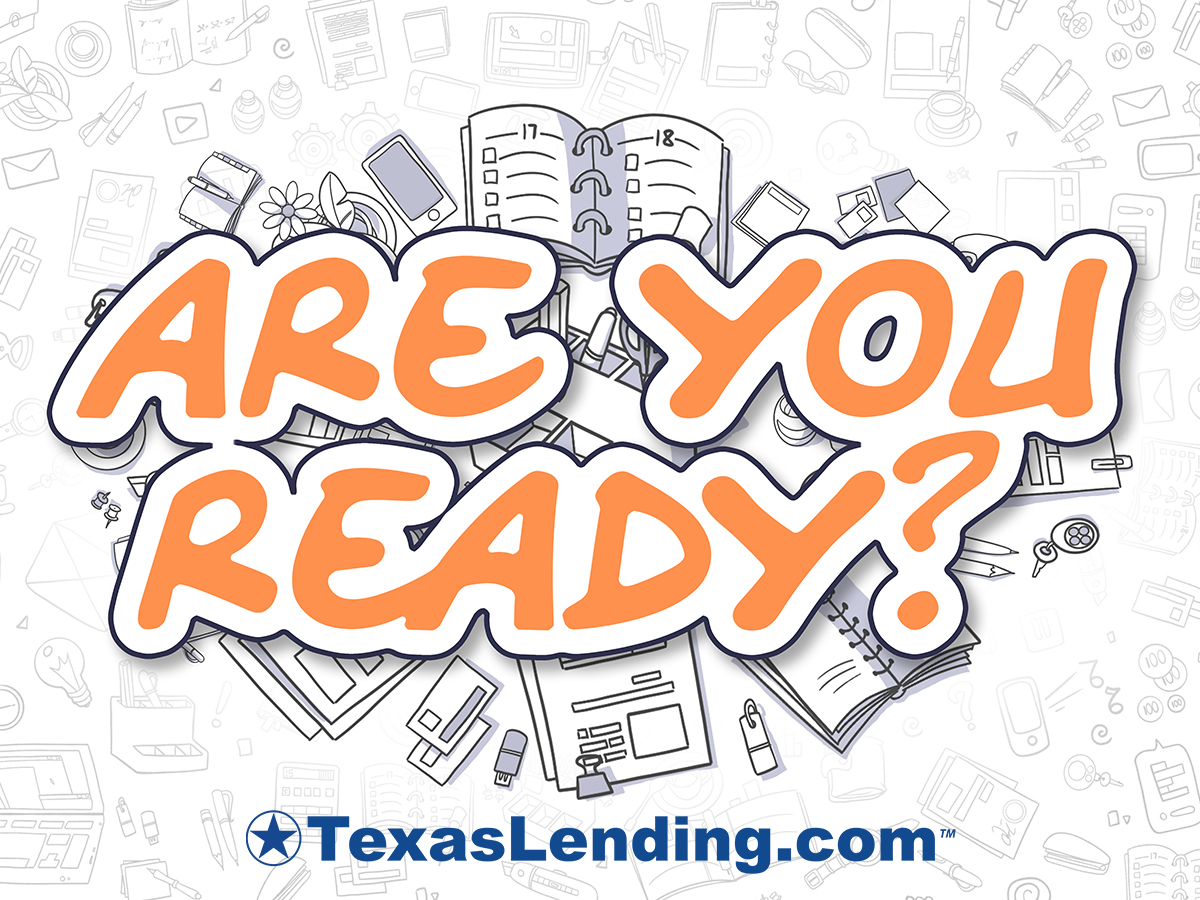 Home buying season has begun. The Summertime is the peak season for buying and selling real estate. It is more important than ever to prepare for home buying. When you are prepared for the steps ahead, the mortgage process becomes the easiest step in home buying.
Whether you are looking to by a home in a few weeks or a few moths use these steps to help you prepare for home buying.
Pre-Approval
Getting pre-approved for a home loan is crucial to prepare for home buying. Starting the pre-approval process is as easy as having a conversation with a mortgage consultant. At TexasLending.com our pre-approved customers aren't just pre-qualified, they have fully underwritten pre-approval for an estimated home loan amount.
When you prepare for home buying you are not only making the mortgage process easier for yourself, finding and making an offer on a home is easier too. Understanding the flexibility of your budget will help you narrow your home search. Knowledge is power and sellers are more likely to choose pre-approved buyers.
Documentation
You will be required to show documentation of your income, assets, and financial history during the mortgage process. Gather your W-2's, copies of your tax returns, and employment history for the last two years. You will also need the last 30 days of paycheck stubs, account statements for the previous two months, and a copy of your ID cards.
If you are self employed, divorced, have had past bankruptcies, or other special circumstances you may need additional documentation to prepare for home buying.
During the underwriting phase of the loan process more documentation could be requested. This isn't a reason to worry. Our team is here to guide you, please ask as many questions as you need.
Seasoned Funds
Any assets used for down payment, closing costs, and cash reserves must be documented by a paper trail. All funds must be seasoned, which means that your money needs to be in an institutional account (bank, credit union, brokerage, etc). You will need to provide up to three months of consecutive statements for proof that these funds are yours.
If part of your down payment is coming as a gift from a close family member, you will need a gift letter and documentation of the transferred funds. You will also need to show fund sources that come from grant programs, sold assets, or withdraws against your retirement accounts.
To minimize paperwork, consolidate all funds into one account at least two or three months prior to closing. Save any and all evidence of transfers and deposits, and keep account activity to a minimum.
Avoid Road Blocks
A smart way to prepare for home buying is to know what road blocks to avoid. Changes to your financial outlook or missing important steps in the loan process can be major road blocks.
Changes to your employment, credit, or account activity can delay or even prevent your loan from closing. Don't change jobs during the loan process. It's also important to avoid big financial changes during the process like moving money around, making big purchases, or anything that impacts your credit.
Remember that there are several stages in the loan process that require your approval or action to keep everything on track. Make sure to return documents that require your signature within 24 hours. Sooner is better. Pay for your appraisal as soon as it is ordered. Being proactive in communication with your mortgage consultant and loan processor is the best way to avoid road blocks.
Our goal is to empower you with the knowledge you will need to prepare for home buying success. We are here to be your best resource for mortgage advice. Don't hesitate to call us with your questions about buying a home now or in the future.
If you are looking to buy a home in the next 6-months or sooner, we are ready to help. Get started at TexasLending.com today.