Best Reasons to Buy a Home in Houston, Texas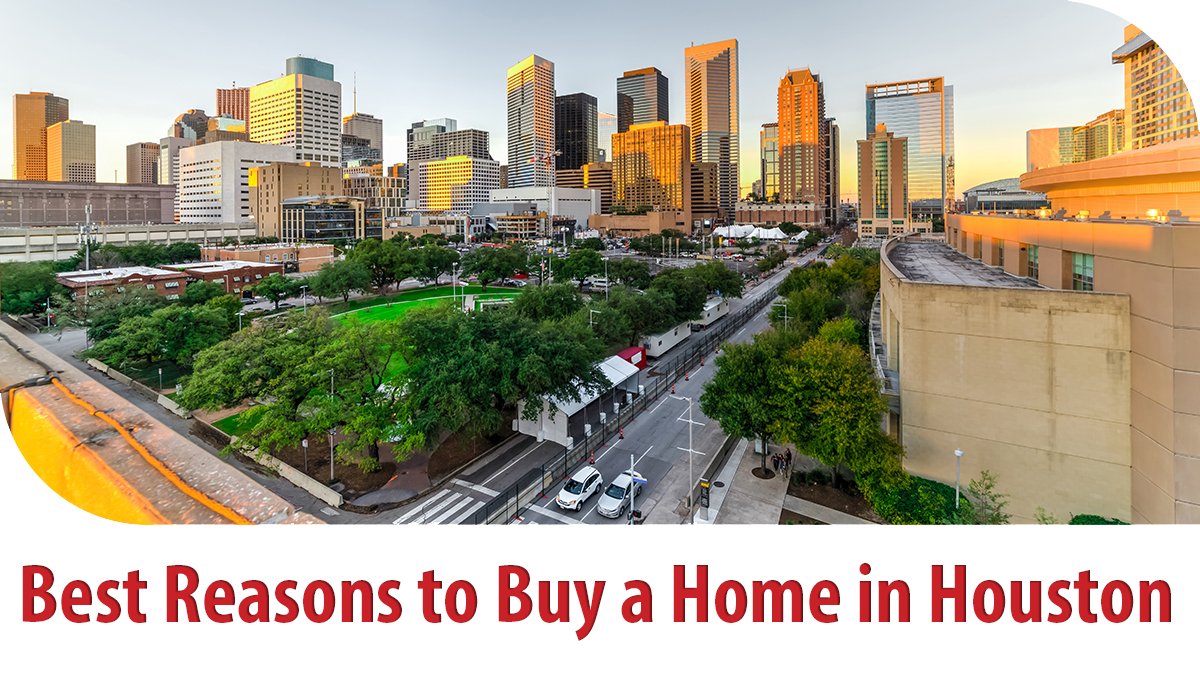 If you are looking to find a great place to buy a home, Houston, Texas should be in the top places to consider calling home. We are proud to serve Texans with their mortgage goals. In this article we are happy to shed some light on the best reasons to buy a home in Houston.
Houston is the largest city in Texas, and the 4th largest in the United States. It is famously the home of NASA's astronaut training and flight control complex. Super Star Beyonce, is proud to be from Houston, but this city isn't just a home to Stars and the geniuses studying the solar system. It's potential welcomes many new people from all over the world.
Here are a few of the best reasons to buy a home in one of the fastest growing cities in the nation:
The Booming Job Market
A center for innovation, energy, and business, there is a healthy flow of opportunities in Houston. The city has one of the youngest populations in the country. Houston has more than 40 institutions for higher education and the largest medical center in the world.
If you are looking to start a career, big opportunities are waiting in Houston. The city boasts its leadership in several fields; energy, aerospace and aviation, medical treatment and research, goods distribution, and manufacturing. The port of Houston on the Gulf of Mexico imports more goods than any other port in the United States.
Texas legislation has provided a great economy for businesses to thrive. Big and small companies alike have chosen Houston for the location of their corporate headquarters. Because of these ideal business conditions, economists estimate that Houston could see a growth of as many as 70,000 new jobs in 2018.
Homes are Affordable
Among the major metropolitan areas in the U.S., Houston is one of the most affordable in terms of housing. Even though the cost of housing is lower in Houston than other major cities, the differences between renting and buying must still be made.
When you compare square footage and the number of rooms in rental properties vs. homes for sale, it is considerably more expensive to rent in Houston. However if you plan to live the area for less than two years and don't mind living in a smaller space, a valid argument could be made for choosing to rent.
However there are a lot of benefits to owning a home other than getting more for your money. Investing in a home of your own, builds equity and could provide financial stability in the future. Homeowners benefit from federal income tax deductions. Additionally, neighborhoods with more home owners and fewer renters often come with more stability, safety, better schools, and more community involvement.
Focus on the Arts
There are many family friendly activities in the city, but one of the most unique features is the focus on the arts.
Among the many Museums and Art Exhibitions in the city there is a wealth of things to see and discover. Houston has one of the largest private collections of art in the world. Viewing the works of some of the 20th centuries most well known artists in the Menil Collection, is completely free to the public. Approximately 4 million people visit this and the 18 other independent institutions in the Museum District.
Houston is one of the few U.S. cities with resident companies in theater, ballet, symphony and opera. In downtown Houston, the theater district, in 17 blocks, holds eight performing arts organizations and more than 12,000 seats. New York City is the only city in the world with more seats concentrated in one geographic area.
Food and Culture
If you are looking for something new to eat, you will find it in Houston. As a city that embraces cultural diversity and innovation, there are endless new tastes to discover.
In Texas you can find the best Barbecue. Being near the coast, of course you will find great seafood with a southern flare. And… you can't beat the "Tex-Mex" cuisine anywhere else.
Great Sports and Outdoor Activities
Professional sports teams in baseball, football, soccer, arena football, rugby, hockey, and more provide the people of Houston with lots of action and entertainment. The 2017 World Series Champion Houston Astros are great to watch at Minute Maid park. The Rockets and Comets are great teams for basketball fans. There are also minor league sports teams, and even an active roller derby league in Houston.
Even if you aren't looking to buy a ticket to the big game, there are plenty of outdoor actives to keep your family busy. It's just a short drive to the cost where there are plenty of water sports. Houston has a number of great public parks that are perfect for getting out to enjoy the sun.
We are fans of the great State of Texas, where everything is bigger. So, naturally we would be proud of our biggest city. If your are ready to buy a home in Houston now or in the future, reach out to us today.
The mortgage experts at Texas Lending are ready to help you reach your goals of becoming a home owner. Start the conversation about getting pre-approved for a home loan at TexasLending.com.