Renting Vs. Buying a House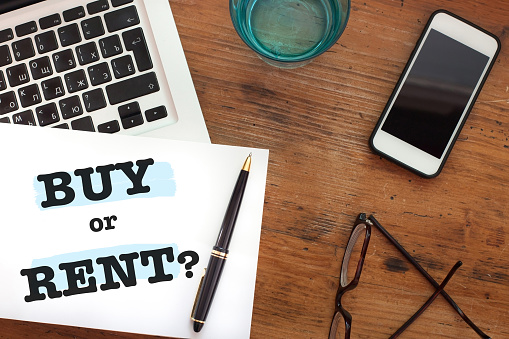 Should you rent or buy a house? There are many factors that go into deciding to rent or buy like your current financial situation, location, lifestyle, family, housing market, and personal preferences. Try using our Rent vs Buy calculator to help you make a good financial choice on renting or buying a home. We are also sharing the pros and cons of renting and buying so that you can make the best decision possible!
Benefits of Renting
Renting allows moving flexibility because you are not committed long-term. On the other hand, buying a house requires a long-term commitment. Renting also allows you to explore the area and learn all about the neighborhood and community before you actually decide to settle. If your career requires you to relocate frequently renting is a better option. And if you are in the middle of a career transition or career uncertainty renting is a far better choice with a less financial burden and ability to move anytime.
One huge advantage of renting is that you usually don't have to fix the maintenance problems. Whenever you have a leaky faucet or a broken air conditioner you can call your landlord who will get the issue fixed. When you own a house any maintenance issues are your responsibility and cost.
Buying a house has a high financial cost that can be a burden for those who have limited income and have not accumulated the funds for a down payment and home purchase. By paying rent you may have additional money that you could save up or invest somewhere else.
If you have bad credit paying monthly rent on time and consistently will allow you to build your credit so that you can obtain a mortgage or loan in the future.
Cons of Renting
Unfortunately, rent can change over time which means you might end up having to pay more rent the following year. Because you have no control over your rent change it makes long-term budgeting harder. There's always a possibility that your landlord might not renew your contract, which means you have to find a new place to live. Today's rent prices are currently on the rise because of high demand and low supply in the housing market.
Renting gives you the benefit of calling up a landlord whenever you have maintenance issues, but if they are unresponsive they may not be fixed in a timely manner. Your maintenance requests are solely dependent on your landlord which can be a big hassle.
When you rent a place you never end up actually owning the place. You are helping your landlord build equity by continuing to pay rent.
Benefits of Buying a House
Over the years as you pay off the mortgage on your new home you gain equity and gradually acquire the home. If you plan on staying in the house for at least five years, then it is worth investing in a house. In general, your house value should rise over time allowing you to make a profit if you sell your house. But keep in mind that the housing market is always changing and it is not always guaranteed that your house value will rise.
There are quite a few financial benefits from buying a home. Generally, homeowners get a tax deduction for their mortgage interest and property taxes. And if you buy a house when mortgage interest rates are low that means you pay lower monthly mortgage payments. With a house, you can also build credit by paying your monthly payments on time.
Many homeowners enjoy taking care of maintenance issues because they have the freedom to choose who to hire or they can even fix it themselves.
A huge benefit of homeownership is the freedom to creatively renovate and decorate the home. Homeowners get to repaint their walls, redecorate the exterior, and renovate rooms. Renters don't have that same creative freedom because it is not their own place. And their landlord might have many rules that restrict renters from changing their place up.
Cons of Buying a House
Moving out of a house and into a new one takes a lot of time and money. You need to find a real estate agent, prepare your house for potential homeowners, negotiate, pay fees and close the sale. It could take months before you are able to move out of your house whereas renting, once your lease is over, you are able to move freely.
Maintenance Responsibility
Maintenance is one of the benefits of buying a house but it can also be a con for some people. While renters can call their landlords for any fixes as a homeowner you are responsible for having to find a professional to fix your roof, pipes, windows or risk doing it yourself. Prices can get steep for maintenance, which is all part of the costs of owning a home.
High Financial Investment
On top of maintenance costs, financially investing in a home is costly. You have to pay for a down payment and monthly mortgage payments for many years. On top of that, there's home insurance, property taxes, and other fees.
The decision to rent or buy a house depends on your financial situation, plans, and preferences. Consider these pros and cons listed above before you buy a house. If you are ready to buy a house call us at (800)346-8047 or email us at [email protected] and we'll assist you every step of the way!