5 Simple Habits for Organizing Your Finances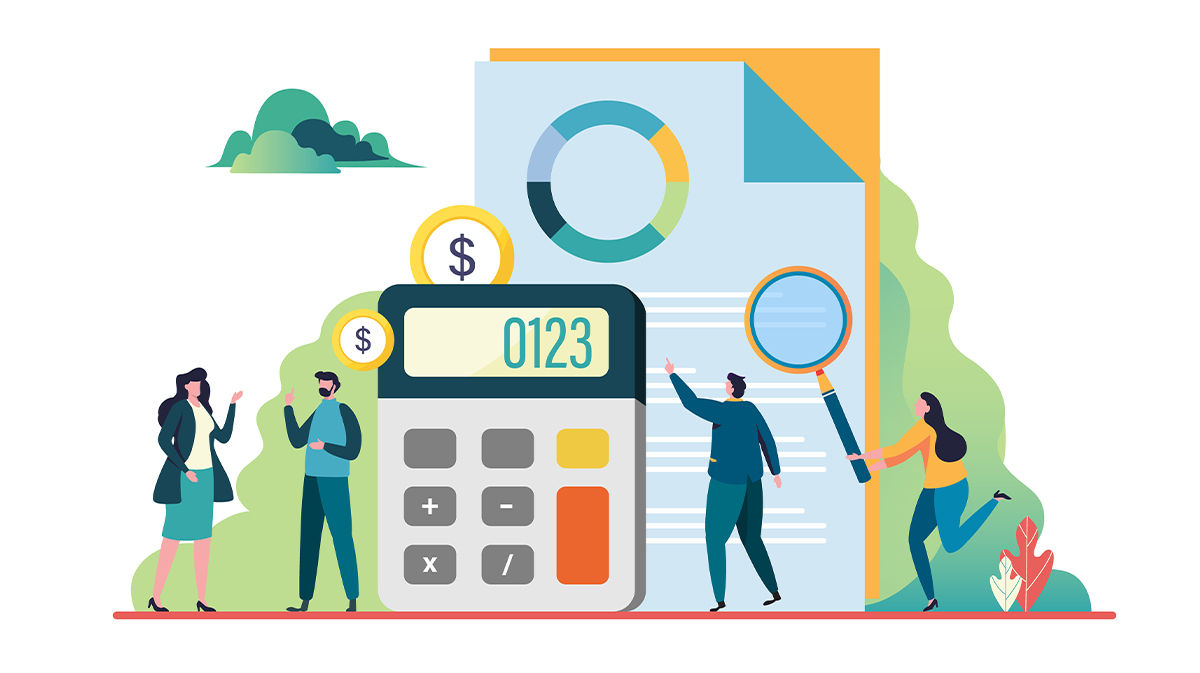 Organizing your finances can help make your life less stressful with some changes to your habits. The decisions you make about your money today can impact both your immediate and long-term future. Establishing some healthy financial habits can help you build your savings, keep up with due dates, and track your bigger financial goals.
Big changes most often happen over time in a number of smaller changes. If you make a few simple changes to your financial strategy, you will see a bigger change in the future. Make a daily, weekly, or monthly habit to check in with your financial goals.
Add these 5 simple habits for organizing your finances to your routine:
1. Keep Track of Your Money Flow
Swiping a credit or debit card is much easier than spending cash, because you aren't exchanging or counting a physical currency. This can make it easier to overspend. However, it is important to think about the money that comes in and out of your accounts.
Being thoughtful about your spending can help you keep an eye on where your dollars are going each month. Make a budget that tracks your necessary expenses like housing, food, and transportation costs. You should also track the money you spend on non-essential items each month. See how much shopping, eating out, entertainment, and coffee could be costing you each month.
Read more about how to create a monthly budget in one of our previous articles.
Use our FREE printable Monthly Budget Planner Worksheet.
2. Automate Your Budget and Savings
You can divide your check automatically as it comes into your account. If you automate your income to be divided as it comes into your account, you'll find it is much easier to stick to a budget. Setting up a plan for how your income is divided is a financial strategy that will set you up for reaching your goals.
Ask you employer if they can automatically deposit your paycheck into separate checking and savings accounts. Alternatively, you could set up a monthly deposit to your savings account with your bank. When setting up an investment account, you can select a regular monthly or weekly investment amount too.
Dividing your budget by these 5 bigger categories can help you track and automate your money flow:
Bills and Living Expenses
Spending Account for Non-Essential Items
Emergency or Rainy Day Savings
Savings Account for Big Goals
Investments
Depending on your income, living expenses, and goals you can divide your income according to the strategy that best fits your needs. Some traditional budgeting advice allocates these categories by your primary goal. See these illustrated below.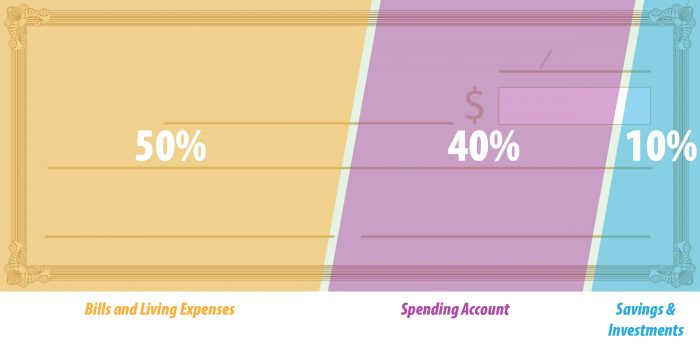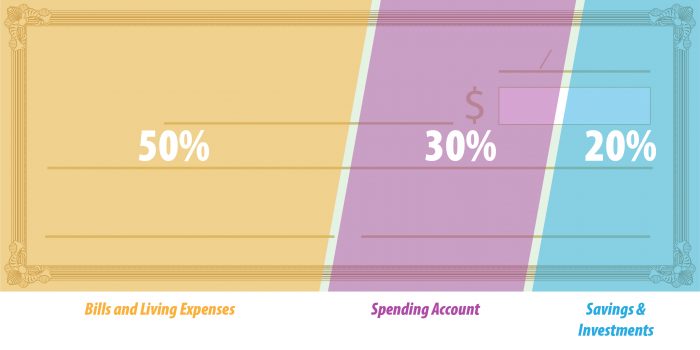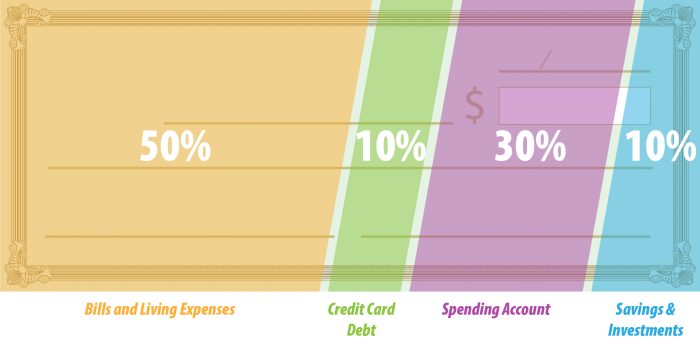 If you have credit card debt that is overwhelming your monthly budget and you should look into your options to consolidate or pay-off that debt. Read more about credit card debt and how homeowners can consolidate high interest debt with a Cash-Out Home Equity Refinance.
3. Use Credit Wisely
Building your credit score can make qualifying for a mortgage, small business loans, car loans, or other types of loans easier and more affordable. When it comes to using credit staying organized and informed is important to using credit wisely.
Set a target credit score at 740 or higher. You can build your credit score by using different types of credit and developing healthy credit habits.
Types of credit:
Revolving Credit
Installment Debt
Open Credit
Good Credit Habits:
Paying bills on-time
Keeping credit balances low on revolving credit lines, usually under 30% of the credit limit.
Never "max-out" credit cards
Use different types of credit
Don't close older credit accounts, even after you have paid them off
Be very very cautious about co-signing for friends or relatives
Avoid making credit purchases while your mortgage application is open
Read more about building good credit habits in one of our most popular articles.
4. Schedule Bill Paying
Keeping your bills paid on time is a habit that will help you build good credit and save money. This habit for organizing your finances is one of the most basic, but essential tasks. There are good reasons for both using automated payments and/or submitting on-time payments each month on your own schedule.
Many service providers offer automated billing with a discount. Take a look at your pay schedule to see if you think setting up auto-pay for a regular cost like a mobile phone bill or insurance payment would work well for you. Signing up for these automated payment features can save you both time and money.
However, automated payments may not be the best choice for all of your bills. Some bills can vary month to month, and it's a good practice to keep an eye on the amount of each payment. utilities like water, electricity, and natural gas can change depending on your usage. Paying these bills on a scheduled day each month and recording the amount in a budget tracker may help you keep an eye on variable living costs.
Whether you automate payments or enter payments manually each month, make a plan for paying bills. Set a reminder in your calendar and make it a habit to track you living costs by week or month.
5. Make Informed Financial Decisions
Just because you are reading this article, I know that you most likely take a proactive approach to decision making. Being informed about your choices is key to staying in control of your finances.
Doing research before you make an investment, apply for mortgage pre approval, finance home improvements, or make other financial decisions is an excellent habit to develop!
Read our up-to-date Texas Housing Market Report to keep up with the financial outlook for home buyers and owners in the current market.
We are happy to share information on home ownership, financial tips, and all things mortgage in our blog. If you are interested in seeing more information like this, follow our Facebook page.