How long does it take to get a Cash Out Refinance?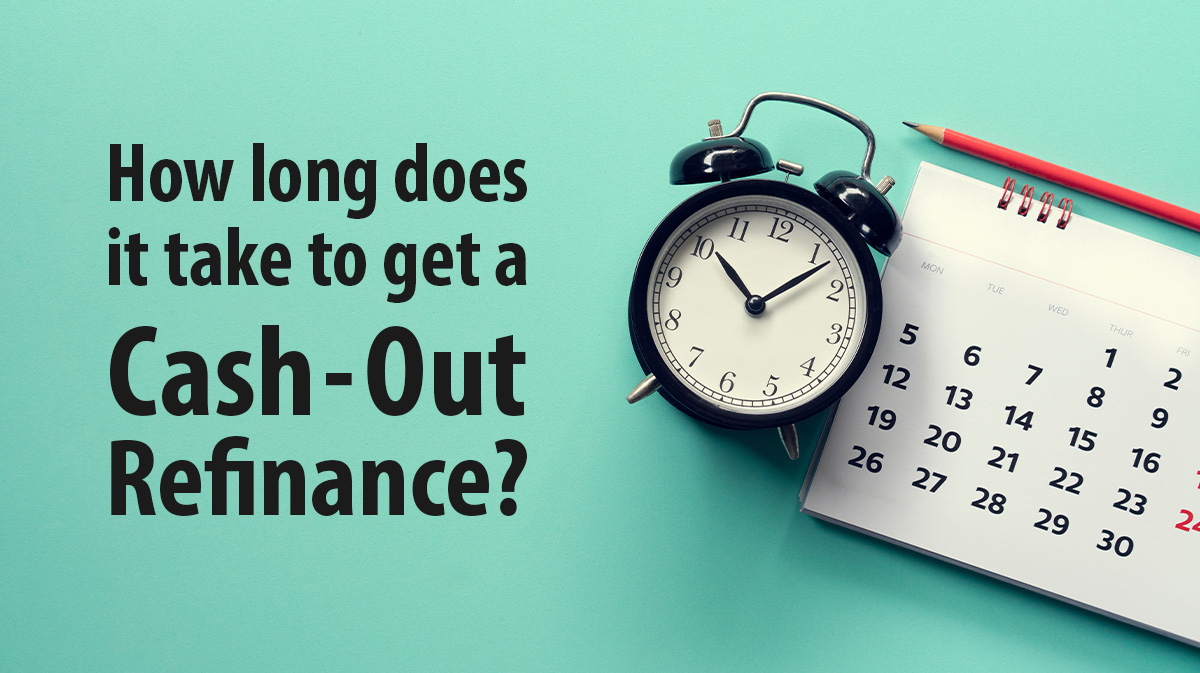 If you are looking to access the equity in your home, you may be wondering about the timing of this process. How long it takes to get a cash out refinance depends on a few factors. Your application, submitting documents, appraisal, and the federal mortgage lending guidelines all play a role in the timing of a cash out refinance.
At TexasLending.com we often close cash out refinance loans in as little as 21 days. Our goal is to make your cash out refinance experience as quick and seamless as possible. However, in some cases there are potential delays that can add a few days to the loan time line.
Let's take a look at the timing of each step in the cash out mortgage refinance process:
The Application
Time Estimate (10-20 minutes)
You can complete a mortgage application through an online application or by phone with one of our licensed mortgage consultants. The initial mortgage application should require a few minutes to gather information about your credit, current mortgage, estimated home value, income, and refinance goals.
A good way to save time in the future is to ask any questions you may have upfront. Now is a good time to inquire about any potential concerns you may have. Our experienced team can help guide you with answers to your questions.
The Loan Estimate
Time Estimate (1 hour to 1 business day)
After completing your loan application and talking to your mortgage consultant about your goals, you should receive your initial loan estimate within about one business day.
Read the loan estimate for your cash-out refinance and sign it to indicate that you are ready to move forward. Speak to your mortgage consultant if you have any questions about your loan estimate.
Property Appraisal
Time Estimate (5 to 7 business days)
Our team will contact you to schedule a time for a licensed appraiser to conduct an evaluation of your property's value. This appraisal is based on the current fair market value of your home. The official appraisal report will be submitted to you and our team within a few days of conducting the appraisal.
An Appraisal of your property is required for a cash-out refinance loan. You can talk with your mortgage consultant about the impact of the appraisal on the amount of equity you can access with your cash-out loan.
Read more about the rising home values in the current market about why now is a great time to get a cash out mortgage loan.
Processing / Documentation
Time Estimate (7-10 business days)
The processing step of your loan can be simple and easy, or require some more communication. A loan processor from our team will contact you to request the required documents for submission to underwriting.
Submitting your documents in a timely manner will help your loan move to the next step faster.
Underwriting
Time Estimate (1-5 business days)
All cash-out refinance mortgages must meet the conventional mortgage guidelines. An underwriter will make a thorough assessment of your mortgage application to ensure that it is aligned with all federal and state mortgage lending guidelines.
An underwriter may request additional documents during this phase of the loan process. Look for communication from the loan processor and be responsive to requests to keep your loan on track.
Closing Disclosure
Time Estimate (1 business day)
With an official underwriting approval, it is time to sign the closing disclosure. Review the details of your loan and ask your mortgage consultant any questions you many have.
You should receive the closing disclosure wiring one business day of conditional underwriting approval.
Closing
Time Estimate (scheduling: 3 days+)
Time Estimate (closing: 1 hours or more)
Your closing date can be scheduled 3 days after you have signed your closing disclosure. Coordinate with the title company who is handling your cash out refinance to schedule your closing.
Plan for your closing to take at least an hour, there are a number of documents for you to review and sign. You (and your spouse) must be present at closing with the title company with a valid form of identification.
Receiving Your Cash-Out Funds
Time Estimate (3 business days)
Federal regulations require a 3 day "rescission period" before homeowners can receive the cash out funds from refinancing their mortgage. Three days after the official closing documents are signed the title company can release the cash out loan amount to your account.
Avoiding Delays and Road Blocks
There are some events that can delay or stop the mortgage process all together. It is best to avoid making changes to factors that impact your financial outlook during the mortgage process.
Steer clear of these delays and roadblocks during your cash out refinance:
Employment Changes: Don't quit your job or changes jobs during the mortgage process. Changes to your income can affect your qualification for the mortgage.
Credit Usage: Don't open new lines of credit, make large purchases using your credit, or close any credit accounts during the mortgage process.
Changes in Marital Status: Getting married or divorced will impact your financial outlook, avoid making any changes to your marital status while your mortgage application is open.
Undocumented Deposits and Withdrawals: Moving large amounts of cash around during a mortgage transaction is not advisable. All deposits should be traceable to a verifiable source of income to avoid a cancellation of your loan application due to Federal anti-money laundering regulations.
How long it takes to get a cash out refinance depends on a few moving parts in the loan process. You can help the timing of your loan stay on track by engaging in communication in a timely manner and avoiding common mortgage mistakes.
Our team is here to guide you to closing on time. Now could be a great time to get a cash out refinance. Reach out to us to get a customized look at your options for accessing your equity.