Home Buying Safety: COVID-19 Crisis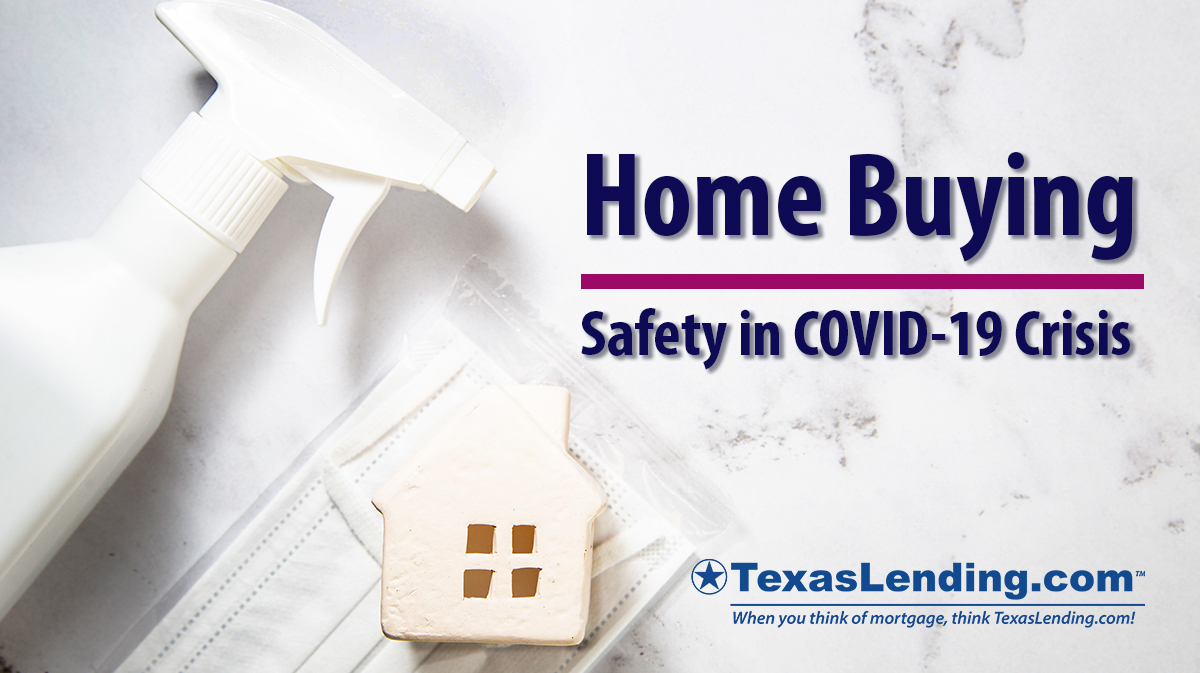 Are you ready to buy a home, but concerned about the safety of the home buying process during the COVID-19 health crisis? We are happy to share this information on how Texas home buyers can safely purchase a home.
We are seeing changes in the real estate market, and changes in life in general during this epidemic. These challenges have inspired creativity and adaptation that protect you during the home buying journey.
Online Mortgage Process
The first step to buying a home is getting pre approved for a mortgage loan. The great news is that at TexasLending.com you can navigate the mortgage process online.
From the safety of your own home you can apply for pre approval, securely submit needed documentation, and sign the appropriate disclosures. You can speak to your mortgage consultant and loan processor by phone, email, and text anytime during the process.
Learn more about our "Online Mortgage Process: COVID-19 Safe" in this previous article.
Searching for Your Next Home
Real estate professionals know that the home buying dynamic has changed in the COVID-19 health crisis. There has been an increased number of virtual home tours and video walk through tours available on current home listings. This will help you get a better view of the homes you are searching for online.
There are many online home buying tools that allow you to safely browse for the perfect home. These articles will help you prepare for your online home search:
Scheduling a Private Showing
There is no replacement for seeing a home in person before you buy it. Attending an open house, is not an option in the current COVID-19 crisis. However, with proper safety measures in place your realtor can schedule a private showing of the homes that you are truly interested in buying.
Safety measures like disinfecting door knobs and other frequently touched surfaces in the home can be taken. Protective masks and are an option that many realtors have available to home buyers during private showings.
Don't forget that you have the option to hire a home inspector to do a full inspection of the home from roof to foundation, giving you a detailed report of the condition of the home before you buy it. Read more about the advantages of getting a home inspection during the home buying process.
Closing
Closing is an exciting day in the home buying process. When the final documents are signed with the title company and the loan is funded, you get the keys to your new home. In the COVID-19 crisis many title companies are taking safety precautions to make sure that closing day is just as exciting, but also safe.
Most mortgage loans can be closed in the safety of your own home, with the exception of cash out refinance loans. Speak with your closing coordinator about your closing options.
Title companies have taken extra steps to protect home buyers from COVID-19 transfer in their offices by installing plexiglass partitions. New standards for disinfecting any frequently touched surfaces have been put in place, for the safety of all title company offices.
In the unique challenges presented by the COVID-19 health crisis, we want you to know that you can safely navigate the home buying process. Professionals in the housing industry are working to help you reach your goals of home ownership while taking steps to keep your health protected.
We would love to help you get pre approved for a home loan when you are ready to buy a home. Reach out to us at TexasLending.com