Appraisal vs Inspection : Guide for Home Buyers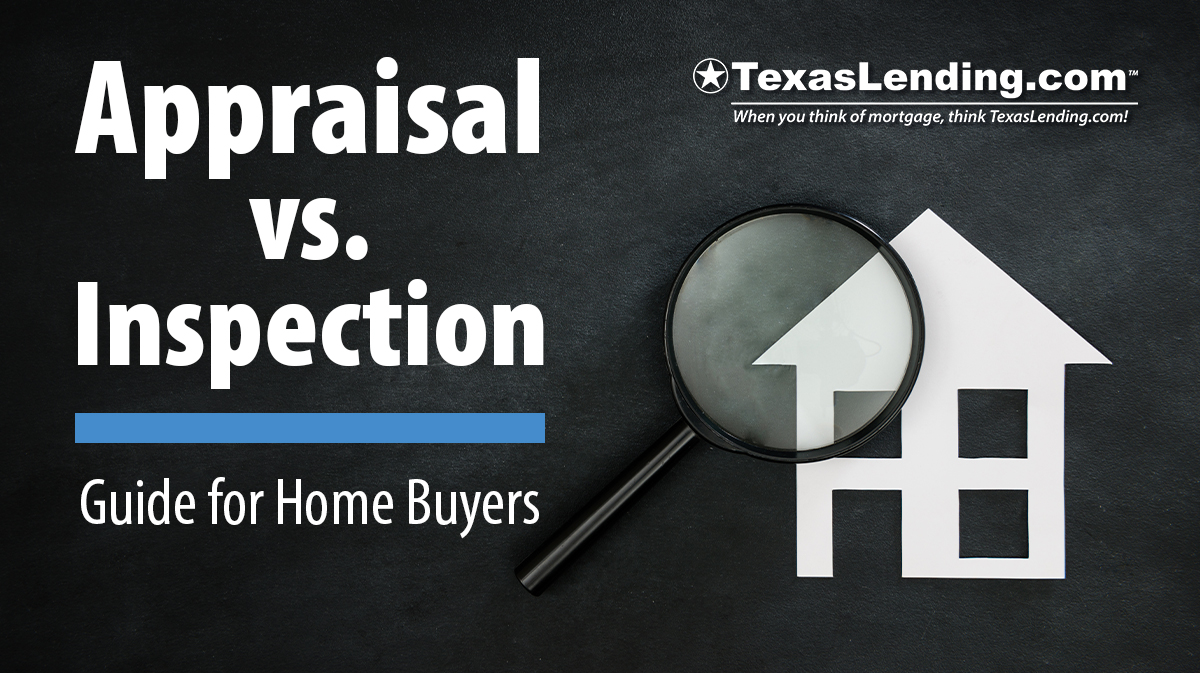 Appraisal vs. Inspection: Guide for Home Buyers
As a potential home buyer you may have questions about getting an appraisal or inspection of the home you are interested in buying. These two services provide you with important information about the property in question, but in different ways.
Let's take a look at the facts and details in an appraisal vs inspection.
Appraisal vs Inspection: comparing the facts
Appraisal:
An assessment of the VALUE of the home
Required to obtain a mortgage
Performed by a licensed appraiser
Service should be coordinated with mortgage lender, don't order an independent appraisal
You should NOT attend the appraisal when buying a home
Inspection:
An assessment of the CONDITION of the home
Not required to obtain a mortgage
Can be performed by a licensed or unlicensed home inspector
Service is not coordinated with your mortgage lender
You should attend the home inspection before buying the home
What is important to know about an Appraisal?
Protecting Your Investment
An appraisal of the fair market value of the home you are purchasing protects you as the investor. Federal mortgage regulations prevent lenders from allowing more money to be borrowed than the appraised value of a home. This is why an appraisal is required to obtain a mortgage.
You want to ensure that the price you are paying for the home is fair. If the appraised value of the home is much lower than the asking price, you may be able to negotiate a lower price or step away from the deal without losing earnest money. Alternatively, if the appraised value of the home is higher than your offering price, you know that you got a great deal.
Comparable Homes in the Market
The appraisal of a home is based on "comps", or comparable homes recently sold in the local market. A comparable home will be about the same size, condition, and relatively close to the home being appraised. These comps will be included in the appraisal report to confirm the value of similar homes in the market.
As homes sell for higher prices in your neighborhood, the value of your home will increase as well. It is for this reason that potential homeowners should take a look at the neighborhood closely before investing in a property. The quality of your neighborhood can impact the value of your home.
Getting a Non-Partisan Appraisal
It is important that your home appraisal is not subject to bias. This can be a red flag for potential mortgage fraud and result in a denial of the loan. For this reason you lender will guide you in coordinating an appraisal with a non-affiliated 3rd party appraisal company.
Having an appraiser that is not affiliated with the seller, buyer, or mortgage lender means that there is no risk that the appraised value has been influenced by a party to the transaction. You should not attend the property appraisal, for this reason. You will receive a detailed appraisal report a few days after the scheduled property evaluation.
What is important to know about a home Inspection?
Knowledge of the Functions in Your New Home
Attending the inspection of the home you are planning to buy will give you a wealth of knowledge. Home inspectors have seen it all when it comes to the functioning systems of a home. They give you valuable knowledge about the HVAC system, plumbing, foundation, roofing, electrical system, and more in your home.
A good home inspection can be your guide to understanding the functioning parts of your home. Being there to speak with the inspector could help you understand how to operate and maintain different systems within your home.
Potential Repairs
A home inspection can be conducted at any time. However many potential home buyers order a thorough home inspection during the option period of the home buying phase. This allows you to have a full understanding of the condition of the home before you sign on the dotted line.
Your inspection report will contain a list of safety code violations and suggested repairs. Minor repairs are common and generally expected. If major repairs, system replacement, or safety code violations are required, it may be time to time to talk to your realtor about adjusting the purchase agreement. You can request that the sellers make the needed repairs or reduce the purchase price of the home to allow for the cost of the needed work.
Consumer Confidence
A home inspection can give you confidence that you are buying a quality home. As one of the largest investments that you will make in your lifetime, you should have full knowledge of the the home you are buying.
Whether you are looking for a home in like-new condition or you wouldn't mind making a few repairs, a home inspection gives you insight to your investment. Knowing that your home has a solid foundation, good quality insulation, a safely functioning fireplace, or an electrical system that will support your tech needs, gives you confidence in your choice.
Generally speaking, an appraisal gives you the knowledge of the value of your home, and a home inspection gives you an understanding of the condition of the home. Both of these professional services provide you with important information as a home buyer.
In this article, we hope you have found great insight into an appraisal vs inspection for potential home buyers. We love to provide useful information for home ownership in our blog. To see more articles like this one, follow our Facebook page.
Reach out to us anytime with your mortgage questions. We would love to be the go-to experts on your home buying team.