You Can Buy a Home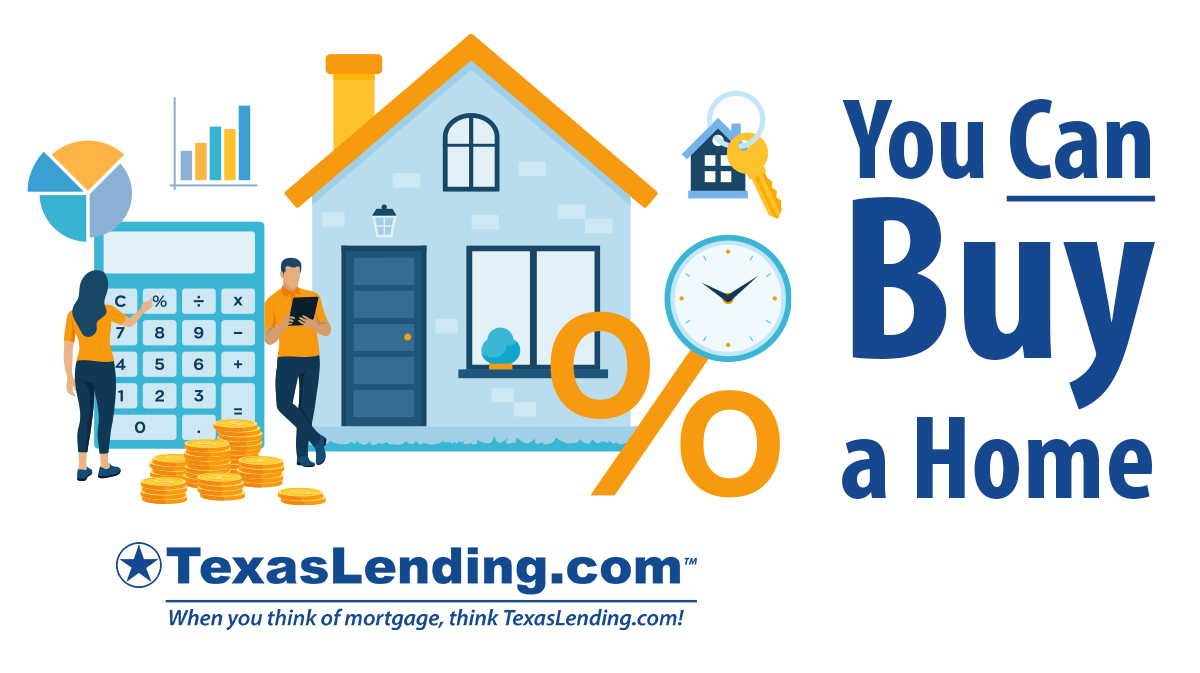 If your goal is to become a home owner in the future, we have good news for you. You can buy a home and we are here to help you.
Buying a home is one of the largest financial investments that most people will make in their lifetimes. This type of purchase requires some financial preparation, and we can act as your guide to help you get there.
Here are a few key topics to begin your journey knowing that you can buy a home:
You can buy a home with low down payment mortgage options
There are a variety of mortgage options available to you, that don't require a traditional 20% down payment. Consider these more flexible, low down payment mortgage options:
Conventional Mortgage: 5% Down Payment
First Time Buyer Conventional Mortgage: 3% Down Payment
FHA Home Loan: 3.5% Down Payment
VA Home Loan: 0% Down Payment (U.S. Veterans Only)
USDA Home Loan: 0% Down Payment (Qualifying USDA Rural Property)
Compare all of the mortgage loan options and their qualification guidelines side by side at TexasLending.com.
What you need to qualify for a home loan
In the most basic explanation you can buy a home if you have these 3 things; a stable income, qualifying credit score, and a stable income, and a down payment.
With more information, we can explain how these 3 factors play a role in determining which loan programs and the loan amount you may qualify for.
Qualifying Credit Score
You credit score needs to show that you utilize credit wisely, make payments on time, and have a history of using different types of credit. Mortgage lenders will look at you FICO credit score to determine your qualification and calculate your potential loan interest rates.
These are the minimum credit score requirements needed for qualifying for these loan programs:
Conventional Home Loan: 620 minimum credit score
FHA Home Loan: 580 minimum credit score
VA Home Loan: (U.S. Veterans): 620 minimum credit score
USDA Home Loan: (USDA Rural Home): 620 minimum credit score
Non-QM Loan: 540 minimum credit score
Learn how your can "Clean Up Your Credit Score Before You Buy a Home", here.
Stable income
Your income should be steady and stable. 2 years of work history in the same field will show that you have the income stability to repay the loan. Your monthly income along with your current debt payment obligations (credit card, vehicle, or other debt payments) are calculated to determine the loan amount you qualify for.
Read more information about "How Much Home Can I Afford?" in a previous article.
Down Payment
You can buy a home with the low down payment mortgage options listed in the beginning of this article. Knowing how much money you should save for the down payment depends of your target home purchase price.
Make a "Down Payment Savings Plan" with the help of our free printable worksheet in this linked article.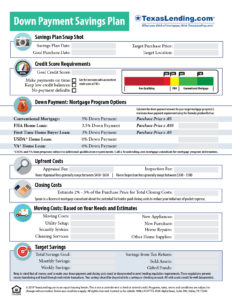 Pre Approval is FREE at TexasLending.com
If you would like to speak with a licensed mortgage consultant about your home buying goals, we are here to help. It doesn't cost you anything to get pre approved for a home loan at TexasLending.com.