The Impacts of Low Home Interest Rates in Texas
October 29, 2012 by Kevinmiller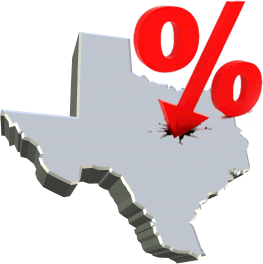 Last week here at Texas Lending Today, we looked how extraordinarily low home interest rates have become in recent months — and how they're prolonging the historic buyer's market that has lasted nearly four years now. Currently, our 30-year loans start at just 3 percent, while 15-year fixed rate loans are as low as 2.5 percent. Five-year adjustable rate mortgages can be had for an astounding 2.375 percent.
According to the San Jose Mercury-News, these rates are indeed historic. But more important, the impact of rock-bottom home interest rates goes far beyond easy home-buying:
The lowest mortgage rates in history are helping older borrowers ease their debt burden and allowing baby boomers to sock money away for retirement, mortgage brokers say. "I've gotten a lot of people who are not quite to retirement, but can kind of see it on the horizon," said Cheryl Mehe'ula of mortgage broker E.F. Foley in San Jose.  "They want a payment they can really live with over a longer term."

[…] The low rates carry special urgency for boomers and seniors. The median value of mortgage debt for people 55 to 64 years old has increased 187 percent in the past two decades, probably because many pulled out home equity during the housing bubble, according to a report by AARP. The median amount of debt for people ages 65 to 74 has also increased sharply, the AARP said.
That's the thing about low home interest rates — they make life easier in all sorts of ways. This is especially true during tough economic times, when extra cash can be hard to come by and many families are finding themselves in need of a financial lifeline until things improve. Here's how low rates can help:
Home Refinance Rates
If you're already a homeowner, now is simply an extraordinary time to refinance it. If you've owned your home for several years, it's unlikely that you received rates like the ones we're offering now. Refinancing to today's rock-bottom rates can save you tens of thousands of dollars over the length of the loan, with some of that savings coming instantly. This is true whether for an Austin home refinance, Dallas home refinance or Houston home refinance.
Home Equity Rates
Similarly, low interest rates can allow you to leverage what's likely your most valuable asset — your home — to get cash for other uses. Whether through an Austin home equity loan, a Houston home equity loan or Dallas home equity loan, your home can allow you to pay down debt, invest in higher education, remodel your home to boost its market value, or any number of other possibilities. In other words, it gives you financial flexibility.