Texas Home Prices Continue Rebound
July 16, 2013 by Kevinmiller
According to the Dallas Morning News, a recent report by analytics company CoreLogic showed that, as a whole, real estate in Texas has now regained all the value that was lost in recent years after housing prices collapsed in 2007 and 2008. In North Texas alone, the average home price has reached more than $185,000 — a record high.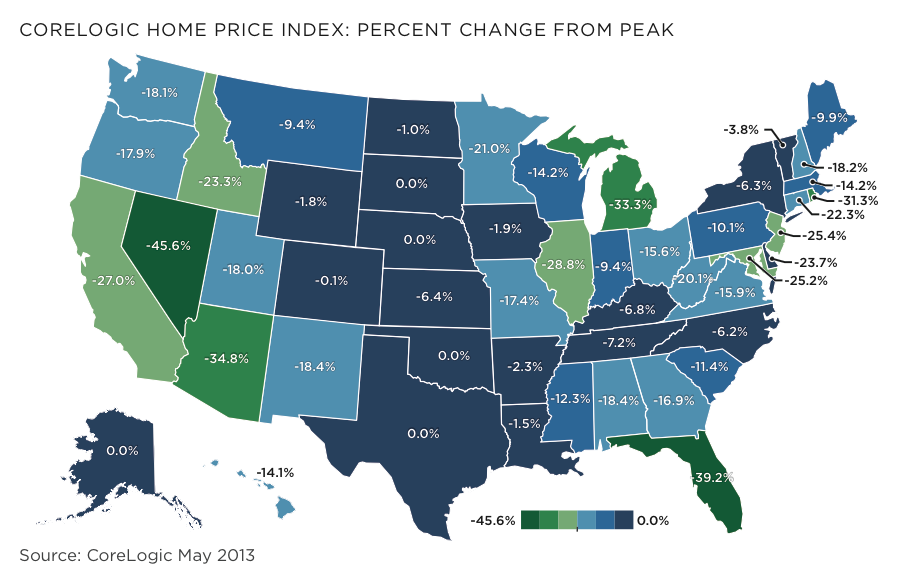 As you can see in the above map, only Oklahoma, Nebraska and South Dakota are on par with Texas as states that are now rising above pre-recession levels. By comparison, average home prices across the United States are still roughly 14 percent lower than pre-recession peak levels, with Michigan, Nevada, Florida, Arizona and Rhode Island still a whopping 30 percent below peak prices.
In other words, the trend we've been tracking of Texas' comparatively healthy recovery from the financial collapse is continuing. Home prices are rising, but not in a way that necessarily indicates the formation of another housing bubble. It mostly looks like a sound, modest rebound from the lows of a few years ago — and one that looks even better relative to most states in America.
For myriad reasons — jobs, affordability, low taxes, high quality of life, and so forth —' families simply want to call Texas home. And the waves of new arrivals to the Lone Star State, along with the fact that Texas didn't crash nearly as hard as other states and other factors, have buoyed home prices, lowered foreclosure, and kept the economy humming.
For homeowners, this is, of course, great news, since it makes it easier to sell when needed and preserves what is likely their single largest and most important investment — their home. For potential home-buyers, though, this means that landing the home of their dreams is becoming a little bit more expensive and making it more and more important to be ready to pounce when the right home becomes available. In other words, in a seller's market where competition for homes is fierce, it pays to be prepared. TexasLending.com is here to help with a diverse range of home purchase loans — and a fast, efficient Texas home loan approval process.