Texas Home Loans and American Affordability: A Global Perspective
February 5, 2013 by Kevinmiller
We spend no small amount of time looking at the housing market here at Texas Lending Today. Historically, with rock-bottom home interest rates in Texas and with home prices only just beginning to recover, its a pretty favorable time to buy a new home. But have you ever wondered how the U.S. housing market (and especially the Texas housing market) sits globally?
Recently, The Economist put together a nifty interactive infographic that shows how relatively affordable housing is in America and, when considering that Texas is among the most affordable states in the U.S. for home-ownership, the Lone Star State as well. The tool allows you to nominal and real house prices, housing trends over the past several decades, and how renting compares to owning in each country.
You can check out the tool here. Play around with it for just a few minutes, and you'll get a pretty good idea how relatively affordable housing is here in the United States.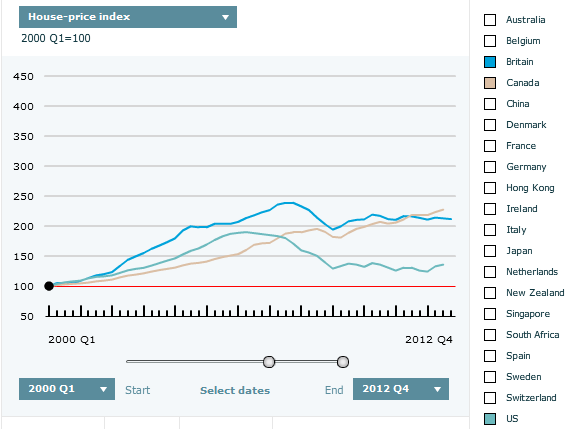 For example, in many European markets, prices are falling but still high — indicating that while their economies are still suffering from a massive collapse in home prices (led by a striking 9.3 percent decline in Spain over the past year), housing is still pretty expensive over all. In other words, there's not much of a silver lining from a cost-of-living perspective.
Compare that to America, where prices have generally been rising over the past year but are still relatively affordable. In other words, the United States is benefitting from both sides, an economy with potential to recover and relatively low living costs. The only countries listed where housing is consistently more affordable than in the United States are Switzerland, Japan, and Germany.
America's housing-market revival looks sustainable in part because the sharp correction in house prices over the past few years has made homes cheap by historical standards. A year ago house prices were still falling, by 3.6%. There has been a turnaround since: the latest data show prices rising by 4.3%. But based on the ratio of prices to rents, houses are still 7% undervalued; judged by the price-to-income ratio, they are 20% below fair value. It also helps that mortgage rates are at historic lows and are likely to stay that way, since the Federal Reserve has promised to keep an extremely loose monetary stance for the next couple of years.
In other words, we're seeing some positive signs for the housing market. That's great news, but it also means houses are likely going to get a little bit more expensive as time goes on.
Moreover, there remain dark clouds on the horizon of the U.S. economy. Government spending is still out of control, and there seems like little appetite in Washington to do much about it.  This environment has fueled low rates but low rates will not last forever.
With annual home sales on average roughly 75 percent below where they were eight years ago there is great potential for housing to continue to recover. So for now, it's a good time to buy a home. If the time is right for your family, give us a call. We have an unmatched range of Dallas home loans, Austin home loans and Houston home loans ready to make your home-ownership dreams come true.