Roller Coasters and the Tools to Ride Them: New Housing Market Realities And You.
June 2, 2010 by Kevinmiller
Up. Down. Up. Down. Strap yourself in, throw your hands in the air and enjoy the ride. The housing market can seem a bit like a (financially painful) day at the amusement park.
So with that sunny mindset, here's some bad news in the nation-wide housing market this week. According to NPR's Planet Money :
Home prices fell 3.2 percent in the first quarter of this year, compared to the fourth quarter of last year. But prices are still above where they were last spring.

That's according to the latest update of the Case-Shiller index (pdf), out this morning.

The decline came even as the government and the Fed threw the kitchen sink at the housing market, an effort that included the Treasury paying people to buy houses and the Fed buying more than $1 trillion in mortgage bonds .
Thankfully, the Dallas housing market continues to inch its way back toward health, posting a 3.0 percent gain over March of last year. To get a broader idea of where the Dallas housing market fits into the nation-wide mortgage landscape, take a look at this handy map :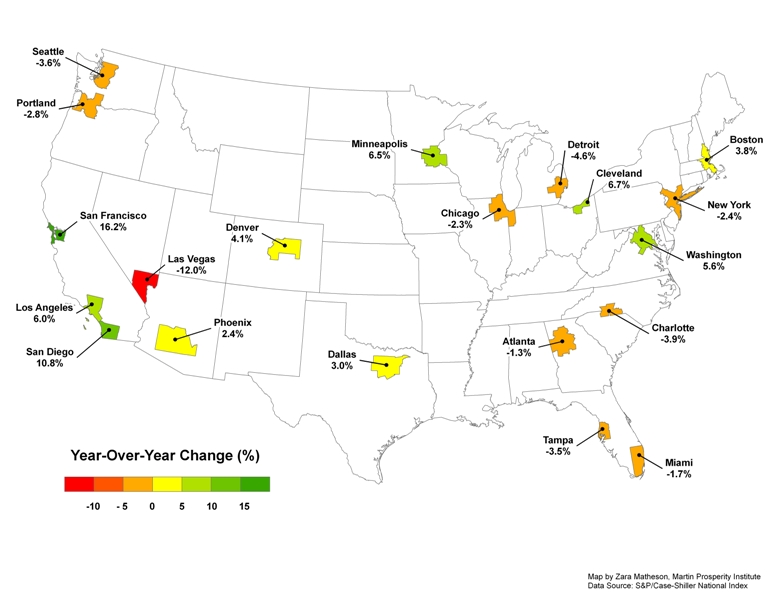 So how does this latest twist in the economic recovery affect you? Thankfully, we have mortgages and tools that can help you respond to almost any situation.
If you're trying to buy, deals abound. Consider starting the loan process for a home purchase loan , or perhaps even a specialty home loan like our FHA Single Family Rehab Mortgage Program to invest in a neglected house that is ripe to bloom with a bit of tender loving care.
If you're struggling to sell (and think the market trends indicate that struggles will probably continue), consider a home mortgage refinance . If things really get bad, here are some tips about how to avoid bankruptcy or foreclosure, plus some information about making relocation as painless as possible .
If you're just wondering what's going to happen to the market long-term, then, well, join the party. But here's a thoughtful take from The Economist:
FOR a brief moment last fall, it looked as though the American housing sector might not be the persistent economic drag economists had feared. Home prices and sales leveled off and began climbing. Construction did the same. In the third and fourth quarter of last year, residential investment was a minor but positive contributor to American output growth. Buoyed by a generous homebuyer tax credit and mortgage rates held down by Federal Reserve purchases, housing markets seem poised for stability, if not a new boom in activity.

But the good times haven't lasted. Construction and builder confidence have weakened once again. The latest data on existing home sales show a spike in activity and the best April performance since 2006. But this was almost certainly due to the looming end of the federal tax credit. Sales also rose and spiked before and immediately after the previous deadline, last fall, only to decline again through the winter. More worrying still, the previous spike in sales coincided with a decline in housing inventory. This time, inventories have risen dramatically. Even as the end of government incentive programmes lead buyers to exit the market, the number of homes for sale will have grown significantly.

And so it's not surprising that prices have also been falling again. According to the Federal Housing Finance Agency, home prices declined 1.9% from the fourth quarter of 2009 to the first quarter of 2010. Prices were up 0.3% in March, according to the FHFA data, but the general trend is not encouraging. The latest Case-Shiller home price figures are similarly disappointing . Both of the Case-Shiller national indexes had declined for six consecutive months, through March. Only two of the individual markets, San Diego and San Francisco, saw a rise in home values in the first quarter. Total declines from last fall's price peak haven't been catastrophic. But they are troubling. Nearly a quarter of all mortgage borrowers remain underwater on their home loans. In the first quarter, the share of prime loans that were delinquent or in foreclosure rose sharply . That's bad for housing inventory, bad for home prices, and bad for the residential investment outlook.

[…] It is unlikely (though not impossible) that prices will plummet once more; price declines are likely to be small relative to those experienced in 2008 and 2009. But small declines are enough to do damage. Four years after the housing boom reached its apex and the bust began, and end to the mess remains just out of reach.
Make sense? Bottom line is you can't predict the housing market too closely, and so instead need news, analysis and financial tools flexible enough to respond to this new unpredictable reality. Contact our Texas home loan experts — we'll help you come out ahead.