In a Seller's Market It Pays to be Prepared Before You Make an Offer on a Home
July 15, 2013 by Kevinmiller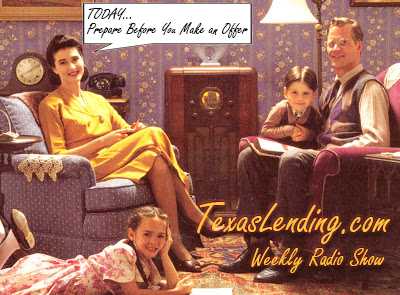 The following is a re-cap of the TexasLending.com Radio Show Podcast from July 6, 2013
Home purchase loans are still booming in Texas. There's a lot of competition for buying homes right now in the Dallas-Fort Worth area, with many sellers seeing three to four offers on their home. That's definitely good for the rising values of homes and for the sellers, but it's a little frustrating for buyers. You might put an offer on a home only to find out that someone else put together a better one. As the buyer, be prepared. You just have to structure a better offer.
What is the best way to structure a loan when you are purchasing a home right now? You may be able do 95% financing structured as two conventional loans equaling 80% on one loan and 15% on the other loan and stay out of paying private mortgage insurance and stay out of paying escrows with your payment. Credit, income, and asset conditions apply for these types of loans.
FHA is a great option for low down payment and for veterans VA is possible with 100% financing. USDA loans may be possible at 100% financing as well.  USDA loans are mainly for rural households and come with income and asset restrictions. Rates, APRs, and payments will differ for all of these loan types dependent on factors including but not limited to credit, down payment, and time of lock.
If you are thinking of shopping for a home it is imperative you have a preapproval from a trusted mortgage company prior to shopping.  You will be putting down an earnest money deposit between $500 and $5000 in most cases and a preapproval may protect you from losing that money.   With accurate and complete documentation we can help you get pre-qualified so you can shop for your home with the strongest offer possible.
For confusing or irregular issues when applying for a loan, we can be the best resource to help you get all of your ducks in a row before you shop. We can help address any of those kinks like judgments or disputes on your credit, previous foreclosures, self-employment income, or any other tough issues you may be facing.
Home sellers are seeing multiple offers on homes, which is different from the last few years when you could make an offer and not have to compete with other offers.  We are getting a lot of folks pre-approved right now as families are moving fast to get into a new home before the school year starts.
A prolonged rebound of the housing market will only cause mortgage rates to rise so time is of the essence. Call 972-387-4600 today to get put in touch with a loan officer in less than 12 seconds.