Home Sales Still Slow (And Cheap… For Now)
March 27, 2012 by Kevinmiller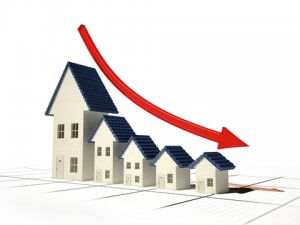 Despite continued welcome growth in employment, manufacturing, and a host of other economic indicators, new home sales and pending home sales actually fell between January and February 2012 – the second consecutive month with a decrease.
New home sales fell in February, dashing construction industry hopes that the long-overdue housing recovery may be finally arriving. The Census Bureau reported Friday that new homes sold at an annualized pace of 313,000 during the month, adjusted for seasonal factors. That was a 1.6% decline compared with January's 318,000 sales but 11.4% above last February's 281,000. Sales fell short of the 323,000 that analysts had expected. There was a bit of good news for home builders in the report. The median price of new houses sold jumped to $233,700, well above the $217,000 median recorded in January.
It's unclear why this is, but it demonstrates how we've still got a long way to go until housing is back to normal. Most economists have long predicted that a housing recovery would both lag behind – and hinder – a broader economic recovery. In fact, guessing when housing will (or did) hit bottom seems to becoming a favorite topic to debate in economic circles (check out this Planet Money story about a 14-year-old girl in Florida who bought a home for $12,000)
Furthermore, one of the big problems – the huge glut of available homes on the market – actually appears to be disappearing. This is good news for construction workers and homebuilders, as new home construction should be in demand again soon (indeed, although new home starts also dropped in February, new permits increased). But it also means the unprecedented buyer's market we've seen over the past few years might be beginning to close a bit. Add on new and expected mortgage fees coming out of Washington D.C., and it means it's not going to stay quite so cheap to buy a new home.
However, as long as home prices stay low, interest rates are likely to stay low as well, meaning that the window isn't closing quite yet – or at least no rapidly. So if the time is right for your family to consider buying, we encourage you to do so soon. Here at TexasLending.com, we're proud to offer some of the lowest home mortgage rates and most affordable home refinance loans and home equity loans.